Think of your favourite skincare product. We bet sunscreen isn't the first thing that comes to mind, although it definitely should be. But we get that – sunscreen can be hard to love. Some of them are sticky, heavy and messy to apply. But what if we tell you that we've found a couple you'll not only love to wear but also love the skin-caring benefits of. The Anessa Perfect UV Sunscreen Mild Milk SPF 50+ PA++++ and Anessa Essence UV Sunscreen Mild Milk SPF 35 PA +++ are mild and gentle on the skin. But more than that their benefits pack a punch. Watch the video above, then keep reading to find out why you'll love them.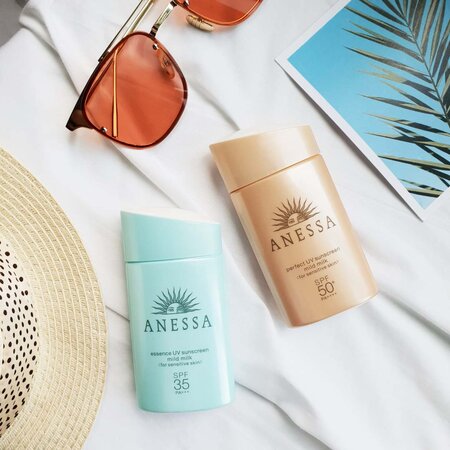 Nourishing protection
When we say they are mild, we mean they're gentle enough to use even on a baby's skin (from one year and up). These new offerings from Japan's (and very soon, your) favourite brand contain ingredients that were dermatologically tested to be delicate enough for your sensitive skin. The two variants are also perfect for different skin types: the Perfect UV Sunscreen Mild Milk is great for someone who has normal to combination skin, while the Essence UV Sunscreen Mild Milk is hydrating for those with dry skin.
7-Free Formula
The Mild Milk range is made with only the mildest ingredients and features a 7-Free Formula: it's free from fragrance, parabens (preservatives), colourants, alcohol, minerals, octinoxate and oxybenzone that may cause irritation to the skin. Instead, the range is boosted with skin-loving ingredients such as soothing Dipotassium Glycyrrhizate from licorice root, antioxidant from wild thyme and chestnut rose extracts, and moisturising angelica acutiloba root extract.
Sweat- and water-proof
You know how sunscreen seems to lose its effect after you've broken a sweat? Well, these two don't. In fact, with Anessa's signature
Aqua Booster Ex Technology
, these sunscreens bond with water and sweat to form a more even and stronger veil against the sun. So the wetter, the better!


Anti-pollution
These days, it's not just the harmful UV rays of the sun we need protection from. If you live a busy urban life in the city, it's great to think of protecting your skin from pollution. These sunscreens envelop the skin in such a way that it's protected from grime and dust.
Coral Reef-friendly
With the environment taking a hit from how we live, it's only fitting that we do something to protect it. And we can do so by using products that don't harm the environment, like these sunscreens that don't contain coral-bleaching ingredients. So you're sure that it not only cares for your skin but the environment, too.
More than just a sunscreen
We love a multi-tasker when it comes to beauty products. Not only are these lightweight sunscreens great for sun protection and nourishing the skin, but they can also be used as a moisturising primer to ensure your makeup glides on smoothly and stays on for long.
Comments, questions or feedback? Email us at [email protected].