Protecting the skin from the damaging rays of the sun is one thing. Protecting sensitive skin is a different story altogether. When you have sensitive skin, it can be irritated by just about anything — even those that are meant to protect it. In some cases, Chemical sunscreens can cause stinging or itching. So what do you do? Here's the deal on sun care for sensitive skin.

Look for a gentle, non-irritating formula
Protection doesn't need to be harsh. When looking for sun care, make sure your eyes are on products that are safe and gentle for your sensitive skin, like the
Anessa Perfect UV Sunscreen Mild Milk SPF 50+ PA++++
and
Anessa Essence UV Sunscreen Mild Milk SPF 35+ PA+++
. They're both formulated to be gentle enough that they can even be used on babies (from one year up).
They have a 7-free formula which makes them ultra gentle on the skin; they're free from parabens (preservatives), colourants, fragrance, alcohol, octinoxate, minerals and oxybenzone that may irritate the skin.
Tailor your sun care to your skin type and lifestyle
One thing to note as well is that sensitive skin types can also vary in terms of skin needs. Some are dry while others are normal or oily. The Perfect UV Sunscreen Mild Milk is great for someone who has oily skin; it's great for those who live an active lifestyle. Meanwhile, the Essence UV Sunscreen Mild Milk and its light but hydrating formula is perfect for everyday use for someone who has dry skin.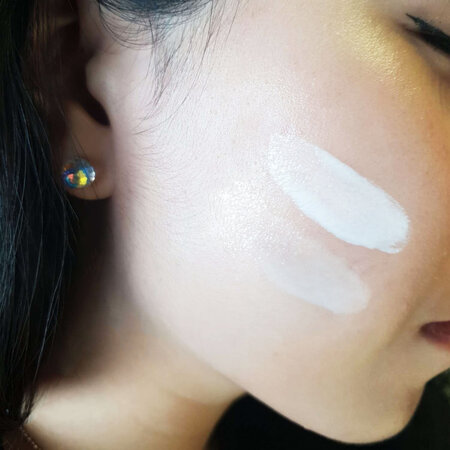 Above: Swatch of the Perfect UV Sunscreen Mild Milk; Below: Swatch of the Essence UV Mild Milk
You also have to make sure that the sunscreen you use fits your lifestyle and location. Some sunscreens don't mix well with sweat and can give a stinging or itchy sensation — something to take note of especially in our tropical region. The Anessa Mild Milk Range is perfect for this because it's formulated with AquaBooster Ex Technology that actually makes its protection power stronger when it comes in contact with water or sweat.
Protect it from other aggressors
Sun is the main culprit in damaging the skin, but it has accomplices like pollution and bad skincare habits. These aggressors are especially brutal if you have sensitive skin because even the slightest, inconspicuous thing can wreak havoc. So make sure you do not only protect your skin from UV rays but also from pollution and stress. The Anessa Mild Milk range is perfect for this because it also protects the skin from physical stressors like dust and grime. Plus, they contain skin-caring benefits such as Dipotassium Glycyrrhizate from licorice root that soothes the skin, wild thyme and chestnut rose extracts that are rich in antioxidants, and angelica acutiloba root extract that moisturises well.
Give your sensitive skin gentle protection with Anessa. Get a bottle here.
Comments, questions or feedback? Email us at [email protected].