Most of us seek stability and comfort during these uncertain times. However, an emerging group of Gen Z business owners have boldly gone against the grain by pursuing their passions and are crafting a living in the midst of the pandemic. What inspired them to take the leap?
We checked in with the young, enterprising minds behind Singapore-based tufting studio Tuft Club, Malaysia-based embroidery brand TwentyThread and crochet apparel and accessories label Crochet Corner from the Philippines to learn more.
"Our ethos is to make art-making easy, cosy and fun."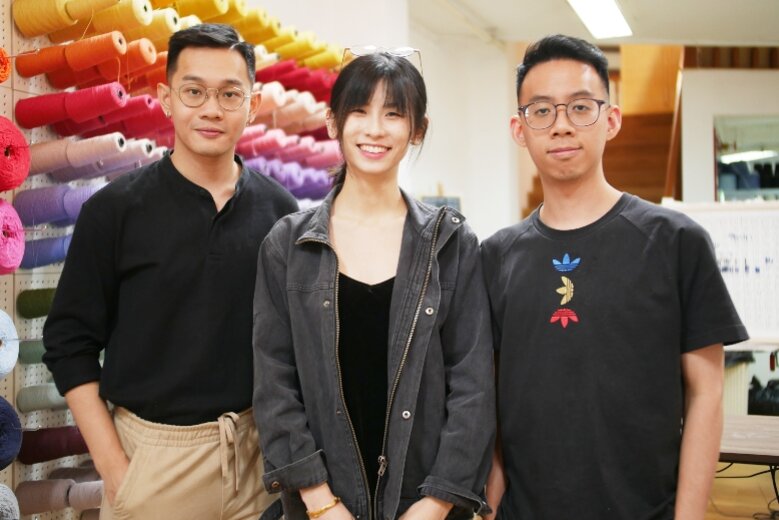 Building a business is tough, but Carl, Zoey and Izac — the co-founders of Tuft Club — are tougher. The trio previously ran the art jamming workshop studio Hueplay Studio together and decided to establish Singapore's first tufting studio earlier this year after trying out tufting for themselves.
"From the start, it's our ethos to make art-making easy, cosy, and fun. Furthermore, we've also witnessed folks living more consciously, making art as a form of self-expression, and attaching meaning to the things they create and do. Our experiences at Hueplay Studio, the challenges we went through and the potential we saw in tufting — all these factors coming together — spurred us to take that leap to open Tuft Club," shared Carl.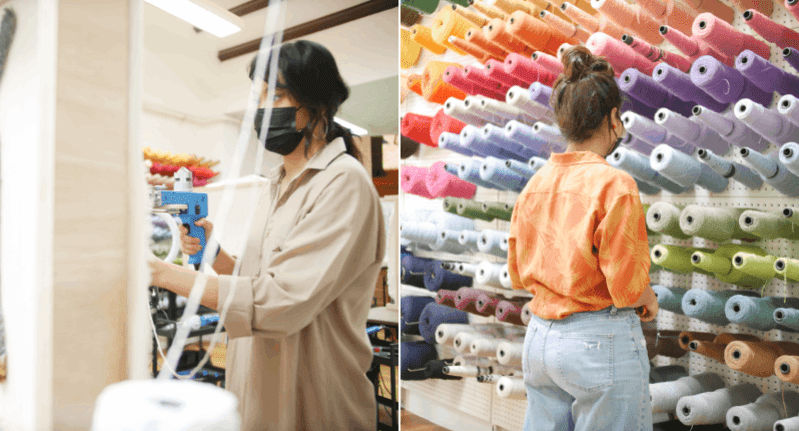 While the co-founders have prior experience in setting up a crafts business, it wasn't long before they realised why tufting, though gratifying, "wasn't as popular as it should be." "Tufting is fun, therapeutic, and really versatile, but it's not easy to get into. There aren't many resources available and the hardware is quite inaccessible to most. Before we could start, we had to source materials from all over. We also had to meet and learn from different veterans in the industry to improve our craft," confessed Izac.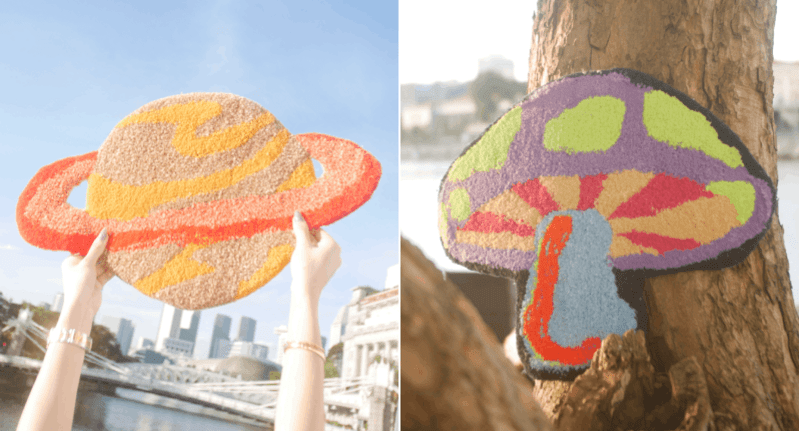 Thankfully, their hard work soon paid off, with Tuft Club quickly becoming a new favourite creative destination in Singapore for people to create special, personal pieces for their living spaces. (FYI: The studio even doubled up as a wedding proposal venue at one point!) Looking ahead, the co-founders hope to grow a community of tufters here and have plans to launch their own line of tufted rugs that'll bring warmth to living spaces.
"I hope my work brings others joy as it did to me while creating them."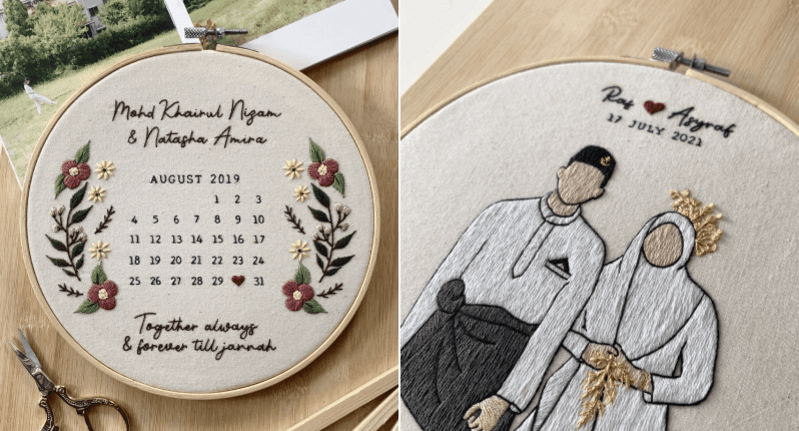 TwentyThread founder Ummu is happily living her dreams at the moment, however, she wants you to know that she never, ever wants to take it for granted. The 23-year-old full-time student from Malaysia founded her embroidery business in September 2020 and views it as a 'place' for peace of mind and for her to grow as a self-taught artist.
"Embroidery allows me to 'escape' for a while and it's something I don't ever want to take for granted, especially when the world is so gloomy and grim from the pandemic," she shared. Revealing that she's always been a jack of all trades and a master of none when it comes to art, Ummu felt that she finally found her niche in embroidery and decided to turn her passion into a business with encouragement from her friends and family.
Now, she's amassed a solid customer base, with most of them purchasing her elaborate embroidery creations as gifts for friends and family. "I'm looking forward to creating more original pieces and improving my art style. I definitely want my customers to feel like it's worth every penny they spent. I hope it will bring them every bit of joy and happiness as it did to me while creating them," shared Ummu.
Five years from now, Ummu hopes that she's still able to run TwentyThread as a side business while she pursues her "adult job" as a translator or interpreter. "It would be a dream to do this full-time, but that's something for future me to ponder over," said Ummu.
"The secret of getting ahead is getting started."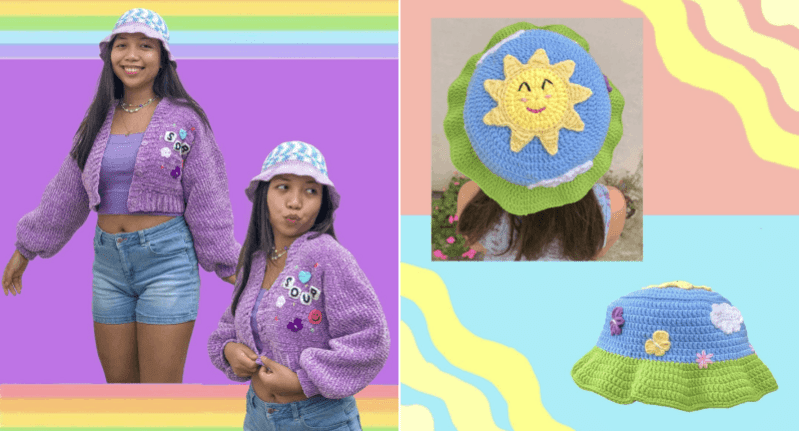 24-year-old Eder founded her handmade crochet apparel and accessories brand, Crochet Corner, in August 2020. It initially started out as a hobby where she'd create crochet wearables for herself, her sisters and her nieces. "I was happy being my own 'designer!'" she added. As the pandemic came along and the Philippines went on lockdown, Eder decided that she wanted to use her time wisely and hence, tried her hand at setting up a small business using the tools and skills she has.
The self-taught crochet enthusiast confessed that her previous art experience is "no more than average." However, she attributed it to her "desire to learn" that she gradually became better at her craft; she went through multiple trial-and-errors and watching countless tutorials on YouTube.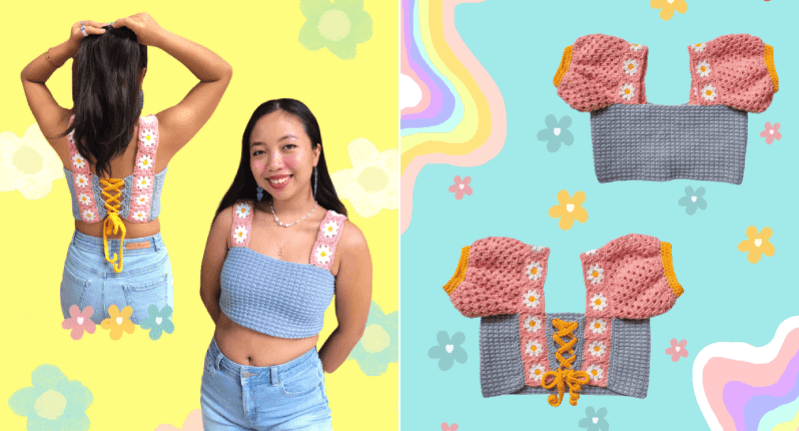 "I appreciate how my kikays love and support my creations! As long as there's something that they wish for me to create, I'll gladly do it," enthused Eder. The founder affectionately calls her growing clientele kikays, a term in Tagalog that refers to women who are interested in beauty products and fashion. Some of her favourite crochet creations to date include the Maria top as well as the Sour cardigan, which is inspired by singer Olivia Rodrigo's album, SOUR.
So, what advice would Eder give to others who wish to establish their own craft businesses as well? "The secret of getting ahead is getting started," she gamely replied. Eder also hopes that business owners would prioritise their mental health amidst all the 'hustling'. "There'll be times where you'd feel uneasy, unmotivated and stressed to the point where you'd feel like quitting. That's a no-no, so please love yourself and take breaks whenever you need to. Trust the process and you'll get there," urged Eder.
What small businesses have you discovered and bought from during the pandemic?
(Cover photos from: Crochet Corner, Tuft Club and TwentyThread)
Next, see how these six local beauty-preneurs are working from home.

Comments, questions or feedback? Email us at [email protected].