Korean actor Kang Tae-Oh is currently skyrocketing in popularity for his portrayal of Lee Jun-Ho in the ENA/Netflix hit Extraordinary Attorney Woo. The 28-year-old's role as the drama's leading man is swoon-worthy and he immediately captured the hearts of the audience in the drama's pilot. The drama undeniably served as the actor's big break despite already having a number of leading and supporting roles in his acting portfolio since 2011.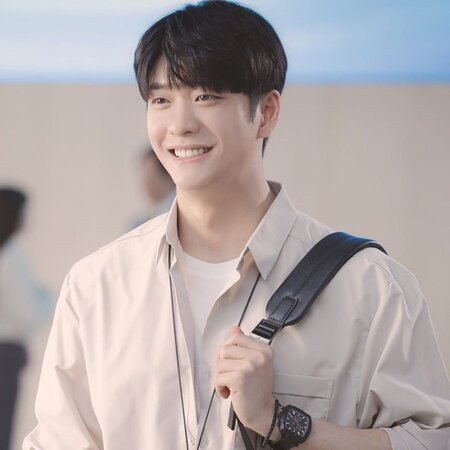 Want to add Kang Tae-Oh's dramas to your watchlist? We lined up some of his best works, from
Extraordinary Attorney Woo
to
The Tale Of Nokdu
.
1. Extraordinary Attorney Woo
Starting with the drama that made us fall for Kang Tae-Oh,
Extraordinary Attorney Woo
is about Woo Young-Woo (
Park Eun-Bin
), a genius trainee lawyer within the autism spectrum. She starts working at Hanbada Law Firm where she joins the team of the reasonable and upright head attorney Jung Myung-Seok (Kang Ki-Young), the jealous rookie Kwon Min Soo (Joo Jong-Hyuk), and the caring yet feisty Choi Soo-Yeon (Ha Yoon-Kyung). Yoong-Woo also captured the attention of the kind and popular litigation employee Lee Jun-Ho (Kang Tae-Oh), whom she develops a friendship with that eventually turns into a romance.
Why you should watch it: You'll definitely get the hype surrounding Kang Tae-Oh and this drama as soon as you hit play. While the way some people treat Woo Young-Woo is heartbreaking, the love and support she receives from the people around her, especially from, Kang Tae-Oh's Jun-Ho, is definitely one of the highlights of the drama. His character is definitely a reminder that real kindness versus kindness rooted in pity are two different things and we should aspire to practice real kindness instead.
Watch Extraordinary Attorney Woo here.


2. Doom At Your Service
What happens when all unfortunate events that could happen in your life — including finding out that you only have three months to live — occur all in one day? For web novel editor Tak Dong-Kyung (Park Bo-Young), all she can do is wish for the world to suffer the same fate. Her wish was heard by Myul Mang (Seo In-Guk), a messenger between humans and gods who decided to grant Dong-Kyung's wish. Kang Tae-Oh joins the cast as Lee Hyun-Kyu, the roommate of Dong-Kyung's co-worker, who also owns the cafe Dong-Kyung frequents.
Why you should watch it: While the premise of this drama starts off as a bit dark, it ultimately explores finding the good in day-to-day life and making the most of it. It also balances heartwarming moments with hilariously comedic plotlines, leaving you with a well-rounded viewing experience.
Watch Doom At Your Service here.
3. My First, First Love (Season 1 & 2)
Five friends — Tae-Oh (Ji Soo), Song-Yi (Jung Chae-Yeon), Do-Hyun (Jin Young), Ga-Rin (Choi Ri), and Hoon (Kang Tae-Oh) — decide to leave their respective homes to live together. As days and months pass, they realise that everything they think they know about their friendship is not at all what it seems.
Why you should watch it: If you want a straightforward drama that talks about life, friendship, and romance, this is a good one to tune in to. Each of the main characters has something that the audience can immediately relate to as well.
Watch My First, First Love Seasons 1 & 2 here.


4. Run On
Run On
follows the lives of four people who feel like they met by fate.
There's Ki Seon-Gyeom (Im Si-Wan), a former national team sprinter. However, because of certain circumstances, he had to quit. Now, he works as a sports agent. He crosses paths with Oh Mi-Joo (Shin Se-Kyung), a subtitle translator for movies. The two of them have contrasting perspectives about the world given their different backgrounds. However, the more they get to know each other, the more they see things about the world differently.
Meanwhile, there's Seo Dan-A (Sooyoung), a CEO of a sports company. She's the only successor of her father, who is a major businessman. However, because she's a woman, her father thinks she is not worthy to take over the business. Dan-A meets Lee Young-Hwa (Kang Tae-Oh), a university student majoring in art. Their contrasting personalities lead them to learn from each other.
Why you should watch it: This drama ultimately revolves around romantic relationships, but it also covers narratives about self-discovery, aspirations, and open-mindedness. It reminds us that just because people have different opinions or experiences from us, it doesn't mean that they're wrong and we're right (or vice-versa), and that there's always something to learn from these differences.
Watch Run On here.
5. The Tale Of Nokdu
Jeon Nokdu (Jang Dong-Yoon) has been on the run with his father and brother ever since he was little. But he doesn't understand why his father has always been protective of him.
One day, his father and brother get attacked by female assassins. He follows one of the assassins to find out the truth about the attack and sees the assassin enter a village for widows where no men are allowed.
Nokdu disguises himself as a woman to enter the village. He meets Dong Dong-Joo (Kim So-Hyun), a gisaeng (courtesan) apprentice who wants to change her fate. Dong-Joo is friends with Chal Moo-Yoo (Kang Tae-Oh), a kind nobleman who frequents the gisaeng house. Moo-Yoo secretly has feelings for Dong-Joo.
Why you should watch it: Gender-bending narratives are nothing new to Asian dramas, but this one is interesting since it's the male lead who does it (and convincingly so). There are a lot of twists and turns in this story that we wouldn't want to spoil — especially concerning Kang Tae-Oh's character — so just trust us when we say that if you love a historical drama that's fun and exciting, but still nothing short of suspenseful, this is the one to check out.
Watch The Tale Of Nokdu here.
Comments, questions or feedback? Email us at [email protected].