If you're ready to explore what lies beyond K-dramas and enter the C-drama (or Chinese drama) realm, check out Fireworks of My Heart which is one of the top airing Asian dramas this week.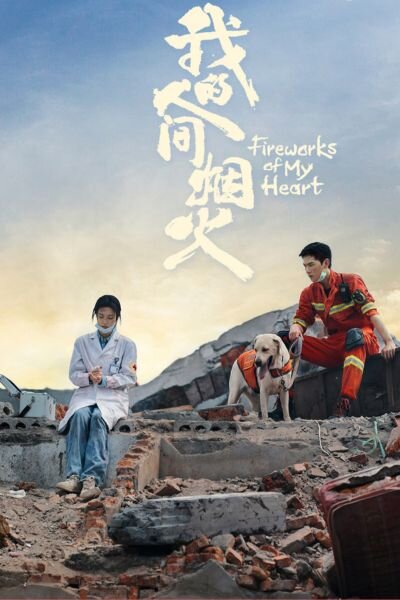 It has 40 episodes, but there's no need to be overwhelmed by it because it's an ongoing drama and only 20 episodes have been released. We'll be taking you through everything you need to know about the series to help you decide if it's worth a spot on your watchlist. Warning: some spoilers ahead!
Fireworks of My Heart: trailer, cast, and plot
Fireworks of My Heart
is a blend of action, romance, and medical genres. There are a few lighthearted scenes at times but it's a melodrama at its core. It's directed by Li Muge, written by Xu Su, and based on a novel called
Waiting for You in a City
by Jiu Yue Xi.
If you've watched the 2016 K-drama
Descendants of the Sun
starring
Song Hye Kyo
and
Song Joong Ki,
then you'll find some similar aspects in this C-drama. Actress
Wang Churan
plays the role of a female doctor named Xu Qin (or Meng Qin — the name she received when she was adopted). Her co-star
Yang Yang
plays the role of a Captain too, except instead of facing human enemies, Captain Song Yan fights against blazing fires.
Another difference between the two is that while Descendants of the Sun makes use of a "meet cute" trope, Fireworks of My Heart leans more towards the "star-crossed lovers" and "reunited lovers" tropes.
The story takes place 10 years after the pair separated. Fate brings Xu Qin and Song Yan together again due to the nature of their jobs. They bump into each other in various rescue missions and are at a crossroads about whether to strike up the relationship again or not.
The drama is at its halfway point, so here's what we think about it so far.


Fireworks of My Heart review
The good
It was easy to get hooked on the drama. It's like a modern-day Chinese
Romeo and Juliet
story in which both families don't approve of the pair. The female lead Xu Qin's family (especially the mother) never approved of Song Yan because of his low social status, and so she felt she had no other choice but to break up with him without saying that she was forced to do so. On the other hand, Song Yan's family stopped liking Xu Qin after she heartlessly dumped him and hurt him in the past.
Aside from the engaging story, the acting skills of Yang Yang shone in this drama (and we're betting it's the reason why many people are sticking around). You could see the fiery passion in his eyes whenever he tries to put up a wall between himself and Xu Qin. You could also feel it in his words and actions as he strives to make his team at the fire station the best it can be. There's a thrilling chemistry between him and Xu Qin, and you can't help but root for them.


The way the drama honours frontliners during crises is also a plus in our book. (Personally, I haven't seen a lot of shows putting firefighters at the forefront, so the drama helped me appreciate their profession more. I also learnt that aside from putting out fires, they also put their lives on the line in various emergency situations too.)
The not-so-good
In a drama with 40 episodes, there's a tendency to have several filler moments and moments that feel frustrating because of the pacing.
At this point, we're still holding out for the time when the female lead becomes more courageous in standing by her decisions instead of folding when her controlling mother is in front of her.
The main couple also has issues that they still need to work out between themselves (like being honest with each other and clearing up misunderstandings) that you wish were addressed since 20 episodes have passed already.
But if you're someone who's patient when it comes to watching dramas and would stay seated till the story's completed, then you should slot this series into your watchlist. Since the drama's not over, there's hope for their relationship to be rekindled and that it'll be sweeter and steadier than what they had before.


Fireworks of My Heart: episode air dates and where to watch in Singapore
You can stream
Fireworks of My Heart
on
Viu
. The next episode, Episode 21, will be released tonight. Episodes air from Wednesday to Sunday.
(Cover photos from: @viuphilippines, Viu Singapore)

Comments, questions or feedback? Email us at [email protected].