Across the world, movement restrictions are being eased. In Wuhan, where the first outbreak was recorded, previously empty streets are now populated and locals are seen standing side by side while waiting for their food at a take-out kiosk.
Closer to home, in Malaysia, bars have reopened and residents are now free to enjoy a domestic holiday. Singapore is planning to follow suit as it enters the second phase of the circuit breaker where tourist attractions such as Singapore Zoo, Jurong Bird Park and River Safari will be allowed to welcome visitors once again after months of closing down. Even the Philippines is slowly emerging from the world's longest COVID-19 lockdown and is now allowing citizens to get a haircut in salons and dine in restaurants. But amidst the relaxation of guidelines, some individuals are opting to stay put for the foreseeable future.
Despite living an outgoing lifestyle before the pandemic, these individuals — a jet-setter food vlogger, a party girl and an avid gym-goer — are making it work at home and discovering new experiences from the comfort of their humble abode.
Jetsetter turned homebody

As an avid foodie, Filipino food vlogger Sumi Go used to frequent restaurants and travel to various places to check out different cuisines. All this came to a halt when a lockdown was imposed last March. Since then, her content has pivoted to "homebody vlogs".
"I focused more on sharing the things I do at home and the food I cook and eat at home. I also started making these 'home cafe videos', which is a good outlet for me to channel creativity while also recreating the cafe experience I've been missing," she shared. As a result, Sumi's culinary skills have improved by a notch. "I used to think I'm a fairly decent cook, but the quarantine gave me more time and opportunity to try out new dishes and improve my cooking," she said, citing Japanese souffle pancake as one of the dishes she thought she can only eat at a cafe but has now successfully recreated at home. "It's so satisfying to be able to make something you never thought you can."
With a newfound culinary prowess, Sumi chose to stay at home and cook or sometimes have food delivered rather than eat at restaurants even if she sorely misses the dining experience. "I miss the nice ambience, bonding with friends and loved ones over a meal, and eating without having to cook and wash a lot of pans and plates," she said. But until the curve flattens in the Philippines and positive cases steadily decline, she's good with making do with what she has right now. "Even if all restrictions will be lifted, I think I'd still stay put and stay at home unless I really need to go out. Only when the curve finally flattens will I be able to feel at ease. And when that time comes, I think the first thing I'll do is to visit my favourite restaurants and cafes, and finally dine in."
Homemade fun
Self-professed 'party girl' Hazel has more or less the same stance. "When there are zero positive cases in Singapore," was her answer when asked what would need to happen for her to feel safe again to go out to clubs and attend social events. This is a lot coming from someone who used to go out to party and socialise every Friday night with friends. These days instead of dancing the night away, she spends it by "eating a lot" and catching up on her favourite Netflix shows. Her weekend routine is, as she jokingly puts it, "as empty as her soul".
She shared that she hasn't found a way to replicate the same feeling and vibe of a nightlife experience but attending a virtual Zoom party is as close as it gets. She and her group of friends joined an online party hosted by Marquee where they dressed up, made cocktails (in their respective homes, of course) and danced to live beats of Steve Aoki and Andrew Rayel and other DJs that are spinning at home. It's a fun, strange experience fitting for the strange times we live in now. But once this pandemic is over, she's ready to hit the brick-and-mortar Marquee club with her squad. Until then, she's staying put.
Making it work at home
It's not only restaurants and clubs that were, at one point in the quarantine period, temporarily closed shop. Fitness studios were also affected in the same way. And for fitness fanatics like Josephine Cheah, it was a major adjustment. She used to be a dedicated gym-goer who wakes up early in the morning for one-hour sessions and on some days, hits the gym for a second sesh in the evening too. "I would do dedicated weightlifting in the mornings three days a week, and weightlifting and cardio for the rest of the days," she shared.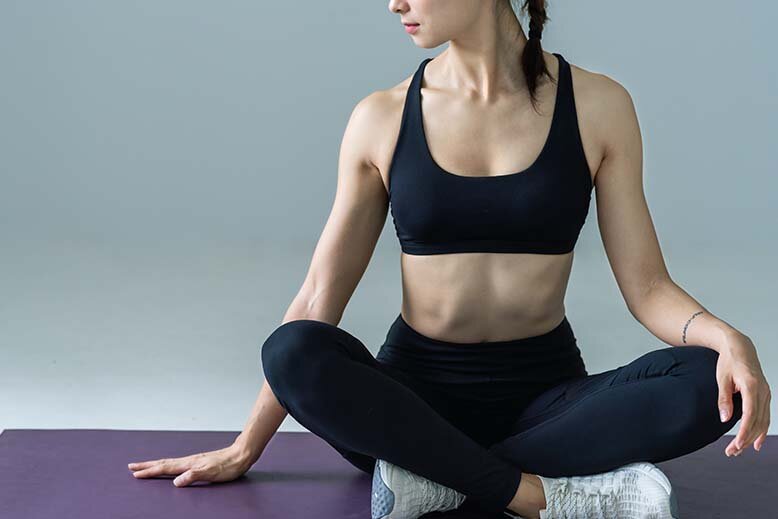 When her gym closed, she initially focused on bodyweight exercise and endurance training. But when it became clear that we were going to be in this situation for some time, Josephine decided to invest in a set of 20KG weights. They are a lot lighter than the ones she usually lifts at the gym, but they are good enough to maintain lean muscle. She also incorporates jogging into her exercise routine now and shared that she runs about 7 kilometres a few times in a week.
While her new workout keeps her fit overall, it has reduced her muscle mass. "I'm not very happy about that. I love being strong and feeling like Supergirl," she said. "But my endurance has definitely improved and I aim to continue to maintain and improve this over time." Even though she has already settled into her new routine and has learned to love aspects of it, she is psyched at the prospect of her gym re-opening soon. However, she will still practice safe-distancing, observe proper hygiene and only hit the gym during off-peak hours. She hopes her fellow gym-goers will practice the same courtesy. "We need to be socially responsible and considerate. Don't hog space and time. Wipe down your equipment when you're done using it, don't feel like it's only the cleaners and gym managers who have to clean equipment," she said.
Most of us are now in a transitional period — we're past the point of being limited to our apartments and slowly opening up to the world. It feels surreal, to say the least, as if we're like 16 again on the cusp of being an adult — allowed to dine out with some pals but not allowed to party or go on a holiday without permission. It's a confusing time for most. But our best bet is to always choose the safe side. After all, in a matter of life and death, you shouldn't risk something you can't afford to lose.
Next, check out these tips on how to level up your style with masks.
Comments, questions or feedback? Email us at [email protected].