New York label Supreme is famed for its distinctive Red Box logo and is also one of the most recognisable brands in the skateboarding lifestyle scene.
Having produced sold-out collaboration collections with brands such as Pat McGrath Labs and Louis Vuitton in the past, the label continues its success streak by giving the 'Supreme' treatment to several notable products as part of its Spring/Summer 2022 accessories lineup. Think cherry-flavoured ChapStick and Kraft Macaroni & Cheese alphabet noodles that spell S-U-P-R-E-M-E. Yup.
The lineup includes 42 items
The label loosely refers to its lineup as 'accessories' on its site. However, it also offers tank tops, tees, briefs that were produced in partnership with clothing brand Hanes. It even boasts a travel trailer from caravan company AirStream, which is built with custom flooring, fixtures and furniture with ultra leather seating.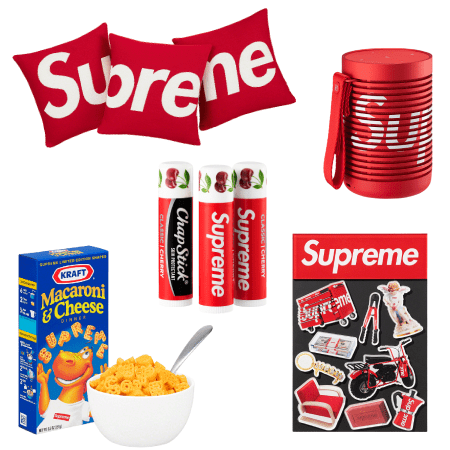 Beauty lovers were most excited to see Supreme releasing its own branded ChapStick as part of its lineup. The lip balm features ChapStick's Classic Cherry flavour and is sold in a pack of three tubes. Other notable products include Kraft Macaroni & Cheese, a set of three throw pillows from Paris-founded tapestry brand Jules Pansu, and a 10-inch cast-iron skillet with embossed Supreme logo from cookware label Lodge. Safe to say, this is a comprehensive lineup that is sure to satiate the appetite of Supreme fans!
How to shop the collection
Supreme products can be notoriously difficult to get your hands on especially in our region. According to Hypebeast, the collection will be released weekly and its first drop will take place on 17 February in the United States. It will also arrive in Japan from 19 February.
(Photos from: supremenewyork.com)
Comments, questions or feedback? Email us at [email protected].