Want to own a piece of fashion history? Swedish fashion retailer H&M has officially announced the release date for its collaboration collection with French designer brand Mugler. Read on to know more.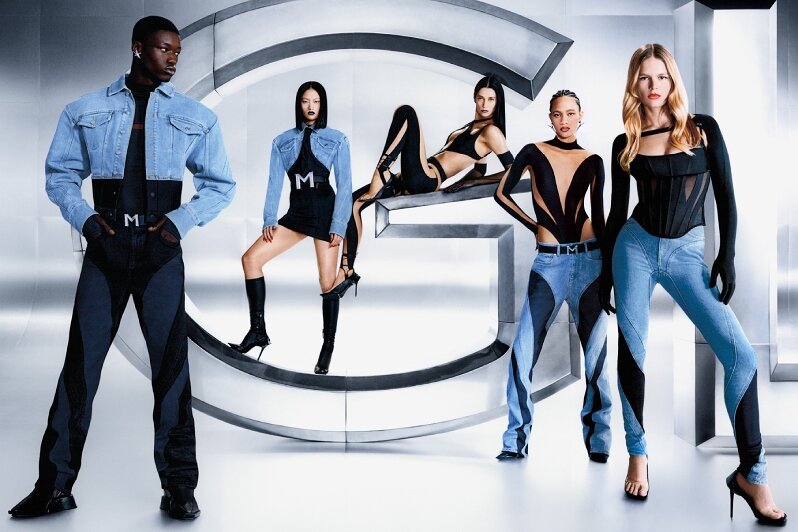 What to expect from the Mugler H&M collaboration collection
Ever since we caught the news about H&M's upcoming tandem with the house of Mugler last month, we've been keeping our eyes peeled for info on the included pieces. Thankfully, we didn't have to wait too long.
Today, H&M has confirmed that we'll be getting "inspirational and daring" pieces with the iconic Mugler silhouette — strong, big shoulders and a tight focus on the waist — that beautifully highlights the curves and lines of the body.
As a tribute to the late Manfred Thierry Mugler, the House's founder and a legendary haute couture designer known for his avant-garde, architectural, hyperfeminine and theatrical designs, the collection will also include a series of limited-edition remakes from the Mugler archives. Mugler's Creative Director Casey Cadwallader personally curated the pieces. The collection, which will include menswear and womenswear, is also said to embody Mugler's "fluid transformational cross-gender styling".
In our humble fashion opinion, the ready-to-wear designs can definitely be worn to a variety of events including casual hangouts with friends or a night spent partying at the club. It's worth checking out for a new addition to your closet.
While specific prices are yet to be determined, H&M does have a history of pricing its designer collaborations — which includes Moschino and Simone Rocha — at competitively affordable price points. It's a small price to pay if you're a fan of Mugler's style and want to own a piece of fashion history.
Don't miss the collection's campaign music video
Ahead of the collection's release, Casey also gave a first look at the collection through a music video. It stars rising artists Amaarae, Shygirl, Eartheater and Arca, who covered the 1998 song 'Music Sounds Better With You' by Stardust.
"I wanted to showcase the energy of Mugler, which has always been about clothes that allow for personal liberation," Casey told H&M Magazine. "You can be so many different versions of yourself in Mugler."
H&M X Mugler release date and availability in Singapore
Ready to Mugler-fy your wardrobe without having to break into your savings? The H&M x Mugler collection is set to arrive in select H&M stores and online globally on 11 May 2023.
(Cover photo from: about.hm.com)
Speaking of affordable luxury, these are the Polène Bags to consider investing in.
Comments, questions or feedback? Email us at [email protected].