Like many of you, Team Clozette has been working from the comforts of our homes. Some of us have had to switch things around to create the perfect workspace that suits our individual needs. Some of us need to face a blank wall and a clutter-free table for maximum productivity. Others prefer working in front of a window for natural sunlight and greenery. Take a peek into our work desk situation ahead!
Eunice
Eunice prefers no distractions while working but since she lives with her parents who are also working from home, she had to be creative in making her makeshift workspace. So, she turned her vanity table into her desk for the time being. "I have only one table in my room and that is my vanity table, hence that is my only option, to be honest! I like that it's facing the wall so I'm able to focus on my work without any distraction." She moved her beauty products and accessories to another spot in her room. This left her with a clear space for her laptop and notebook. However, she kept two things in place: a motivational quote poster and her travel souvenirs. She shared that these inspire her to keep hustling hard.
Stephanie
Aside from choosing your work area, you also have to think about what you need in order to work. We all have different needs when it comes to designing our work stations. Stephanie's choice was a room with good lighting and great Wi-Fi connection. "Being in there keeps me away from my baby nephew who recently moved in with me in light of Singapore's circuit breaker," she said. Aside from her earphones and notebook, she keeps some moisturising hand cream and tension-relieving jade roller nearby. Gotta keep that circulation going for that glowing skin!
Chloe
Some of us are blessed with having an idyllic spot just outside the window. If you prefer sunlight over artificial lighting, take inspiration from Chloe, who indulges in this lovely oasis for her occasional work area. "There's a good view of greenery and sky, and it's one of the only two places of the house where it's close to the sockets and near to the fan aside from my bedroom." Though she usually prefers to work in her kitchen where it's easier to focus, the cushy sofa is ideal for taking back-to-back work calls. She keeps a water bottle close by to help stay hydrated throughout the day.
Becks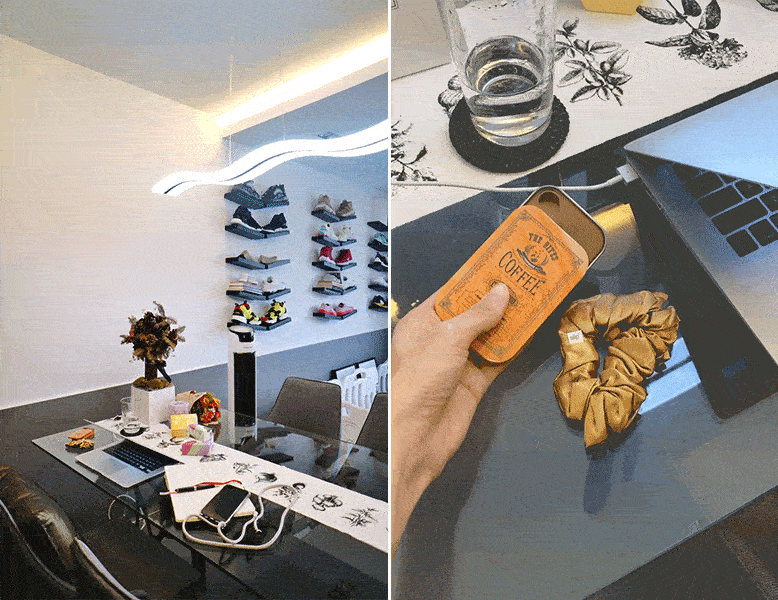 You also need to consider other responsibilities now that you're working from home. As a mum to a spritely little tot and leader to a big creative team, Becks is often doing multiple tasks at once. To stay efficient, she turned their dining table into her work desk. "It gives me a good vantage point to watch my daughter while she plays in her playpen. And since we only have two adults (and a baby in her high chair) at home, we still have enough space to enjoy our meals at the dining table without disruption." She also spruced it up with a bouquet of dried flowers. Her other desk essentials include a full glass of water (for hydration and energy), a box of mints (for an instant pick-me-up before an impromptu conference call), and a Slip hair scrunchie to get her hair out of the way when she needs to handle her baby.
Jamie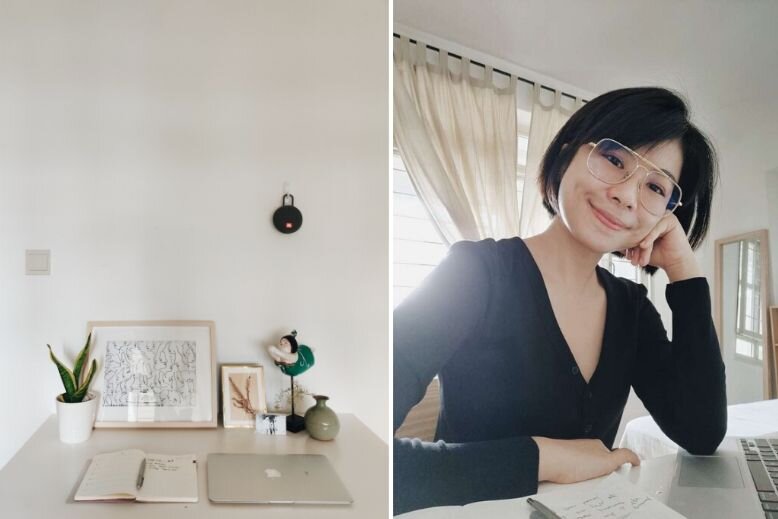 It's best to get rid of any distractions. Jamie's space is a good example. You won't find any clutter here! Since her table was already set against a blank wall, she chose to keep her desk simple and clean so all her focus can be turned to her screen. But she kept some personal mementoes for inspiration. "The fat lady I bought from a Bali trip years ago, the artwork was bought at the Yayoi Kusama Museum in Japan, and the preserved leaves were from a previous Taiwan trip — these all remind me that life's great and we gotta move on." She also placed a snake plant, a to-do list, and her JBL Bluetooth speaker close by. Aside from her energising snack and coffee breaks, the clutter-free work desk helps get her in the zone to tick off different tasks one after the other.
Stay fit with the at-home workouts Team Clozette has been doing.
Comments, questions or feedback? Email us at [email protected].