The internet's filled with plenty of gorgeous and inspiring home renovation ideas, not to mention the numerous award-winning celebrity homes featured on YouTube, Pinterest and the like. However, as you embark on your very own home renovation project, you'll soon realise that a lot of hard work goes into turning a living space into your dream sanctuary. Read on to discover tips from real people — Iezawani from Malaysia, as well as Team Clozette's Kersie and Audrey from Singapore — and hear their experiences in successfully making their houses feel like home.
Be clear of your needs and wants
Looking for a revolving wardrobe a là Cher from Clueless or hoping for a sun-soaked balcony filled with flowers, herbs and plants? While it's tempting to wish for a dozen different fancy features for your home, it's much more realistic to narrow down to a handful that'll complement your current daily routine — such as a durable kitchen island for your baking expeditions or a flexible work desk corner for you and your family.
"The first thing that my husband and I sought a contractor's help for after moving into our new home in Putrajaya, Malaysia, was to build a sizable yet comfortable dry and wet kitchen. My family loves eating the food that I make! Apart from our dining table, we also wanted a big island for us to gather for meals and spend quality time together, as well as for our four children to do their homework," shared Iezawani, an F&B entrepreneur who also holds a senior management position in the oil and gas industry.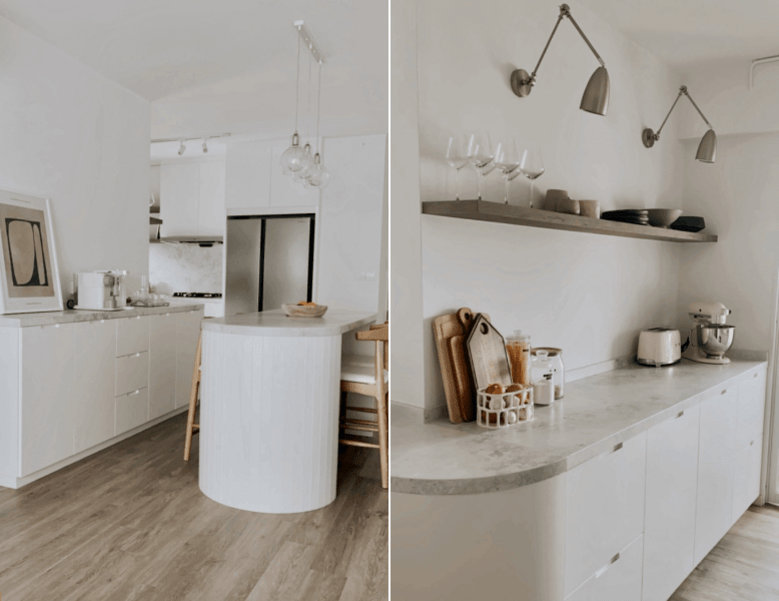 Meanwhile, it was "love at first sight" for Team Clozette's Creative Manager Audrey and her fiancé, who immediately recognised the potential of a 25th-storey, four-room resale flat in Sengkang, Singapore while hunting for their first home. "We knew this was the right home for us because of its layout, location and accessibility," revealed Audrey.
That said, the couple also knew that they wanted their home to have a more light-filled, spacious and open-concept theme. "We weren't fans of the flat's existing darker interior theme and built-in furnishings though, hence we decided to rebuild those areas from scratch. There was a bomb shelter located right in the middle of the flat too and that gave us the opportunity to build an open-concept kitchen," added Audrey, who moved into her newly refurbished home with her fiancé earlier this year.
As for Team Clozette's Co-Founder and Creative Director Kersie, the new normal spurred her to embark on her fifth renovation project for her home, which was to revamp her master bedroom. "I decided to renovate my master bedroom in November 2020 due to the pandemic. I wanted a larger structured space that allowed me to work comfortably from home while supervising my kids as they do their homework on remote learning days.
The room was also in dire need of a few improvements, including fixing the faulty old pipes for the air conditioning system and refreshing the interior decor, which looked pretty worn out and dated after 16 years. I find it quite fun to spruce up some corners of my living space from time to time, given that I've stayed in my current home for quite a long time," said Kersie.
Be hands-on in the process
It's easy to leave all the hard work to the professionals, with all the potential drilling, hacking and laborious steps involved in the home renovation process. However, you and your contractor are susceptible to misunderstandings too as personal, specific design preferences may be tough to grasp from the get-go. Staying involved gives you stronger control over the outcome and leaves you with less room for mismatched expectations and disappointment.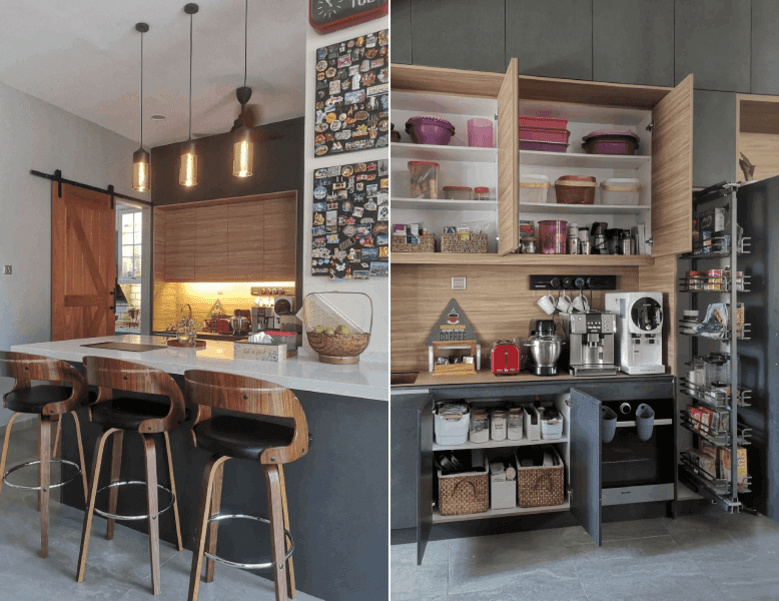 "Building a dry and wet kitchen required a lot of work! My husband and I had disagreements along the way but we hugged each other and were overjoyed when it all came together. It was worth the effort. We had very specific requirements for the dry kitchen area, so I sourced suitable design references while my husband worked on the measurements and created a hand-drawn 'rendering' of what we'd like the kitchen layout to be.
From start to finish, we checked in with our contractors regularly via phone calls to communicate our needs and requirements clearly. We even connected our contractors with a Singapore-based supplier as we wanted a water- and heat-resistant tabletop with a wooden texture finish," revealed Iezawani.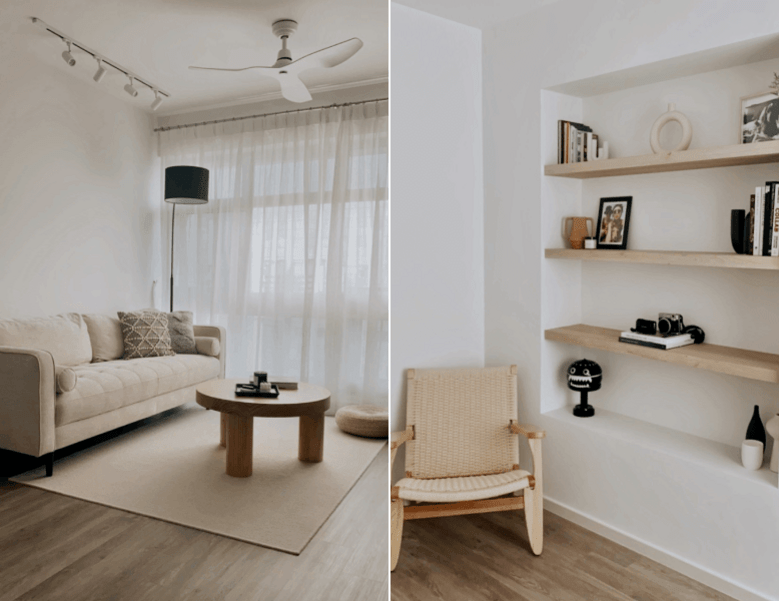 Over at Audrey's, she and her fiancé met with their contractors and ran through the renovation process before official work began. "During the renovation, we popped by the site at least twice a week to check in on the progress too. We also communicated with our contractors daily over text to iron out any kinks," revealed Audrey. As the contractors busied themselves with redoing the flat's major furnishings, Audrey and her fiancé got hands-on with the interior styling, which included sourcing the right tiles and furnishings.
The couple put together their own styling references (with the help of Instagram and Pinterest) to achieve the organic-meets-modern aesthetic that they've always wanted. They also visited various laminate showrooms, quartz and tile factories to view the materials in person to form a more comprehensive vision board. "This process was time-consuming, but we have no regrets because it helped us to save on renovation costs! We were able to create a more cohesive colour palette for our home and we were able to better visualise how everything would fit together," revealed Audrey.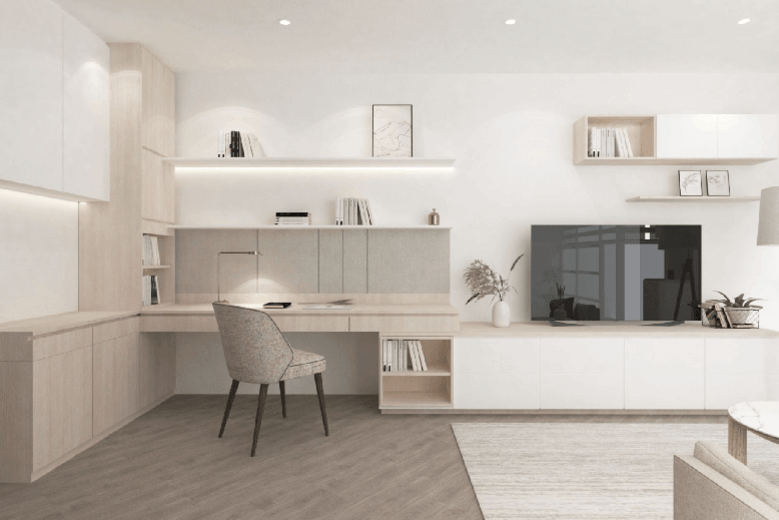 However, it may be hard for some to be present during all aspects of the home renovation process. As an effective alternative, Kersie roped in the help of a reliable project manager to keep her informed on the progress of her room makeover project. She also sought recommendations from her friends and family on trusted interior designs firms and contractors. "It's important to find a good project manager whom you can work well with. They should also have solid credentials and a design portfolio that matches your lifestyle," advised Kersie.
Be prepared for the unexpected
Most of us tend to start out with an ideal budget, vision board and date of completion for our home renovation projects. However, the truth is that we'll face challenges, deviations and moments that require quick decision-making. Having successfully emerged from their renovation projects with a house that they can now proudly call home, what are Iezawani, Audrey and Kersie's advice for others who also wish to spruce up their abodes?
"Stay extremely focused on these main aspects: theme, design and budget. (Especially budget!) I come from a sales background, so I wasn't afraid to negotiate with contractors on costings and quotations in order to stay within our stipulated budget," advised Iezawani. As for Audrey and Kersie, they buffered approximately 5 to 10% and 20% respectively for their budget. "This is to factor in areas that we might've missed out previously, such as extra electrical work and lighting," explained Kersie.
Embarking on your own home renovation project can be a lengthy, expensive and tedious process. However, consider reframing your perspective into realising that it isn't purely work. Rather, it's a labour of love that you'll be proud to have built for many years to come.
(Cover photos from: Audrey, @iezawani and @designofschatz)
Next, we highlight four key nostalgia-inspired home decor trends to know now, and show you how you can decorate the decade in a fun and modern way.

Comments, questions or feedback? Email us at [email protected].