What comes to your mind when someone mentions "self-care"? Does it inspire you to practise a more mindful skincare routine? Or perhaps, spur you to switch off your devices for a moment and to draw yourself a bath? For Kyla Hernandez, Juliana C Stryker and husband-and-wife duo Doug & Viv, curating a safe space — both physically and emotionally — for their passions and hobbies is their form of self-care. Read on to discover their beautiful and unique spaces.
For the love of words:
A book lover's cosy nook with items that spark joy
Colourful books tucked neatly into white shelves. Sunlight peeking through the windows. Plants of assorted species and sizes adorning different corners of the room. You're looking at Kyla Hernandez's cosy bedroom, which doubles as a book nook that displays her most beloved reads.
"I've always wanted a creative outlet where I can share my love for books. My Instagram was the perfect avenue for it so that my followers can also read them and hopefully enjoy them too," shared Kyla who goes by @readsbyky on Instagram.
The 22-year-old reveals that her space is "small". Hence, she makes it a point to "maximise" it with things that she loves the most. "I make sure to surround myself with things that inspire me, spark joy in my life, and make up who I am as a person. In my case, it's mostly my books and the other things are my scented candles, clean desk set up, and cosy bed."
For the love of community:

A couple's chic balcony for enjoying home-brewed coffee
Remember how budding home baristas and bakers were all the rage during the peak of the pandemic For Doug & Viv, setting up their mobile coffee cart business COTOB (Chip Off The Old Block) was a dream come true after a curious neighbour of theirs complimented them on the aroma of their home-brewed coffee.
It started with Doug & Viv inviting their neighbours to their chic and modern space to share a home-brewed coffee with them and later sharing these special moments on Instagram. "We were just having fun with it and it reminded us of the 'kampung' spirit (meaning "neighbourly spirit" in the Malay language) our parents used to talk about.
People were intrigued by our content and concept and the word started to spread. It's also something you don't see every day; a full coffee setup brewing from a home of baristas. That was what inspired us to share what we do, especially with the rise of home baristas and coffee lovers alike," shared Viv.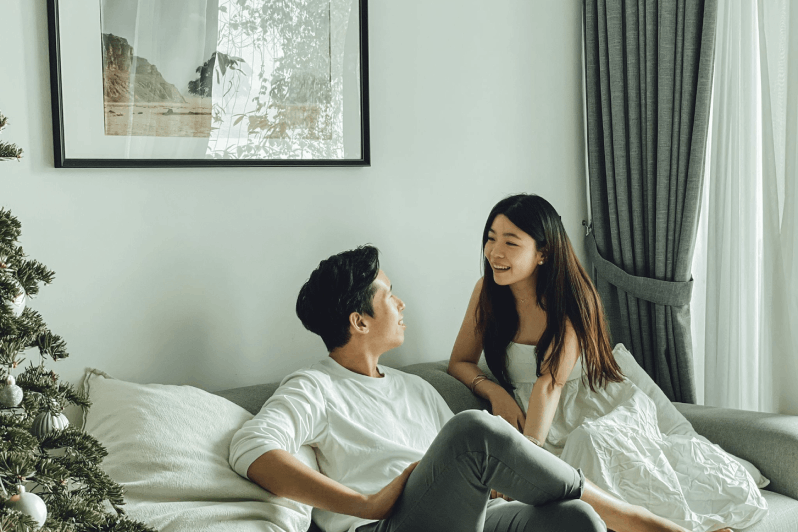 When it comes to self-care and curating a calming living space for themselves, Viv explained that running a business reminds them to be "intentional" in setting time aside for quality time together and alone time. "We also designed our home to be a sanctuary and to be centred as a place of peace. We prioritised a lot on the aesthetics to evoke a feeling of rest and refuge when we come home and of course, a special space for our passions: coffee and music," she added.
"We brew coffee simply because we love to and it's important that our 'love tos' don't become 'have tos' in our headspace. Lastly, it's more about the journey than the destination. So when it comes to making coffee, or really any aspect of our lives, we're all about enjoying the process," the couple shared.

For the love of different interests and inspirations:
A content creator's home office with bold furnishings
"My home office is what I affectionately call the 'Jules' Cave'," shared content creator Juliana C Stryker. The self-professed 'Disney Geek' and founder of Rescu, a home visiting doctor service in Singapore, revealed that the space reflects the "different facets" of her thoughts, interests and inspirations.
True enough, her living space artfully showcases all these and more — from a precious Mrs. Pott Teapot set from Disney's Beauty and the Beast and a curated collection of books to a crimson lip-shaped sofa placed underneath a giant pair of gold wings.
But beyond these stunning features, her home office is also where she likes to be in order to properly rest and recuperate. "Being in here allows me to break away and unwind and focus on myself. This in turn helps me to plan my next moves and perform better at work," explained Juliana.
How do you make space for yourself, your passions and self-care?
(Cover photos from: @readsbyky and @cotobcoffee)
Next, discover 10 self-care workshops that are designed to pamper your mind and body.

Comments, questions or feedback? Email us at [email protected].