Take the weekend not just as an opportunity to reset but to refresh. It's tempting to just go into goblin mode — laze around and not do anything productive — because you're tired from the week that just passed. But did you know that what you do during the weekend can help set you up for a good week ahead? The Sunday scaries — that foreboding anxiousness that comes with ending the weekend — can be a thing of the past with just a few mindful actions.
Here are three easy hacks that will help you start the new week on a good note — from buying a bouquet of flowers to colouring to the new Downy Blissful Blossom in your weekly laundry to give them a long-lasting, refreshing scent that will rejuvenate your senses.
Buy yourself a bouquet of flowers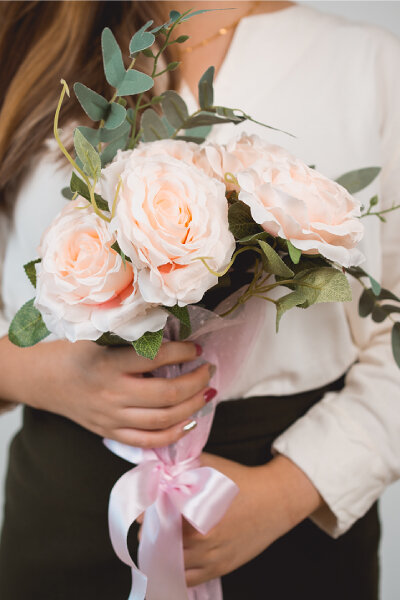 Ever wondered why you feel instantly relaxed when you're surrounded by nature? It can be going to the beach, hiking up a nature trail, or simply going for a walk in the garden. If these aren't easily accessible, you can add buying a bouquet of flowers to your weekly self-care routine instead and bring a piece of nature into your space. Just seeing flower bouquets is said to be great at reducing stress and anxiety, with some studies suggesting that it can also slightly lower your heart rate.
Try adult colouring as a hobby
If you're familiar with art therapy, adult colouring is another way to help refresh your mind for the week ahead. It's known to help your brain relax and eventually improve your ability to focus, which will come in handy during the workweek. The effect of filling out adult colouring books is almost similar to going into a meditative state, which also helps reduce anxiety levels.
Use Downy fabric conditioner for your weekly laundry
Harness the power of aromatherapy and use a refreshing scented fabric conditioner like the Downy Blissful Blossom in the week's laundry. It leaves a long-lasting refreshing rose scent that inspires relaxation and rejuvenation the moment you pull out clothes from the wash — a lovely addition to your weekly self-care routine. Since the floral aroma will stay on your clothes, you'll definitely feel refreshed every time you get a whiff of its scent as you go about your week.
The fabric conditioner is formulated with 100% natural essential oil that leaves a soft yet long-lasting floral scent on your clothes while simultaneously softening the fabric and making it easy to iron. The scent is inspired by 1000 roses, which can trick your brain into thinking that it's smelling a fresh bouquet of flowers and uplift your senses in the process.
The natural essential oil gives your clothes a rejuvenating, aromatherapy-like scent that you'll enjoy throughout the week. Plus, it makes your clothing softer and reduces the annoying stiffness caused by static.
Your self-care routine doesn't have to be complicated. In fact, you should be able to enjoy it so you'll take the happy and refreshed vibes with you into the week ahead!
Downy Blissful Blossom is available at all leading supermarkets in Malaysia in three different sizes. Get it for MYR8.30 per 530ML, MYR13.40 per 800ML, or MYR20.70 per 1.35L.
Comments, questions or feedback? Email us at [email protected].