Pizza has been around for centuries in one form or another, dating back to flatbreads with savoury toppings favoured by ancient Egyptians, Romans and Greeks. But the modern birthplace of pizza is widely recognised as southwestern Italy's Campania region where Naples is located. The dish was created around the 18th century as a quick and inexpensive snack for the throngs of poor labourers working the city's waterfront.
Today, this humble snack is gaining celebrity status, driven by the mushrooming of gourmet and artisan pizzerias around the world. Here in the Lion City, the trend was led by the now-defunct Nancy Silverton's Pizzeria Mozza at Marina Bay Sands — I loved its Egg, Bacon and Yukon gold potatoes on a base of Sottocenere cheese, Cipollini onions and thyme — along with the likes of Blue Label Pizza and new entrant Lucali BYGB that hails all the way from Brooklyn, New York, upping the ante with a hefty price tag of SGD55 for a basic 18-inch pie.
Fortunately, more affordable artisan pizzerias continue to crop up, such as
Wild Child Pizzette
that recently opened at Circular Road, Cicheti Group's fourth F&B venture. Expect no less than Neapolitan pizzas rendered with a modern makeover that pushes the boundaries of tradition alongside atypical Italian appetisers. The dining experience is elevated by exotic alcohol parings orchestrated by co-owner sommelier
Kamiyama
who has chosen to delve beyond wines into ancient nihonshu, funky craft beers, by-the-glass of bubbly and rosé or orange macerated wines.
The kitchen is ably helmed by chef co-owner
Lim Yew Aun
and his team of pizzaiolos, churning out tasty petite 10-inch pies from a two-tonne, Hershey-shaped wood-fired oven. The chef's secret lies in a traditional Italian pre-yeast biga that undergoes two stages of fermentation that takes no less than 60 hours each time, creating a crust — with mere minutes of blasting in the wood-fired oven — that's moist, light with an airy texture that yields to a bite and chewy yet crisp.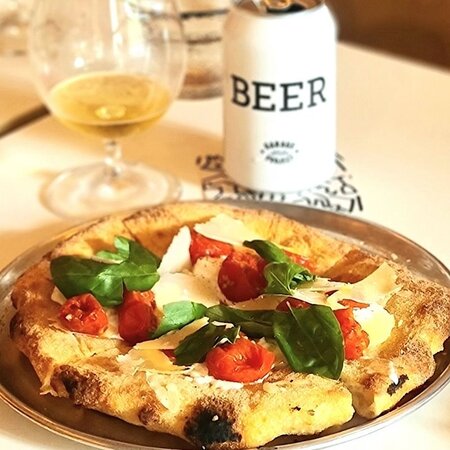 Traditionalists are kept happy with the
Margherita D.O.P.
(SGD19.50) which offers the classic combination of tomato sauce, buffalo mozzarella, fresh basil, grana padano, and extra virgin olive oil. We were pleasantly surprised by the playful
Crispy Fried Margherita
(SGD21), where the pizza dough is deep fried and topped with creamy clouds of stracciatella, sweet bursts of semi-dried San Marzano tomatoes, fresh basil and thick shavings of aged parmigiana — the salty and crisp crust reminding us of Ham Chim Peng, our local dough snack.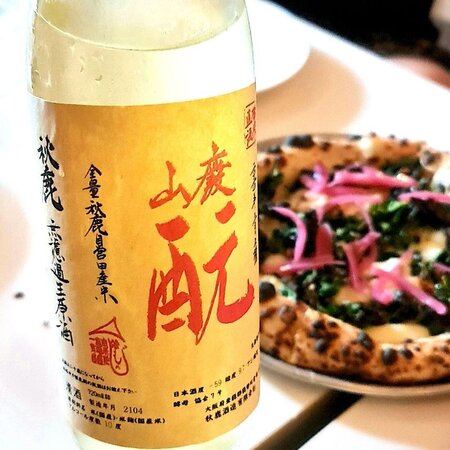 If you are looking for a pizza with a kick, go for the feisty
Spiniata Calabrese
(SGD19) packed with spicy salame from Calabria and drizzled with Sichuan chilli honey. The fiery pizza made a good pairing with a sweet well-chilled ice wine-like Motoshibori Junmai Yamahai Muroka Nama Moto sake from Akishika Shuzo, Osaka.
Hungry diners can opt for the not your-run-of-the-mill appetisers like the
Bikini
(SGD18.50), a slow-braised beef cheek marmalade layered with melted taleggio and provolone sandwiched between toasted pizza dough bread; and the
Kurobuta
(from SGD17 for 200g), the restaurant's rendition of the Cantonese "siew yoke" — which sees the herbed and spiced black pork belly roasted and served with crackerjack chilli oil. Vegetarians will have no quarrel with the
charred Cauliflower
(SGD14.50) served with coriander, mint and a fistful of chopped pistachios on a bed of creamy labneh.
Still not satiated? Hit the homemade
Pecan Tart
(SGD13) that's chock-full of brown sugar-bourbon pecan encased in a flaky and buttery shortcrust pastry shell topped with a boozy whisky gelato and drizzles of caramel and bourbon sauce.
Pizza aficionados will welcome this innovative pizzeria that pushes the culinary envelope of pizza-making without offending traditions. Wild Child Pizzette's prime city business district location, petite sizes of pizzas, and fine selection of alcohols make this casual restaurant a pleasant place to chill, even if it's for a table for one.
Wild Child Pizzette is located at 50 Circular Rd, Singapore 049405.
Comments, questions or feedback? Email us at [email protected].