The quarantine period has made a chef in all of us. Almost every month, there's a new wacky trending food that we can't help but be curious about. We've had dalgona coffee, sourdough bread, and sushi bake, samgyup bake — all very yummy, if we may add. And on this week's menu, we have Yakult cake. That's right, the iconic sweetened probiotic drink of our childhood distributed then by Yakuruto obasan or "Yakult ladies" turned into a delectable dessert. Intrigued? Read on and learn how you can make your own Yakult cake or where you can get one.
The basic Yakult cake recipes
No-bake Yakult cheesecake
With all these baking trends, those who don't own an oven may be feeling a little left out. The good news is, you don't need one to make a good Yakult cake. Yakult Australia recently shared this recipe made in collaboration with Chef Miko Aspiras. To make this, the only fancy kitchen tool you'd need is an electric beater. Of course, you can always opt to beat the ingredients manually, in that case, more power to you.
Add a twist: Sprinkle some matcha powder to make it more colourful without additional sugar.
Yakult-glazed coffee cake
Combining the creamy goodness we love about dalgona coffee with the fluffy texture of a chiffon cake, this Yakult-glazed coffee cake recipe is a symphony of flavours. You also don't need an oven to make this. It's quite simple: just whisk a dalgona coffee and add Yakult then add a layer of crumbled cake. Yummy and easy! You can find the full recipe here.
Add a twist: Add some Peppero sticks to make it more fun.
Apple Yakult yoghurt cake
Singaporean food blogger Ellena Guan shared this easy Yakult yoghurt cake way back in 2006 when gelatin foods were popular. More than a decade later, this recipe remains timeless. With a revived interest in Yakult cake, we bet it's not long until she makes an updated version.
Add a twist: Top it with fruit slices for a more interesting-looking cake.
Red velvet Yakult cake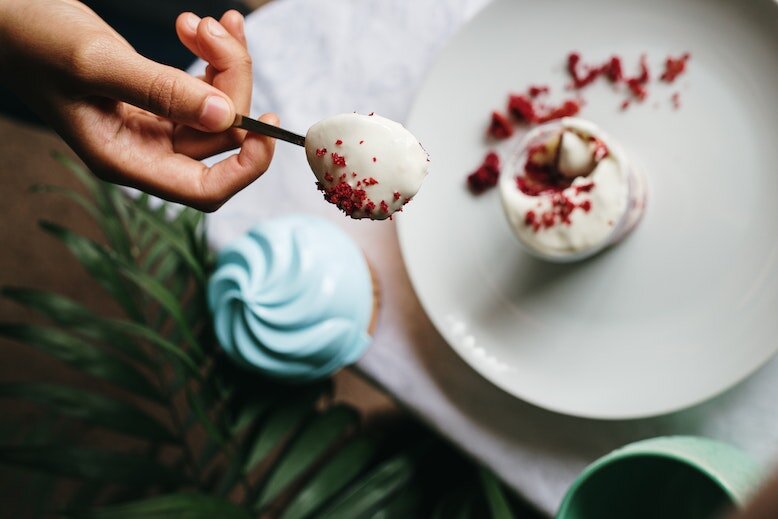 Wanna fast forward to Christmas? Emulate the holiday cheer by baking a red velvet pastry. This recipe is a little more complicated, but with some extra vigilance in measuring ingredients, even beginners can pull it off.
Add a twist: You don't have to stick to red, you can also add other colourings to the cream to make it unique.
Where to buy
If you're in the Philippines, then you're in luck. The newly opened online store Mélange offers homemade chiffon-like Yakult cakes. Unfortunately, the trend isn't as widespread yet to other countries in our regions but we're betting local cafes will soon also offer this treat.
Other Yakult recipes to try
Because of its versatile tangy flavour, Yakult can also be the main ingredient in many easy recipes. Check out some of them below.
Yakult ice cream
A super easy recipe by Hungry Traveller, this one just calls for two ingredients — Yakult and cream condensed milk — mixed together. Chill it overnight in the freezer and enjoy the next day.
Add a twist: Add some cracker crumbs or fruit toppings to add more flavour.
Yakult bubble tea
Want to zest up your milk tea? Just add Yakult to an ordinary milk tea recipe. The key to making a delicious Yakult milk tea is the right ingredient ratio. Watch this video for guidance.
Add a twist: Add more floaters to spice it up. Maybe a scoop of Yakult ice cream on top?

Would you try this new "quarantine food" or is Yakult cake too eccentric for your tastebuds?
(Cover photo from: @melange.ph)
Find more food recipes here.
Comments, questions or feedback? Email us at [email protected].