Festive celebrations will look different this year as the pandemic continues to negatively impact countries across Asia and beyond. However, that doesn't mean that you have to miss out on spreading cheer and spending quality time with your loved ones. Speaking of which, why not hop onto the World Wide Web and organise a fun, themed virtual party to help keep your spirits lifted this holiday season? Read on as we highlight five themes for you to consider as you stay connected with your friends and family in time for your year-end festivities.
'Netflix & chill' with a feel-good flick
Gather your friends around the virtual couch and stream a 'so-cheesy-it's-good' Christmas movie on Netflix, as we reckon it's a simple yet delightful way to get yourselves into the mood of merry-making. The streaming service has plenty of festive-themed movies and shows for you to choose from and if you aren't sure which one to go with, we recommend The Christmas Chronicles (2018) and its sequel, The Christmas Chronicles: Part Two (2020), which star longtime actors Kurt Russell and Goldie Hawn.

Get this party started: According to CNET, all you have to do is download Teleparty, a free extension on Google Chrome that will allow you to watch Netflix shows remotely with your family and friends. The extension also comes with a side chat bar for you and your loved ones to chat with one another in real-time as well. However, all viewers will need a Netflix subscription in order for this to work. Those who don't have one can simply register themselves for the free, 30-day trial to enjoy this perk.

Surprise one another with a 'snack attack'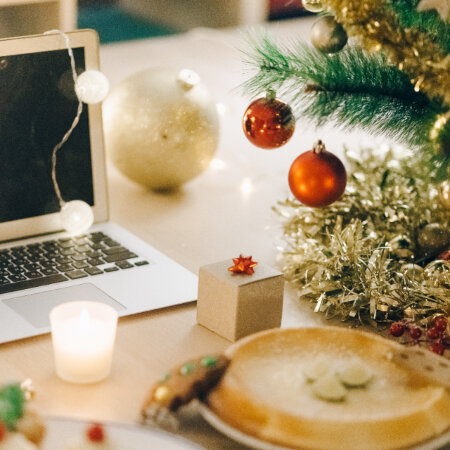 Does your best friend have a thing for salty popcorn, or is she more of a red velvet cupcake kind of girl? Usher in the season of giving by surprising your closest co-workers and friends with a box of their favourite treats as we believe this simple yet meaningful gesture is bound to put a smile on their faces.
Get this party started: This party theme is pretty self-explanatory; all you have to do is arrange a specific date and time for you and your friends to virtually unbox your surprise gifts together so that you can indulge in your favourite snacks while catching up with one another.
Host an epic game night
Videos games such as Among Us and Animal Crossing: New Horizons have become hugely popular this year, hence it's only fitting that you consider hosting a virtual game night for you and your closest friends. All you have to do is figure out which sort of games would best suit your guests' preferences as there are tons for you to choose from.
Get this party started: Looking for something that barely requires any set-up? Try House Party as the video-chat application already has a good selection of games for you to choose from, such as Heads Up, Trivia and word association game Chips and Guac. There's Jackbox too, which is known for its quiz-based party video games that are a whole lot of fun (but also a little weird and inappropriate at times). Go with their free-to-play site Jackbox.tv or level up by purchasing their Party Packs.

Shake things up with a cocktail challenge
Invite your liquor-lovin' besties to a virtual cocktail competition and challenge one another in re-creating the most creative and complex yet thirst-quenching recipes. The best part? You'll get to taste your own creations and personalise them further to your liking. This intimate affair will require a little more planning though, as you'll have to decide on the recipes, order the ingredients and tools and have them delivered to your guests' place ahead of your gathering.
Get this party started: Conduct a bit of research online to ascertain which holiday cocktail recipes are best suited to your guests' needs to ensure that the recipes aren't too difficult to re-create at home. Then, save the step-by-step instructions before you pre-order the ingredients via a reliable liquor and home bar goods store. Finally, pick your preferred platform to host the workshop on. And if the above sounds like too much work for you, you can always let an expert take the lead by signing yourselves up for a virtual cocktail workshop instead.
Belt out to Christmas karaoke songs
What's Christmas without singing along to classic Christmas jingles? Set up a Skype video session, put on the above Sing-Along Christmas playlist on Spotify and have your buddies join you for a fun Karaoke night. Take turns in belting out to popular festive hits such as Rudolph The Red Nose Reindeer, Jingle Bells and Silent Night.
Get this party started: Turn this joyful karaoke sesh into a mini talent competition. Encourage your guests to show up in their best festive attire as well, where the best-dressed performer will stand to win a prize at the end of the night.
How are you celebrating Christmas differently this year?
(Cover photo from: Natalia Vaitkevich via Pexels)
Next, discover which fashion and beauty picks are at the top of #TeamClozette's wishlist this December.
Comments, questions or feedback? Email us at [email protected].