Tiong Bahru Bakery has been one of our favourite cafes in the eclectic namesake neighbourhood since its debut in 2012, drawn by its addictive Kouign Amann and respectable selection of French pastries and artisanal bread.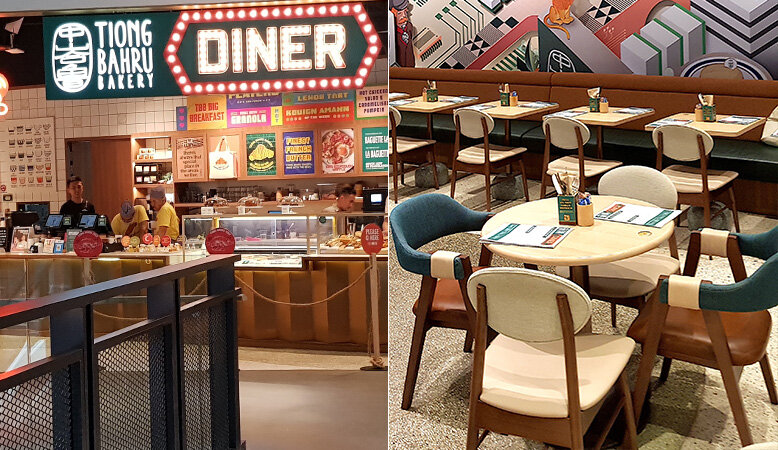 Left: The Funan Mall branch's facade; Right: Inside the diner
This bakery chain has recently launched
Tiong Bahru Bakery Diner
, an all-day breakfast dining concept at two shopping malls. We were invited to a media tasting at the one located in the revamped
Funan Mall
. Heading the new venture is young Chef Paul Albert, who has his foundation in French haute cuisine and cut his teeth across a list of Michelin-starred restaurants in France and Rio, where he learned to experiment with fermentation — his newly acquired skills are used to make sourdough, cheese, kombucha and butter from scratch at these diners.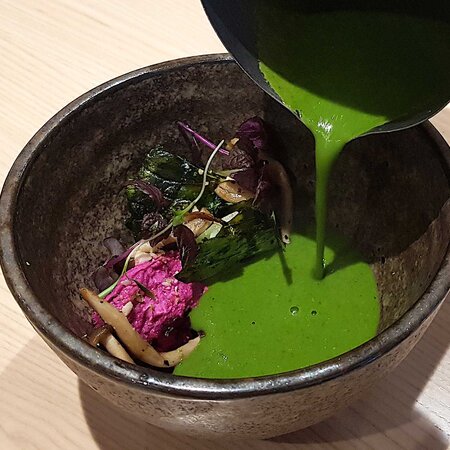 Tiong Bahru Bakery Diner's Super Green Warm Soup
Tiong Bahru Bakery Diner's plant-rich menu may not sound very exciting, but most of the items we sampled surprised with their flavours and presentation, executed using sophisticated techniques atypical of such causal diners, such as the
Super Green Warm Soup
(SGD16) that blends Chinese spinach, bok choy, shanghai green, chye sim, kaffir lime and lady's finger in a flavourful mushroom broth, served with a dollop of beetroot pickled ricotta, toasted candlenuts, sautéed shimeiji and green parsley oil to create an umami-filled dish worthy of a place in a more upscale restaurant.


Left: Pulled Pork Creamy Risoni Pasta; Right: Hot Chicken Salad and Caramelised Pumpkin
A standout was the
Pulled Pork Creamy Risoni Pasta
(SGD22), the classic American pulled pork marinated with spices for two days in its own jus and shiitake broth, then slow-cooked for 24 hours before being tossed in a pan with risoni, a short-cut pasta shaped like a large grain of rice, and finished with butter, broth and cheese. The raw enoki topping added a touch of colour and crunch to the flavour-packed, creamy risotto-like dish.
Another dish that hit the spot was the
Hot Chicken Salad and Caramelised Pumpkin
(SG20). After an overnight marinate in a medley of ingredients, the sous-vided chicken breast is basted with brown butter, while the pumpkin is left to confit in the oven before being toasted à la minute over brown butter. The sweet and savoury flavours of the chicken and pumpkin, acid from the raw diced pomelo, the pungency of the yoghurt wasabi sauce, and the aroma of parsley oil juxtaposed beautifully with the tender meat.


Left: Portobello, Avocado & Hummus Black Sandwich; Right: Sourdough Waffle
While visually enticing, the Portobello, Avocado & Hummus Black Sandwich (SGD19) was too complex for a sandwich — a bit overwhelmed by the dhal hummus and seasoning of cumin, curry, lime juice and tahini.

What fascinated us most was the
100 per cent Sourdough Waffle
, made from a batter using a 158-year-old starter that Chef Paul obtained from The Slow Bakery in Rio that requires a two-day fermentation process. While you may order a
Savoury version of this Belgian-style waffle
(SGD23) that comes with a fried egg, ricotta drizzled with a maple syrup that's seasoned with smoked paprika, garnished with a sprinkle of goji berries and topped with crisp grilled bacon, we found these trappings a distraction from the aromatic and delightfully nuanced taste of the plain waffle. You may request the waffle to be served plain.
Vegans and vegetarians should be pleased with the addition of Tiong Bahru Bakery Diner to the local culinary scene; more than half of its menu comprises plant-based dishes. Local greens play a part in starters like the Chayote Kimchi and Mung Bean Salad (SGD18), mixing slow-cooked mung beans, blanched local snake beans and old-style Korean kimchi made using local chayote and turnip with a scatter of crispy buckwheat and toasted peanuts — although some may find this concoction a tad raw.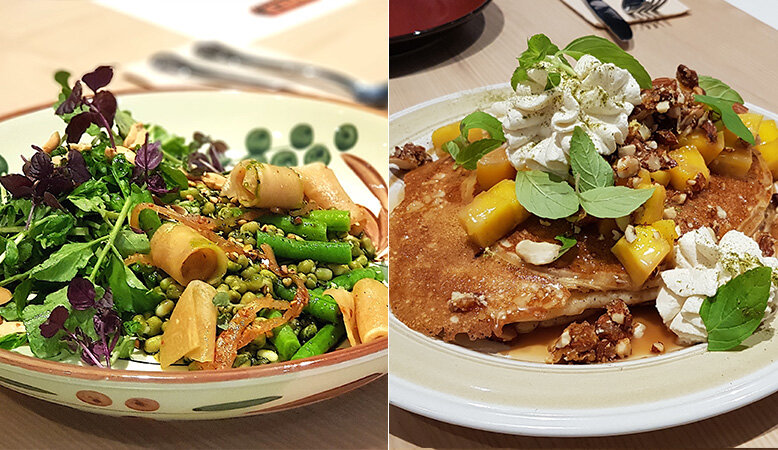 Left: Chayote Kimchi and Mung Bean Salad; Right: Fluffy Brown Butter Pancake
If you have a sweet tooth, the
Fluffy Brown Butter Pancake
(SGD21) has your name on it. A twist on the classic American pancake, buttermilk is used instead of regular milk to give the dough a fluffy, soft texture while the brown butter used gives the pancakes a caramelised taste and smell of toasted hazelnut. Best to be shared as the dish is rich and generous in portion.
Tiong Bahru Bakery's foray into the more comprehensive casual dining space is a welcome departure from the slew of run-of-the-mill hip cafés that have been sprouting all over the island. Tiong Bahru Bakery Diner's reasonably priced and adventurous menu coupled with its offering of proven artisanal bread and pastries make it a good lunch or dinner pitstop, especially if you are shopping in the vicinity of Funan or Raffles City malls, the home of these diners.
Tiong Bahru Bakery Diner is at Level 4 of Funan Mall, 107 North Bridge Road, Singapore 179105. You may also find it at B1-11 Raffles City, 252 North Bridge Road, Singapore 179103.
Comments, questions or feedback? Email us at [email protected].