The pandemic has pummelled the F&B industry badly, so it's heartening to see restaurants regaining a sense of normalcy as the economy reopens. We headed to The Butcher's Wife for our first media tasting after the lockdown, although the disruptive social distancing practices are still omnipresent at the restaurant.
This smart and cosy bistro in the hipster dining quarters of Tiong Bahru was recently revitalised under the stewardship of Brazil-born, Paris-trained Mariana Campos D' Almeida. A graduate of the prestigious Institut Paul Bocuse in Lyon, this young –– she's only at the tender age of 28 years –– but talented chef weaves traditional fare from her homeland with local ingredients rendered with western culinary techniques infused with Southeast Asia influences creating dishes that explode with flavours that are unusual and yet tease with a sense of familiarity — all 100 per cent gut-friendly and gluten-free. With the chef's background in wild fermentation, the menu showcases her experiments — think kefir, kombucha (ask for the off-menu kombucha), yoghurt and cheese — all made from scratch.
Our first starter of Dadinhos de Sago (SGD11), meaning "little dices" in Portuguese, gave us a peep into Chef Marians' culinary DNA. Concocted from deep-fried cubes of tapioca granules packed with salted cheese, this everyday Brazilian snack is made Instagrammable with an accompanying sweet, neon-red dragonfruit chutney dip.

Next came the Mini Corn on Fire (SGD10), a play on the Brazilian-style corn grilled with grated pecorino, smoked paprika and fermented black garlic aioli — a combination that oozes comforting Asian wok-hei aromas — hands down the star of the tasting session. Probably the most interesting starter is the Crispy Pig's Ears with red dates sauce, pickled ginger flower and wild pepper leaves, best described as a cross between Philippine's Sisig and the Thai Betel Leaf Wrap (Miang Kham). Devour it in one bite and savour the piquant nuances of flavours, aromas and textures.

For the next dish was Our Own Goat Cheese (SGD17) — the prettiest of them all; it's raw goat milk from the local Hay's Farm transformed into a creamy cheese using Kefir grains. The pungent cheese is well balanced by raw honey sourced from 13 Honey's own bee farm and paired beautifully with the freshly baked walnut and buckwheat bread from "Oh My Goodness!", a local bakery specialising in gluten-free bakes.

Of the starters, the Tucupi Tiradito (SGD22) is our least favourite. Not that it wasn't good, just that we had expected a more robust punch from the Peruvian-Japanese sashimi ceviche when it is touted to come with ingredients like Sichuan peppercorns and laksa leaf oil. Instead, it erred on the bland side.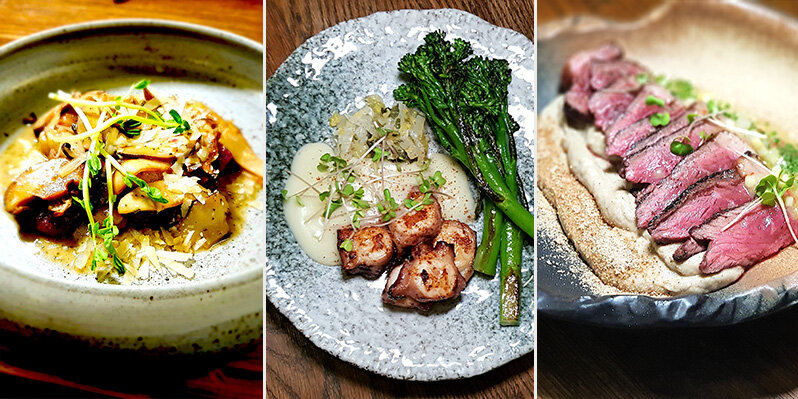 Pasta dishes are always crowd-pleasers, and kicking off the mains is a pillowy purple pan-fried
Sweet Potato Gnocchi
(SGD22) wafting an earthiness that's lifted by the rich rosemary butter sauce with local mushrooms and pea shoots.
We're fans of the eight-limbed mollusc, and here at the Butcher's Wife, the
Grilled Octopus
(SGD27) with manioc puree, white kimchi and grilled broccolini comes tender, smoky and charred; just the way we like it.
The final main of a juicy round cap
Australian Wagyu Picanha
(SGD38) is perfectly done medium-rare, accompanied by the quintessential Brazilian condiment of salsa given a makeover with Thai green papaya and a smoky burnt cauliflower puree sprinkled with dehydrated banana powder.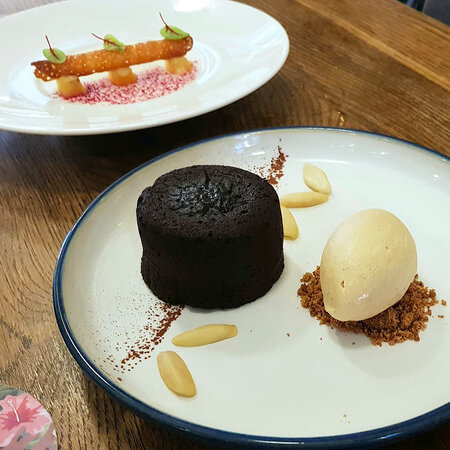 Desserts here hold their own too. The
Warm Chocolate Cake
(SGD14) slices open to reveal intense molten lava of 72 per cent Ecuadorian chocolate, served with buttery pili nuts that are unique to the Philippines. But my favourite dessert is the
Lemongrass Panna Cotta
(SGD13) — the creamy calamansi curd is infused with ginger and lime kaffir leaves, served with pineapples sous-vided in its own juice and cleverly assembled into the shape of the Marina Bay Sands building.
Coming off the lockdown, this impressive tasting session by The Butcher's Wife augurs well for a strong comeback by the local F&B scene. Even the wine pairing by the Drunken Farmer, a travelling pop-up natural wine bar and consultant, is well-curated. Gluten-free dining may sound boring but we assure you that Chef Mariana will change your perception. Expect no less than tasty and well-balanced dishes that extract the best from each ingredient, treated respectfully with an easy-to-love style that sits on the crossroads of the chef's hometown of Brazil and her new home in Asia.
The Butcher's Wife is located at 19 Yong Siak St, Singapore 168650.
Comments, questions or feedback? Email us at [email protected].