I love France and its multi-faceted cuisine, an affair that started more than 30 years ago on a work trip there and continued throughout my career. Understandably, I was thrilled to be invited by Restaurant JAG to taste its newly launched La Balade du Végétal contemporary French omakase menu.
Pre-dinner cocktails were hosted at Flow Bar, located just above Restaurant JAG, a brand new cocktail lounge in collaboration with Ricky Paiva, a Californian native and veteran mixologist who's behind the launch of some of Singapore's biggest cocktail bars including Manhattan Bar, named 14th in the World's 50 Best Bars.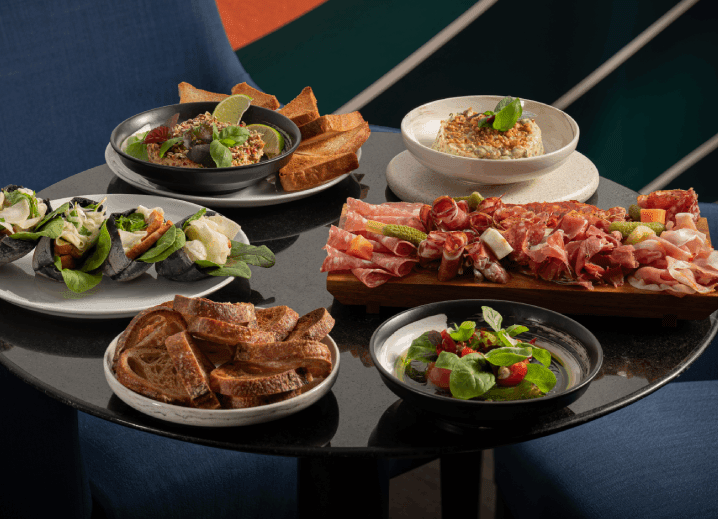 Flow Bar's drinks menu is anchored on three pillars: Living Room (featuring familiar classics), Garden (complementing the seasonal menu) and Playground (where creativity is unleashed and boundaries pushed), with over 230 expressions of wines and 25 sake selections. Snacks and hearty bites from Restaurant JAG's kitchen are on call.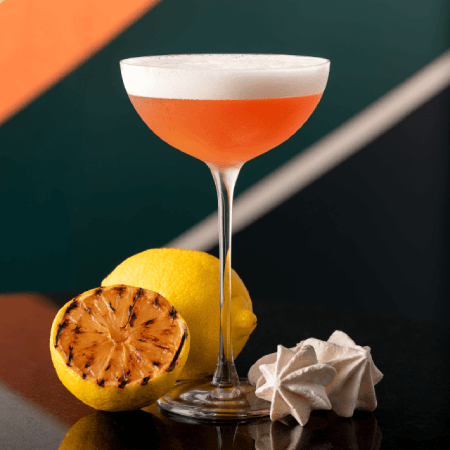 The substantial Blue Crab entices — the meat of the crustacean is spiced with laksa and thyme citron and served with toasted brioche, pairing well with the Burnt Lemon Whisky Sour made with Wild Turkey Bourbon, and the Thyme concocted with Smokey Monkey Shoulder, lemon thyme, fresh lime and seltzer; I love the smoky aroma of the latter.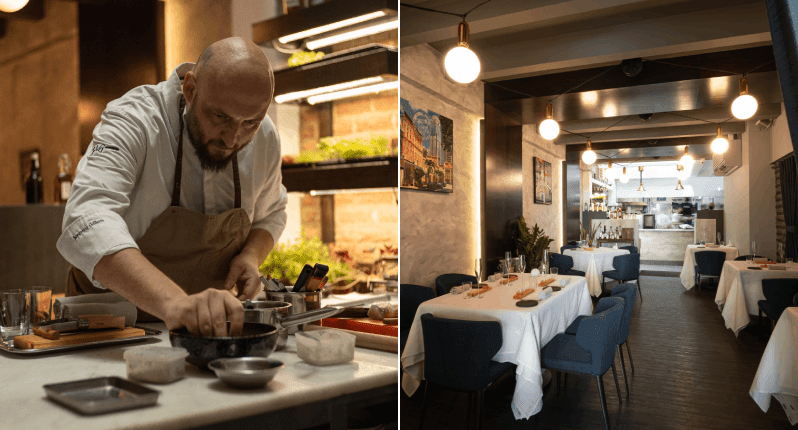 Dinner at Restaurant JAG is staged in an intimate six-table space decked in muted colours of blue, grey and taupe, offset by slate walls and dark wood flooring, with a line of sight to the open kitchen. Tutored by renowned chef-restaurateurs such as Michel Kayser and Nicolas Le Bec, co-owner Chef Jeremy Gillon's seasonal plant-based menu is inspired by his culinary years in Val in the French Alps, where he led his restaurant L'Epicurean to its first Michelin star in 2015.
An advocate for lesser-known seasonal vegetables, Chef Jeremy's dishes delight with clean and engaging flavours crafted from sustainable produce infused with indigenous wild herbs foraged from the French Alps of Savoie in collaboration with artisan farmers and a herb specialist.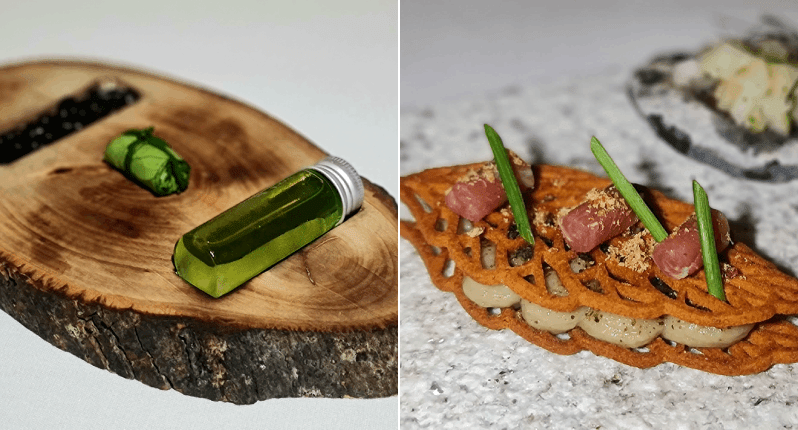 The luxurious eight-course menu is complemented by three canapés, a fresh bread basket, amuse bouche, vegetable-herb tea, a palate refresher, a pre-dessert and seasonal mignardises.
The trio of canapés is a star in its own right: palates are teased by celtuce wrapped in mint and a burst of sweetness from a tube of herb-infused apple juice; fresh Hokkaido scallop nestled among fennel and Berce (hogweed), and smoky-sweet banana shallot and serpolet (thyme) sandwiched between chocolaty sable Breton leaves topped with Bayonne ham for a lingering finish. Canapés are followed by an amuse-bouche of a warm-to-chilled layer of creamy oat and cannellini velouté laced with basil.
The first few courses feature inventive dishes such as an eel parcel wrapped with bok choy infused with archilee (yarrow) that's coveted for its healing properties — the tartness of the vegetable may not sit well with some diners but it balances the soft and sweet eel.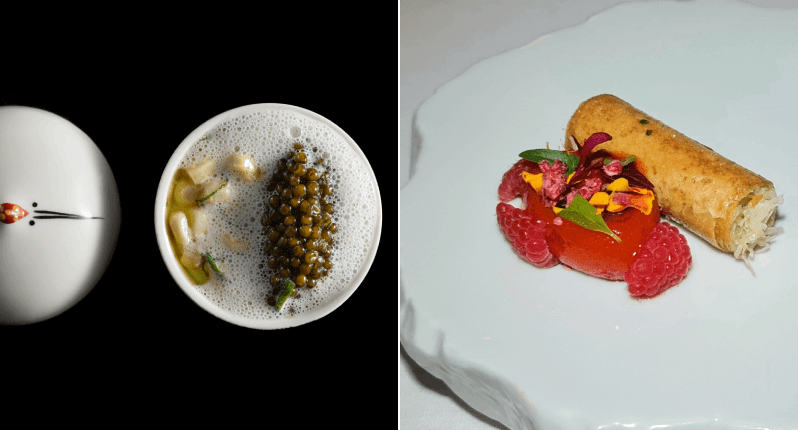 But my favourite is the royale of corn grown in Chitose farm in Cameron Highlands — its richness cut by the use of the Savoie alp sage and elevated by the salinity of Oscietra caviar from a 15- to 17-year-old sturgeon. The crab meat cigar is equally delectable; parked next to a bell pepper sorbet imbued with verveine (verbena), the ensemble delivers a juxtaposition of flavours, textures and aromas.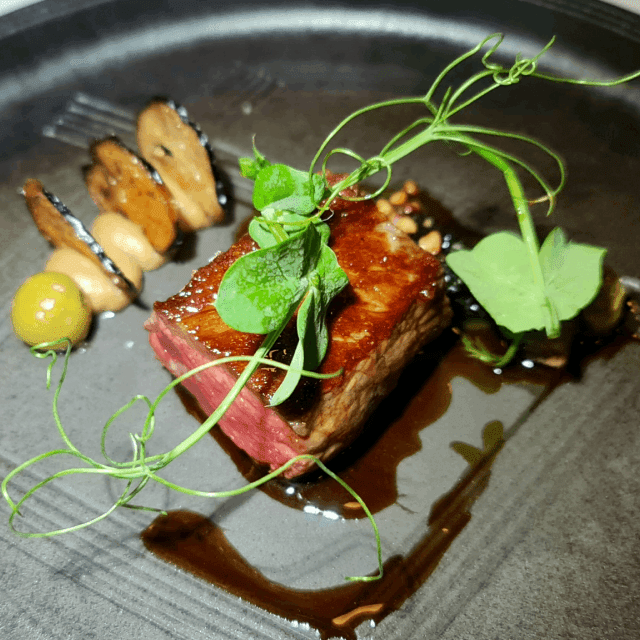 Dishes start to get heavier as protein enters the scene: tender sous-vided chicken is served with broccoli-like romanesco and a sprinkling of aubépine (hawthorn); Japanese sea bream sits on a bed of zucchini that wafts a floral note from reine des prés (meadowsweet); and a final main course of black Angus beef and aubergine, elevated by a hint of pepper from the carvi (caraway) and accompanied by a side of polenta.
The eighth and final course of dessert held its own too: a complex combination of puff rice biscuit served with fresh blackberries, figs seasoned with home-made bouleau oil, blackberry couli, rice ice cream, topped with fig tuile and completed with Japanese round rice roasted powder for texture.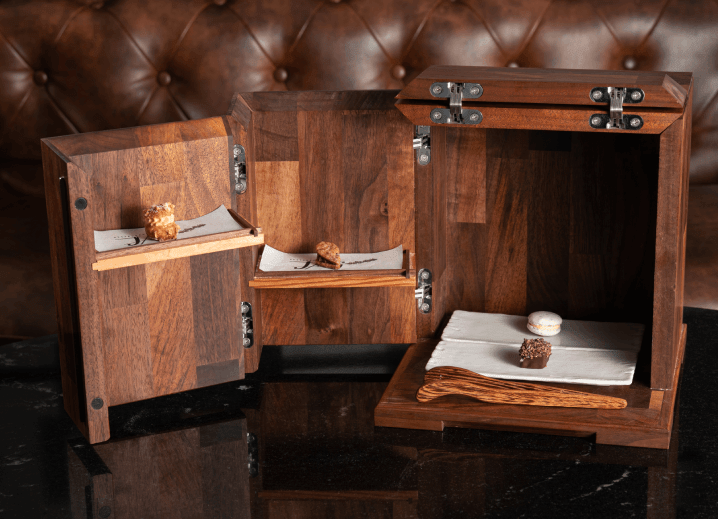 Restaurant JAG's attention to detail doesn't stop at the food. Dainty morsels of petite fours are presented in a gueridon specially commissioned and hand-crafted by Wood Artiste Louis Kwok of KJUNG Woodwork, as are the trolleys, to showcase Chef Jeremy's edible masterpieces. Service is professionally rendered by attentive (but not intrusive) wait staff who are knowledgeable about the dishes and wines served.
The Summer La Balade du Végétal dinner omakase is priced at SGD298++ per guest, with optional wine pairing at SGD248++ per guest. Restaurant JAG offers a holistic modern French dining experience, masterfully orchestrated by audacious Chef Jeremey who pushes boundaries to imbue Savouyard wellness into aesthetically pleasing dishes that are light, vibrant and tasty, dispelling misperceptions that French cuisine tends to be creamy and heavy.
Including the complimentary items, it's a 16-dish odyssey that will leave you satiated but not feeling stuffed. It's rare that I can say there wasn't a course I didn't like, only which I liked better.
This La Balade du Végétal degustation dinner reminds me very much of my experience at 3-Michelin starred Arzak Restaurant in San Sebastian, often ranked as one of the top restaurants in the world — unpretentious fine dining. It's just as good, and dare I say it, if not better. Chef Jeremy Gillon and his Restaurant JAG ought to be on the radar of gourmands.
(Cover photos from: Restaurant JAG)
Restaurant JAG is located on level one of 76 Duxton Road, Singapore 089 535.
Comments, questions or feedback? Email us at [email protected].