Luke's Lobster is on a roll (pun intended). Often hailed as having one of the best lobster rolls in the United States, this seafood chain from New York City opened its maiden outpost in Singapore in 2020 — a 23-seater located at the ground floor entrance of Isetan Scotts — and followed soon by a second outlet at Jewel Changi. It recently launched its third and largest outlet — it sits 39 people — on the first floor of Great World shopping mall.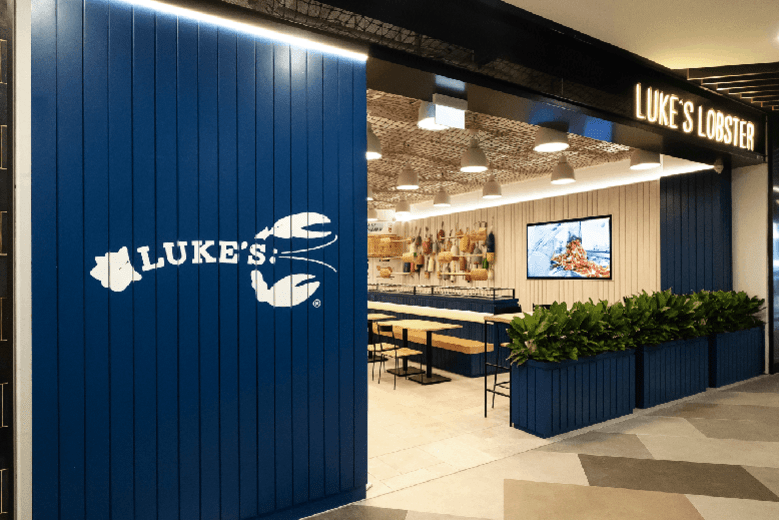 The setup of its Great World outlet mirrors that of its predecessors: a seafood shack decked with washed-out stone floors, distressed wood, navy-coloured wooden panels, lobster cage and buoys, the rustic look completed by ceiling nets overhead.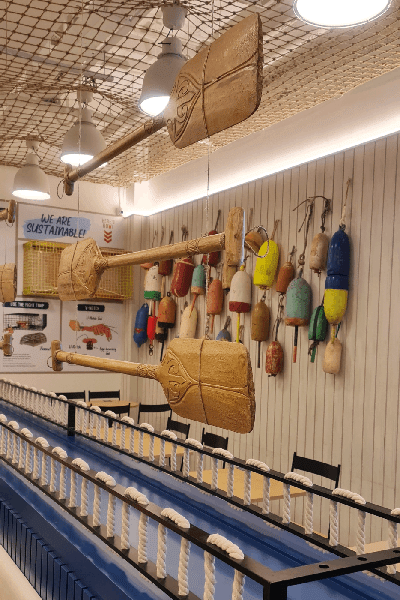 What's interesting is the infographic mural at the back wall that is mapped with sustainable lobstering practices and production steps — a trivia we gleaned is that at Luke's Lobster, the crustaceans are electrocuted (we suppose it's more humane than the usual way of boiling them) before being processed.
Celebrating its first anniversary in Singapore and marking its Great World opening, the chain is ushering in a new "Luke Goes Local" series, a three-part local chef collaboration starring Chef Mano Thevar of contemporary Indian restaurant Thevar; Chef Eugene See of Birds of a Feather that's known for its West-meets-Sichuan cuisine; and FatFuku, a private dining outfit by food author-turned-chef, Annette Tan, coveted for its modern spin on Peranakan cuisine.
Kicking off the local series is the Luke's x Thevar Curry Aioli Lobster Roll, which is priced at SGD30.50. Expect a modern perspective of traditional Indian flavours: lobster claw and knuckle meat are first sauced with a secret toss of Xec Xec spices, roasted coconut chutney, and shellfish oil before being sandwiched by buttered buns glazed with curry aioli and topped with fried shallots, a brunoise of onions, tomatoes, green chilli, and coriander. If you like robust flavours, this gourmet roll has your name on it; although be forewarned that the curry flavour might overshadow the lobster.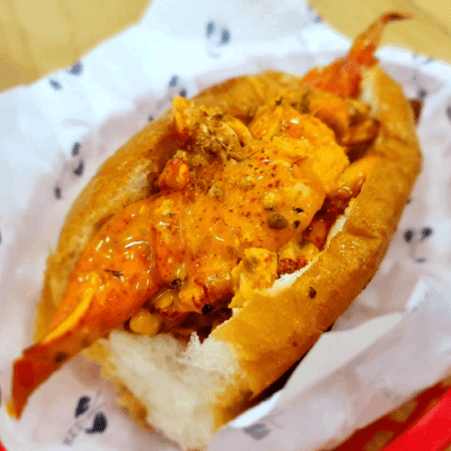 But we prefer the Luke's x Birds of a Feather Sichuan Mala Lobster Roll (disclosure: we are fans of Birds of a Feather). Priced at SGD30.50 and available from mid-October till mid-November, you get generous freshly thawed Maine lobsters meat infused with Sichuan pepper oil, dried chilli powder, and preserved mustard greens, soy sauce, black vinegar, dou ban jiang (preserved soybean paste), egg yolk and finished with a signature red chilli oil.
The ensemble is further enhanced by a sprinkle of sea salt, Sichuan peppercorns, chilli and cumin powder. This rendition sits better with us — the mildly numbing spice is well balanced, adding an intriguing flavour to the roll but still preserving the sweetness of the lobster meat.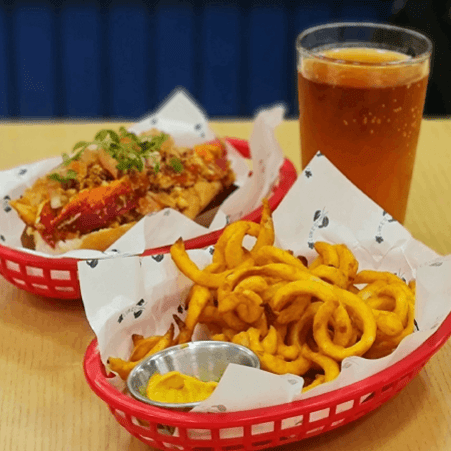 For hearty eaters, the Curly Fries, which are priced at SGD9.50 with side dips of Sichuan mala aioli are available throughout the collaboration.
Fatfuku anchors the series, but the collab details are still under wraps, so stay tuned for more of Luke's Lobster Maine-style gourmet snack, elevated with local touches.
(Cover photo from: Luke's Lobster)
Luke's Lobster (Great World) is located at 1 Kim Seng Promenade, #01-152, Singapore 237994.

Comments, questions or feedback? Email us at [email protected].