The year is 2018. You've just landed safely at the airport and your mind is brimming with ideas on discovering all that your favourite new travel destination has to offer. What's seated at the top of your to-do list, though, is the opportunity to feast on the country's nourishing, mouthwatering local delicacies to fully experience its rich heritage and culture.
Before you know it, you snap yourself back to reality and you're back to 2021 again, with the new normal placing your plans for leisure travel on the back burner for the foreseeable future. Even then, your love for discovering the beauty of other cultures never has to stop.
As a fun, lighthearted attempt to learn a little more about each other's countries, three members of #TeamClozette: Clozette Philippines (PH) Country Manager Geoff Ledesma, Clozette Malaysia's (MY) Senior Campaign Executive Wing Kan and myself, from Singapore (SG), gamely tried each other's go-to snacks and shared our verdict on them.
Geoff (PH) tries: Malaysia's Mamee Monster noodle snack
"I tried the Mamee Monster noodle snack, which is a popular childhood snack in Malaysia. I remember there used to be a similar snack in the Philippines called Nooda Crunch, but I don't recall having tried it ever. Not gonna lie too, this is the first time I'm eating noodles this way!" shared Geoff, who's often referred to as Clozette's resident foodie.
Mamee began as a manufacturer of instant noodles and was founded in Malaysia in 1971. Its name, Mamee, is a derivative of the term, Mother. Apart from its signature snack, Mamee Monster, Mamee also offers a variety of savoury bites that Malaysians have grown to love, such as Double Decker crackers and Mister Potato potato chips.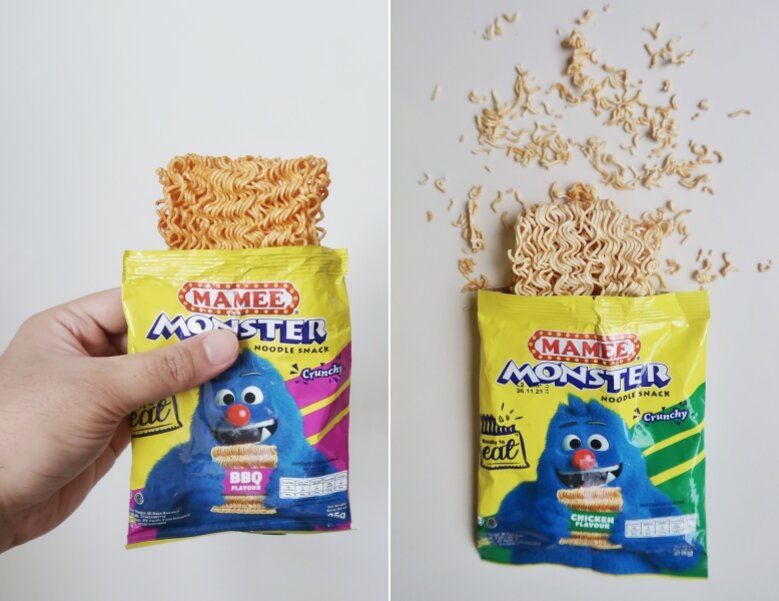 Upon opening the noodle snack, Geoff shared that he was "greeted by that familiar aroma of flavouring, salt, and MSG," which somehow reminded him of the snacks from his childhood as well. Having tried both the BBQ flavour and Chicken flavour of the snack, he concluded that the former was better in his opinion as the taste is stronger and has hints of spiciness in it.
"The experience is pretty much what you would expect from munching on dried noodles with flavouring, but for some reason, I couldn't stop! I imagine that this would be a good snack to mindlessly munch on while studying or watching Netflix at home," he elaborated.
Fun foodie tip: "I found it more enjoyable to crush the noodles before opening the packet, instead of eating it in bites. Be sure to shake the pack as well before eating so the flavouring sticks to the noodles," advised Geoff.
Wing Kan (MY) tries: Singapore's F.EAST 'Singapore Laksa' potato chips
"I would say I'm adventurous when it comes to trying various foods and, yes, I'm absolutely a snack person. The copy behind these F.EAST Singapore Laksa potato chips packet actually caught my attention as it read, 'Why aren't potato chips available in more of our favourite local flavours?' I agreed wholeheartedly with this statement!" gushed Wing.
Laksa is a spicy, coconut milk-based noodle soup dish that's enjoyed by many Singaporeans and it comes in several variations, including Katong laksa, which is inspired by the Peranakans (people of Chinese and Malay/Indonesian heritage) who lived in Singapore's Katong area.
"I couldn't make much of the taste of the chips at first bite, however, it wasn't long after that I could taste the strong santan (coconut milk)," revealed Wing. She added that the chips boast a "rather complex flavour" as its taste "unfolds in stages."
Concluding her snack experience, Wing believes that these chips would induce serious laksa cravings: "We have our own variety of laksa available here in Malaysia as well, but I could tell these Singapore Laksa Chips carry an authentic, local twist to them. The more you eat these chips, the stronger you could taste the coconut milk lingering on your tastebuds. It's quite addictive to munch on and they're definitely worth a try."
Fun foodie tip: Apart from these Singapore Laksa-flavoured potato chips, homegrown food brand F:EAST also offers a few other iconic, Asian cuisine-inspired potato chip flavours, such as Egg Prata (Indian-influenced flatbread) and Hainanese Chicken Rice. Give these flavours a go if you'd like to experience authentic Asian cuisine in a fun, exciting way.

Sheryl (SG) tries: Philippines' Mama Sita's 'Champorado' Rice + Cacao Porridge
I'm the sort who loves snacking at any time of the day and chocolates are my ultimate weakness, hence I was incredibly excited to try Philippine-based condiments manufacturer Mama Sita's Champorado rice and cacao porridge.
Given how the dish is primarily made from cacao, I initially thought that it was a cold dessert that was served in the evening. However, after searching up the recipes for this local dish online, I was pleasantly surprised to learn that it's traditionally served for breakfast! This also reminds me of pulut hitam (black glutinous rice), a Southeast Asian dessert that I enjoy eating occasionally.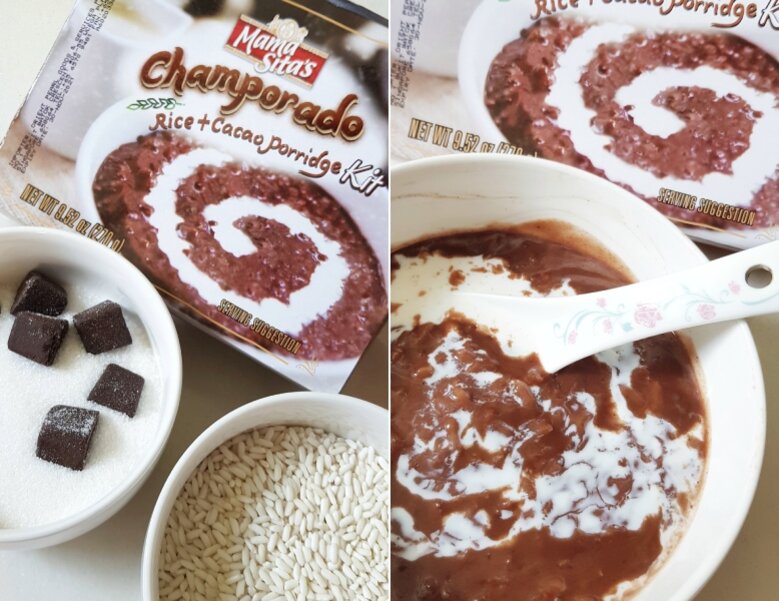 Following the instructions listed at the back of the packaging, I placed all of the ingredients — glutinous rice, cane sugar and cacao cubes — into a pot and boiled it for around half an hour. I waited for the mixture to thicken to a creamy consistency before adding milk over it as recommended for a touch of sweetness.
What I loved about this dish is its rich texture and how it's served hot. Porridge is a staple in Asian cuisine as well, so it was interesting to discover the Philippines' unique, chocolatey take on this comfort dish. In all, I'd definitely make this dish again especially on cold, rainy days.
Fun foodie tip: Hoping to try Champorado for yourself as well? Complete your authentic Filipino cuisine experience with a few pieces of salted dried fish to complement the sweetness of this hearty dish.
Life on lockdown may have limited our opportunities to fully experience the beauty of one another's countries, however, it's also given us the chance to share and learn more about each other's cultures in a creative manner. Speaking of which, why not surprise a friend who's living abroad with his or her favourite local snacks? They might just appreciate the thoughtful gesture.
Here are three Instagram-worthy Japanese dessert recipes for you to try at home.

Comments, questions or feedback? Email us at [email protected].