It's time to roll up those sleeves and loosen those belts, ladies, because things are about to get primal. There's really nothing that gets us salivating quite like fried chicken and in many ways, we are truly blessed here in Singapore because we have access to countless varieties spanning from different cultures — American, Korean, Taiwanese and so much more. In the mood to indulge? Here are our top 10 joints for solid fried chicken in Singapore.
Singaporeans go gaga for Har Cheong Gai, otherwise known as prawn paste fried chicken, and if you're looking for a place that gets theirs consistently crunchy and superb all the time, we say pay Ah Tan Wings a visit. Run by a Gen-Y hawker, what makes their prawn paste fried chicken stand out is its irresistibly crunchy exterior—think KFC crispy but three times crunchier—and how efficient the batter is in locking in all that juicy, prawn flavour. All in all, a luxurious treat to indulge in that is neither greasy nor cloying.
Yishun Park Hawker Centre #01-40, 51 Yishun Ave 11, 768867
2. Arnold's Fried Chicken
Craving irresistibly delicious fried chicken with an equal measure of childhood nostalgia? Then you won't be disappointed getting your fried chicken fix over at Arnold's Fried Chicken. The batter on the meat is deliciously thin and their time-tested recipe is as simple as salt and pepper. Yet, the flavour that oozes out of their famous chicken somehow stays juicy and tender. We suggest opting for an additional serving of coleslaw with some buns and gravy to pair along with. You're likely to end up stuffed but in a very good way.
Yishun Central 1, #10 Cinema Cineplex, 51, 01-04, Singapore 768794 (Multiple outlets)
Following the popularity of fried chicken and beer courtesy of our friends over in South Korea and the rampant development of Korean pop culture all across southeast Asia, Korean fried chicken is all the rave in these parts and perhaps one of the best places to get your fix is at Chir Chir. Besides doing theirs well, we're huge fans of their unique array of contemporary offerings such as their Nacho Chicken, a cheesy ensemble complete with juicy tenders, corn tortilla chips and a house-made chicken chilli cheese sauce, and let's not forget their Spicy Chilli Soy Chicken, a finger-licking dish comprising fried chicken, fried Korean rice cakes and a piquant spicy chilli soy sauce to bring it all together. Wash it all down with an ice-cold mug of Korean beer to seal the deal.
200 Victoria St, #02-50 Bugis Junction, Singapore 188021 (Multiple Outlets)
Nashville is known for its hot chicken and Chix's rendition of the state favourite is done brilliantly well. The secret lies in the dry rub they use which combines a secret blend of a dozen herbs and spices including one of the world's hottest peppers—Carolina reapers. Their signature Nashville hot chicken comes served the traditional way with white bread and pickles to balance out the heat. It's a fiery affair from start to finish so we recommend ordering a milkshake to enjoy along with it.
1 Jalan Pisang, Singapore 199069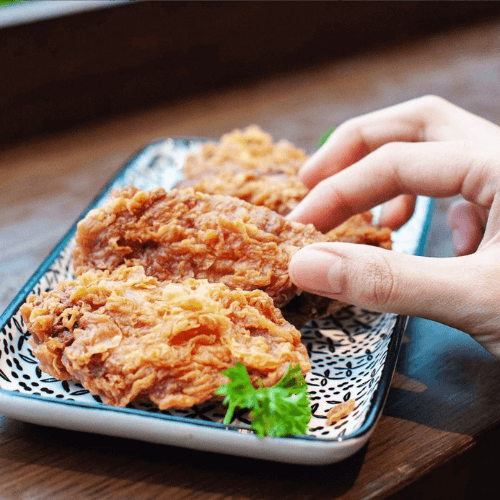 A craft beer taproom that whips up sensational Nonya-inspired delights, one of the must-orders over at Orh Gao Taproom their Har Cheong Gai (prawn paste fried chicken). Marinated overnight in a secret blend of sauces and aromatics, their rendition of this local favourite is as shatteringly crispy as it is juicy. We don't know what goes into their batter but it holds the juices in so well that your first bite or tear will likely cause a pool of juice to drip out. Yes, it's that juicy.
10 Jln Serene, #01-03 Serene Centre, Singapore 258748
6. OFC | Oven & Fried Chicken
A firm favourite for a very good reason, OFC has grown by leaps and bounds to now boast three restaurants islandwide. And it's all because of their fried chicken. What we admire most about OFC's Korean fried chicken is the fact that their fried chicken is nothing short of pure decadence, punctuated with solid flavour and an extra crispy crust, unlike any fried chicken we've tried before. The secret lies in their choice of flour (rice flour). They also serve different variations of pre-coated fried chicken such as their popular jambalaya and soy garlic.
(Photo from: Alvin Tan)

182 Telok Ayer St, Singapore 068630 (Multiple Outlets)
Probably one of the only retro American-style fast-food dining concepts that still remain in Singapore, nostalgia-inducing Waffletown USA will have folks of the 90s and earlier (like us) reminiscing those occasional fast food restaurant treats we used to enjoy as a weekend family meal or because we did something right at school. These folks might be known for old-school waffles and ice cream but they bang out fabulous fried chicken as well. Their fried chicken boasts a thin yet ultra-crispy crust and the tender meat concealed within is both juicy and aromatic.
1 West Coast Dr, #01-106 NEWest, Singapore 128020
Wicked Wings is one of the newest fried chicken joints to pop up and what sets them apart—besides being Halal-certified—is their wide repertoire of more than ten signature sauces inspired by the lip-smacking flavours of Asian cuisine. Expect familiar favourites such as chilli crab, salted egg, mala and rojak (this one's good), to Javanese kecap manis and Korean gochujang. Every order comes with six pieces of chicken mid-joints and drumlets or eight pieces of boneless chicken breast strips, and if you're extra hungry, feel free to stack on additional sides such as their truffle fries and cheddar sticks. As their name suggests, their wings are wickedly good. And although they do not have a physical outlet—only available via GrabFood—their wings are guaranteed to arrive on your doorstep piping-hot and shatteringly crispy.
(Photo from: Alvin Tan)
59 Jalan Pemimpin Bishan New Town, Singapore 577218
Burgers may be the main draw over at Wildfire Burgers, but for the quality and sheer deliciousness of the fried chicken they're banging out, we simply couldn't leave them out. For a start, they source only the best quality poultry, free-roaming, entirely grain-fed and cage-free—not to mention they receive a fresh batch daily. Their crust is comparatively thinner than other more mainstream fried chicken joints but what you end up with is a cluckin' good bite that never gets cloying. Their tater tots are tossed in powdered chicken skin so you'll want to add those on as well.
Opening Hours: 12PM - 3PM, 5.30PM - 10.30PM (Mon to Fri), 12PM - 3PM, 4.30PM - 10.30PM (Sat & Sun)
(Photo from: Alvin Tan)
80 Bencoolen St, #01-15 NAFA Campus, Singapore 189655
10. Yardbird Southern Table & Bar
Few things come close to the satisfaction one can derive from enjoying chicken and waffles. After all, who can say no to warm fluffy waffles and deliciously juicy fried chicken drizzled with sweet maple syrup? It's a dish that brilliantly combines sweet and savoury, fluffy and crunchy but Yardbird has taken it up a notch with their rendition of this popular Southern staple that features a generous pyramid of juicy watermelon cubes to cut the grease. That's right, Yardbird's famed Chicken 'n' Watermelon 'n' Waffles is lovingly crafted using a 100-year-old family fried chicken recipe that'll surely leave a lasting impression.
(Photo from: Alvin Tan)
2 Bayfront Ave, # B1 - 07, Singapore 018972
Comments, questions or feedback? Email us at [email protected].