Hip artisan cafés are all the rage now. Common Man Stan, the CBD outpost of speciality coffee purveyors Common Man Coffee Roasters, is upping its game by partnering with Drunken Farmer, a travelling natural wine bar, to transform the café into a wine bar cum bistro come sundown.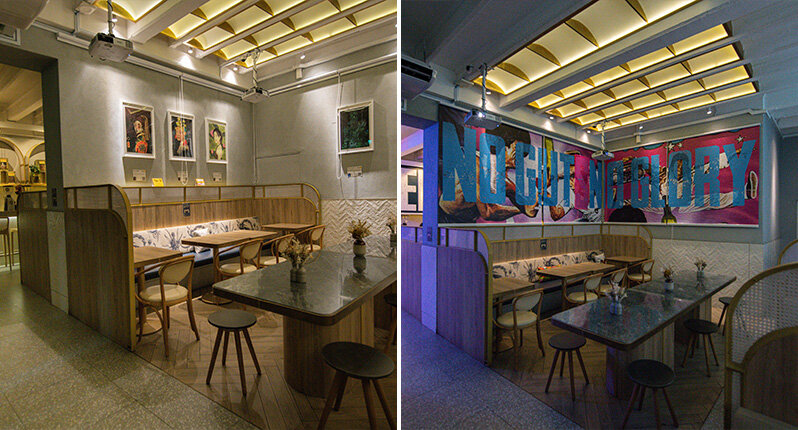 A novel two-in-one concept by the Spa Esprit Group, the café's daytime pastel backdrop of pale wood, rattan, marble and raw cement cleverly morphs at dusk every Tuesday to Saturday into an intimate space lit by vibrant neon signs and projections of vintage silent cinema onto the walls while printed roller blinds featuring visuals of kung-fu masters are unscrolled, cushions with kitschy prints scattered onto seats, and the nighttime bar vibes completed with the hanging of a Noren curtain at the entrance.
Not to be sneered at is the menu of dishes anchored on naturally leavened sourdough, with pairings of natural wines sourced all the way from Europe to South America, presented by chef de cuisine Paul Albert, whom I first met at a Tiong Bahru Bakery Diner tasting event where I fell in love with his sourdough creations using a 159-year-old starter that he brought from Brazil. Each dish on Drunken Farmer's small-plates menu is handcrafted with slow-fermented ingredients made entirely from scratch by Chef Albert.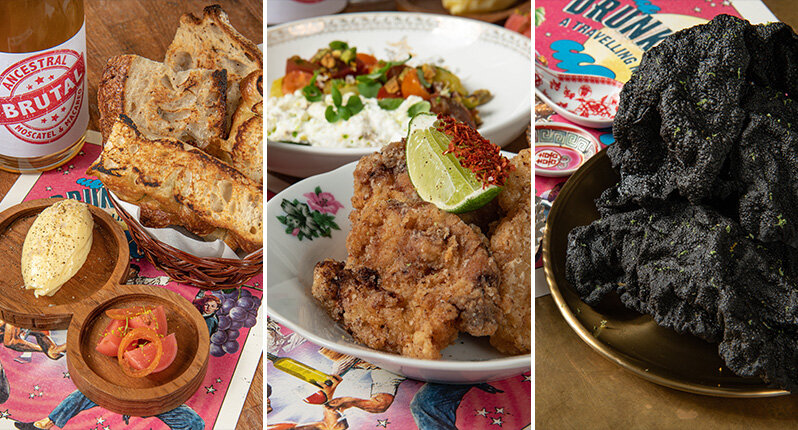 I had to keep reminding myself not to overstuff on the freshly baked Sourdough "Couvert" (SGD12), a basket of naturally-leavened sourdough loaves along with house churned butter, pickles fermented from scratch and smoked Maldon salt; its wicked addictiveness quietly creeping up on you. Sourdough Karaage (SGD20) features a slow-marinated chicken thigh coated with crisp tangy batter made using sourdough discard, served with a side of kimchi mayonnaise — ideal finger food for wines. Fans of pizza will be more than delighted by the Neapolitan style pizzas that exhibit chewy, airy crusts created through 30 hours of fermentation — my favourite is the classic Margherita (SGD20).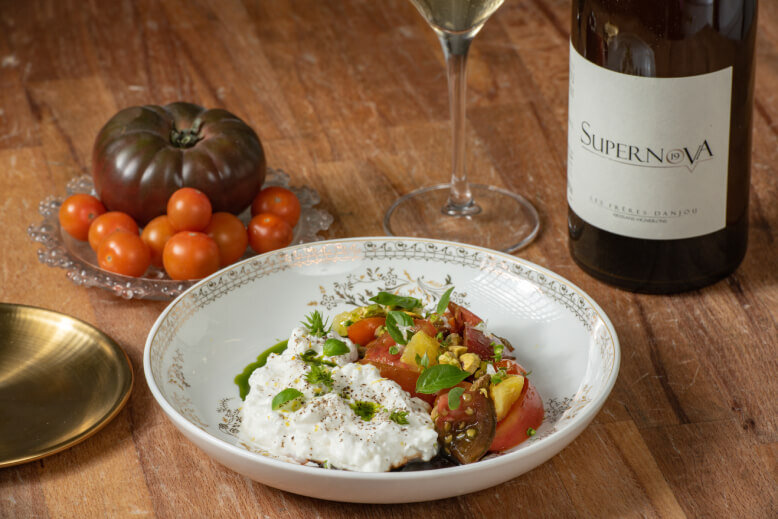 Local ingredients play leading roles in the food: the cheese in the Heirloom Tomato Salad (SGD16) is made from goat's milk from Hay Dairies, wonderfully balanced by the acid of the basil oil made using fresh basil plucked from Open Farm Community's garden — this seductively pungent dish was well-matched with a Supernova 2019 Orange wine produced by Domaine Danjou-Banessy, its intense aroma of tropical fruits and herbs of the Muscat grapes adding a fine balance to the richness of the dish.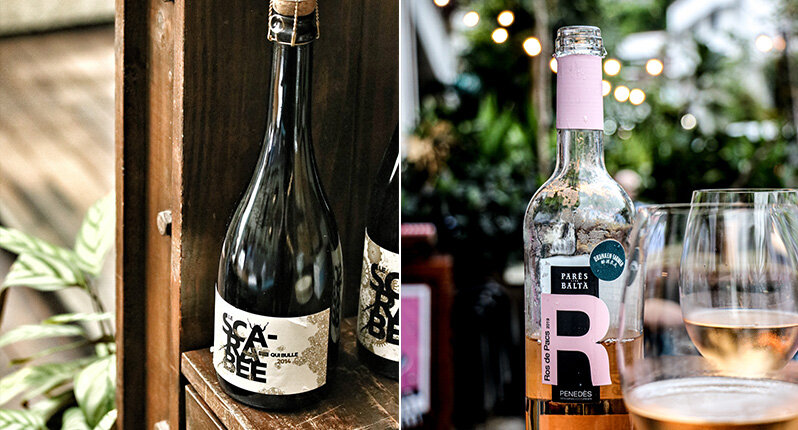 But of course, the stars here are the over 80 natural, organic, biodynamic and sustainably farmed labels sourced straight from winemakers from France, Italy, Chile and Spain expertly curated by Eduardo Bayo, a natural wine expert hailing from Montreal, Canada. My pet pairing of the evening was the Squid Ink Crackers (SGD13) concocted from the discarded heads and shells of prawns, topped with soy-marinated sago pearls to mimic the texture of caviar that went very well with a Brutal Ancestral 2019, a dry sparkling wine from Spain made from aromatic grapes of Moscatel and Macabeo; its salinity and bubbles making a harmonious union with the crispy snack.
Other noteworthy tipples are the Lise et Bertrand Jousset's 'Vilain P'tit Ch'nin', a vibrant and refreshing Loire Valley Chenin blanc hand-harvested from vines grown on terroir that are free of herbicides or pesticides, and the Domaine Christian Binner's 'Si Rose', a cross between Pinot Gris and Gewürztraminner wafting a fresh and floral bouquet of rose petals.
The Drunken Farmer is a worthy addition to the burgeoning number of pubs and izakayas along vibrant Stanley Street. An innovative and well-executed menu combined with the extensive selection of natural wines make this gastropub an easy place to chill, the planting of its roots at Common Man Stan a nod to the coming of the natural wine movement.
Comments, questions or feedback? Email us at [email protected].