Life under lockdown has been less than ideal. Cooped up in our homes, we have become both bored and scared. In these uncertain times, even something as simple as preparing a meal can get our creative juices flowing and give us much-needed comfort. Limitations in ingredients like meat and spices may be a setback but it doesn't mean you can't create something that will satisfy your palate and fill your stomach. According to a study, comfort foods not only satisfy hunger but also provide emotional comfort. Associated with childhood memories, comfort food often induces feelings of nostalgia for hearty soups and sumptuous calorie-filled foods.
To help you kickstart your culinary journey, here are some easy comfort recipes to try during the lockdown.
Shakey's Mojos
Ever since Shakey's Pizza started temporarily shutting down branches in several areas, fans have been left with an unsatisfied craving for their signature mojos. Good thing, Shakey's Pizza Japan blessed us with a recipe that will allow even kitchen newbies to recreate this comfort food while on lockdown. The recipe calls for simple ingredients: sliced potatoes, fried chicken breading, salt and pepper. All you have to do is microwave the sliced potatoes for five minutes (700w setting), afterwards dip them in fried chicken breading with salt and pepper then fry.
Add a twist: for more spice, add in chilli powder to the fried chicken breading mix. If available, dip in cheese or mayo sauce for maximum indulgence.
Dalgona Milo
Delicious, simple and Instagrammable — Dalgona Coffee is the epitome of a tasty viral recipe and there's no escaping its popularity. But what about the non-coffee drinkers who also want to try making this cool drink? There's Dalgona Milo. Because of the differences in texture, the steps in making Dalgona Milo isn't the same as the one for Dalgona Coffee. Food blogger Erwan Heussaff shares his perfected recipe (and failed attempts) in a now trending YouTube video. In the clip, he suggests mixing two tablespoons of Milo, two tablespoons of hot water and one tablespoon sugar to create a "Milo syrup". Then, mix the Milo syrup with cream. Whisk until you get that perfect, creamy texture. This drink, together with the homemade Shakey's mojos, makes an excellent snack combo.
Add a twist: Top some more Milo powder or chocolate-nut mix to add malty goodness to your Dalgona Milo. If available, add cinnamon sticks and marshmallow.
Onigiri
This beloved comfort food in Japan is not just delicious but it's also very fun to make. You can make all sorts of shapes and incorporate different ingredients; it's very efficient now that we're just making do with whatever produce is available. Japanese blogger Makiko Ito of Just Hungry shared her recipe and tips on how to make good onigiri. The ingredients you need are Japanese-style rice, nori seaweed, salts and assorted fillings. According to Ito, you have to work quickly in putting the filling and wrapping the rice so it will stay in your desired shape (some make a panda-shaped onigiri). Her recipe can found here.
Add a twist: If Japanese-style rice isn't available, you can use other medium-grain rice or short grain rice like the ones used for making paella. For assorted fillings, you can get creative and use canned tuna with whatever fresh vegetable that's available. Add in spices if desired!
Thai-inspired chicken noodle soup
Food blog Minimalist Baker recently shared their cosy and delicious-looking Thai-inspired chicken noodle soup recipe and it definitely looks like a must-try. It's not as easy as making an onigiri but is still achievable for beginners. The ingredients you need are fairly accessible; chicken breast, marinate sauce, basic spices like ginger and garlic, coconut milk, maple syrup, curry paste, chicken broth, chopped chilli peppers and thin noodles are readily available in supermarkets. You just put in the marinated chicken, all the seasoning and spices, and the liquids in a pot. Once cooked, mix it with the thin noodles and voila, you just made filling comfort food from scratch while on lockdown.
Add a twist: Throw in vegetables like broccoli or cauliflower to fortify the dish with more vitamins.
Hainanese chicken rice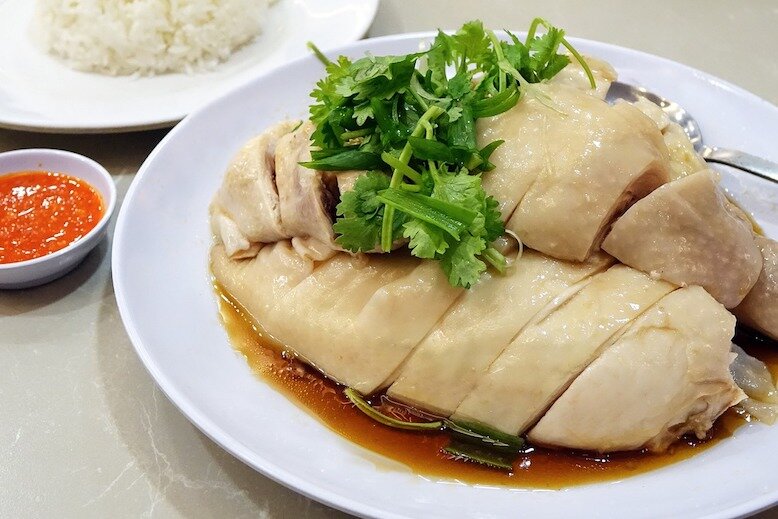 A favourite in Singapore and Malaysia, the famous chicken rice is usually served in hawkers and street stalls. Missing it already? How about making it yourself? I Am A Food blog shared their recipe of this staple dish, which they describe as a "food hug". Prepare chicken thighs, ginger and garlic, shallots, chicken stock, green onion and chilli sauce. You just need to cook all the ingredients in a pot and prepare the sauce separately. Check the recipe here.
Add a twist: Pair it with fried rice for a more sumptuous meal.
Comments, questions or feedback? Email us at [email protected].