Chinese New Year 2022 is just a few weeks away (1st February), signalling the start of the Year of the Tiger. In the Chinese zodiac, the Tiger is considered king of the beasts, representing strength, competitiveness, and confidence — all of which are great traits to have especially after the challenging past couple of years. Celebrations filled with happiness and hopes for abundance is a good way to remind one another of these and, of course, to spend time together and ring in the year right. Welcome the Year of the Tiger 2022 with a reunion dinner with the family at the best restaurants for the Lunar New Year in Singapore.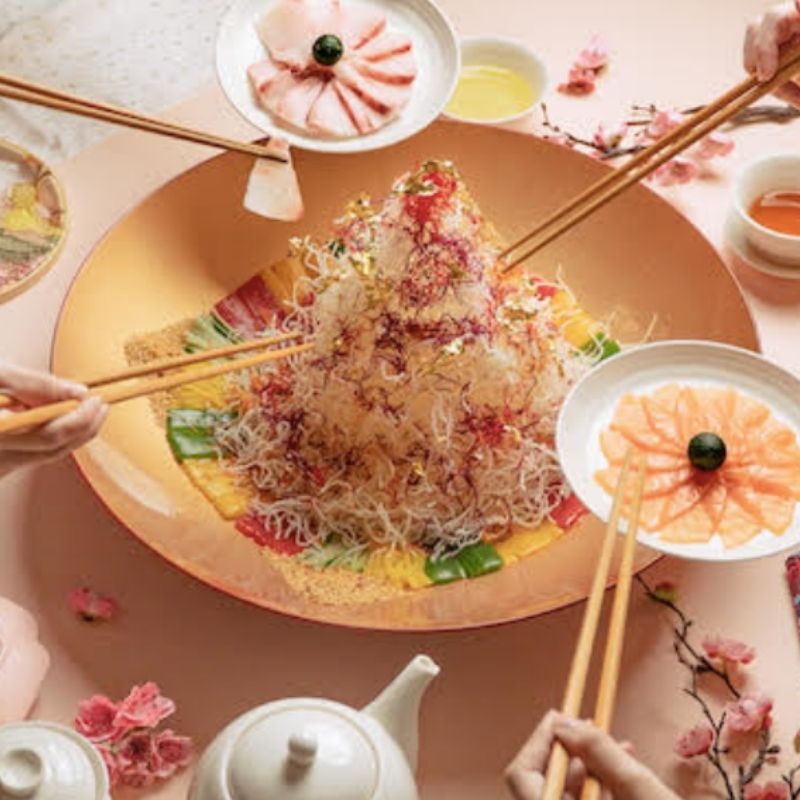 From 1 January to 15 February, Yan is delivering an array of delicacies available in both a la carte and set menus for you to sink your teeth into during the festivities. Plus, for dine-in customers, Yan's signature savoury Abalone & Salmon with Gold Foil Lo Hei in 'Shun De' Style (SGD92++), with its mountain of crispy vermicelli decorated and fresh slices of salmon and braised abalone that symbolise a year of abundance for you and your crew, is also available to order.
#05-02 National Gallery Singapore 1 St. Andrew's Road Singapore 178957
Ready to celebrate the new year high but not too keen on sticking to traditional CNY dishes? Tablescape's 5-Course Lunar New Year Menu (starts at SGD176) is the one to look into. Available from 17 January to 15 February, the feast lets you enjoy Hokkaido Scallops, Slow Cooked Pork Belly, and other belly-fillingdishes. If a relaxed setup is more up your alley, Tablescape also has a Lunar New Year Afternoon Tea Set (SGD88) which features colours and flavours — like the event-exclusive Mandarin Orange Mousse Tart — that 'symbolise prosperity and happiness'.
Level 3, Grand Park City Hall
From mid-January to mid-February, Salted & Hung delivers a six-course Tasting Menu (SGD168++) that features dishes using fish and pork (CNY's traditional must-have ingredients), prepared through Chef Drew's 'Minimal Waste Cooking' approach. Apart from these, various dishes like Hokkaido scallops, grilled green lip abalone, and more are also available just for the occasion.
12 Purvis St, Singapore 188591
Burger & Lobster Raffles Hotel
Festivities aren't complete without a drink (with spirits, if you wish). Raffles Hotel's Burger & Lobster is putting to the table two 'auspicious cocktails' fit for celebrating the Year of the Tiger. From 24 January to 28 February, toast to prosperity with the world-famous Chivas Regal 13-year-old blended scotch whiskey in $Huat-Long-Long and Prosperity $our that will be served exclusively at the restaurant by their in-house mixologists.
Now located at Equarius Hotel, Feng Shui Inn is undeniably one of Singapore's most photogenic restaurants at present, with its lush interiors and full-length windows. But aside from the location, the culinary selection, prepared by Hong Kong-born veteran Executive Chef Li Kwok Kwong, is a must-try. Set menus are available from SGD188++ per person (minimum 2 persons).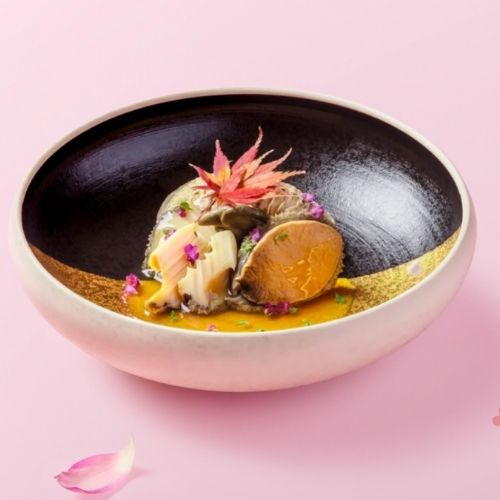 Headed by Kobe-based Celebrity Chef Hal Yamashita, Syun offers a CNY 2022 menu featuring ingredients considered 'lucky' in Japanese cuisine. Make sure you order the ​​Syun Style Special Yu Sheng (SGD88++) featuring fresh seasonal fish from Toyosu Market. There's also Simmered Whole Abalone with Kabura Turnip (SGD108++) and Sautéed Spiny Lobster with Creamy Yuzu Butter Uni Sauce (SGD118++).
Osia Steak and Seafood Grill
Enjoy 'Big Fish' platters from Osia Steak and Seafood Grill this CNY season with for-sharing dishes like Grilled Chatham Island Blue Cod with roasted butternut and watercress salad (SGD198++) and the delectable Grilled Turbot with bacon ratte potato, rocket salad and béarnaise sauce (SGD230++).
Jade, The Fullerton Hotel
From 17 January to 15 February, Jade at Fullerton Hotel Singapore will offer amazing feasts for you and your loved ones' CNY celebration. Enjoy an amazing array of dishes exclusively made for the occasion, including Premium Gold Rush Salmon Yu Sheng (served with champagne jelly, shallot oil and kumquat dressing and arranged into an image of a playful tiger) or the Gold Rush Salmon Yu Sheng (presented with a hand-drawn tiger and Chinese calligraphy greetings) prepped by Chinese Executive Chef Leong Chee Yeng. The Family-style Set Menu for four to five persons is priced at SGD158++.
Enjoy the finest and freshest seafood db Bistro & Oyster Bar has to offer during your CNY celebrations with dishes like salt baked branzino for two (SGD120++), flower crab bisque (SGD36++), and jumbo black pepper prawns (SGD68++). Complete the meal with fragrant foie gras fried rice (SGD45++) and db Bistro's petite signature madeleines (SGD8++) for dessert for a hearty welcome to the Year of the Tiger. The limited-time menu will be available from 28 January to 2 February so we suggest you reserve ASAP.
Enjoy a Lunar New Year Six-Course Set Dinner Menu filled with an array of contemporary Asian dishes (SGD398++ for two people) at CÉ LA VI. Each dish is meant to symbolise Chinese values and well-wishes for the new year. There's Yu Sheng for abundant prosperity, tender A5 Kagoshima Wagyu Beef for wealth, Grilled King Prawns for harmony, and more. Enjoy the feast from today until 6 February only. 
From January 24 to 15 February, enjoy SE7ENTH's Blissful Reunion Set Menu for SGD238++ for four people. Available for lunch and dinner, the feast starts off with a Prosperity Yu Sheng, followed by other scrumptious dishes like Crabmeat and Fish Maw Soup with Bamboo Shoot and Bailing Mushroom, Pan Seared Duck Breast with Mandarin Orange Sauce, and more. Yum, yum!
Comments, questions or feedback? Email us at [email protected].