Ladies, it's time to discard the nonsensical notion that beer is a "man's drink" because it isn't. Craft beer is more than just fizzy, carb-laden beverages that give you a beer belly, it's a gastronomical discovery in its own right similar to fine wines in that flavours are endless and that it requires a deeper, more sophisticated level of appreciation than plain old chugging — which, of course, you're still free to do.
With Singapore's craft beer renaissance in full flight, there are plenty of new spots sprouting up just begging for you to visit. Ready to paint the town red with your squad and discover a whole new wonder that is craft beer while you're at it? Taste the aromatic landscape of craft beer from the comfort of these 10 homely, sometimes rowdy local taprooms.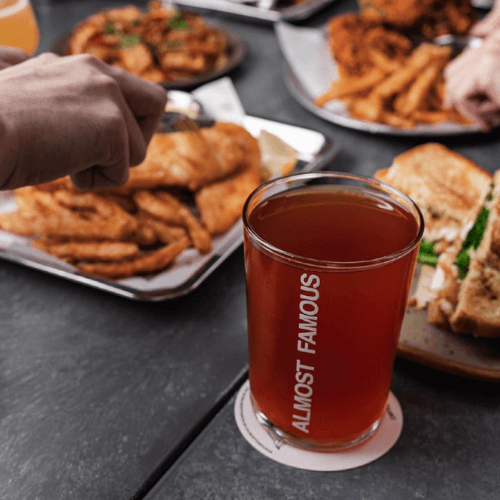 You'll be hard bent on ordering more than just one pint when you visit Almost Famous over at CHIJMES, with its 16 rotational beers on tap. Its careful curation — sourced from breweries located in and around Southeast Asia, extending to far off places such as Australia, New Zealand, USA, Europe and beyond — aims to introduce a wider selection of session-able craft beers as a gateway for regular beer drinkers to savour the unique characteristics of beers from small-batch breweries and for newbies to experience the nuances and joys of craft beer. Don't stop at just the beers though, these folks take their food seriously and put out righteous nosh such as their Tom Yum Gyozas.
A cosy, convivial amalgamation of all things American — hearty American comfort food and quite possibly the largest selection of craft beers on tap in Singapore — American Taproom sets the bar high in terms of both range and quality. You'll be spoiled for choice here with up to 40 taps on active rotation. Beat the heat with a tart, spritely sour or a crisp lager and work your way up from there to a robust New England IPA (NEIPA) or a thick, full-bodied Imperial Stout. Pair those with ATR Burger, Oven Baked Mac & Cheese or even the 250g Ribeye and you've got yourself a package deal of the highest degree.
Nestled in the heart of the Bukit Batok suburbs, Gone Rogue Brewing is a relatively new player in Singapore's effervescent craft beer scene that's doing things a little differently. Following in the footsteps of microbrewery icons such as Brewerkz or Red Dot, Gone Rogue Gone goes the extra mile by being the first local microbrewery to provide the widest range of quality craft beer with 18 taps on its premises, ranging from German dunkels, American pale ales, English bitters and even bizarre-flavoured concoctions for those with adventurous palates — think cinnamon and lychee, and they even have a smoked beer. The superb craft beer experience at Gone Rogue is a phenomenal cornucopia of unique and highly complex brews designed to cater to varying preferences.
4 Bukit Batok Street 41, Le Quest Mall, Singapore 657991
Opened by the same folks behind buzzy Haji Lane craft beer oasis Good Luck Beer House (now rebranded as Good Luck Good Luck) and Ah Sam Drink Stall, in partnership with Bergs Burgers, Good Intentions in the East functions as a three-in-one concept featuring a café, a craft beer taproom and a cocktail bar. The first floor is a cosy nook where avid coffee drinkers can retreat for a decent brew and brunch and the upper deck features a high-ceilinged, breezy dining space that peers out into Tanjong Katong's vibrant streets. It's also armed with an outstanding selection of scrumptious brunch treats that would appease even the most discerning foodie as well as ice-cold pints, cocktails and more.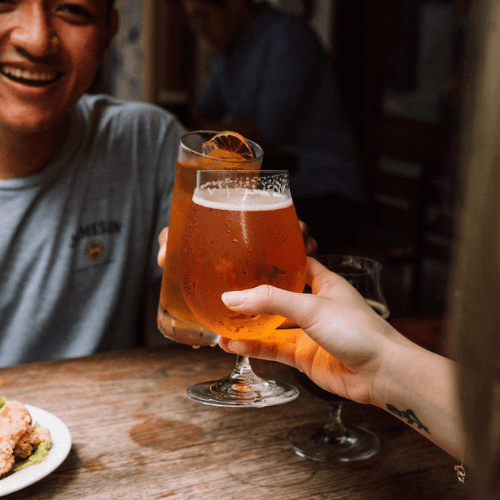 During the daytime, Good Luck Good Luck might seem nothing more than an obscure hole-in-a-wall but come sunset, tables spill out on the narrow street, a pool of regulars start pouring in and the almost nightly shindig begins. Located smack in the middle of Singapore's iconic Haji Lane, the no-frills craft beer taproom features a wall of local craft beers and slurpy noodles. Here, you'll also find upbeat takes on popular local dishes such as Hokkien Prawn Noodles, XO Carrot Cake and Rum-ly Special Burger. Greasy, drippy burgers and an ice-cold pint. What else can you ask for?
Despite its name, you'll never find yourself surrounded by bad company over at In Bad Co., especially not with its stellar array of craft beers and natural wines available. Its small but well-curated tap list is never short of anything intriguing, such as the range of locally made meads from Lion City Meadery that's constantly on tap as well as multiple fridges stacked to the brim with foreign brews, sorted categorically from IPAs and Stouts to Sours and other more interesting rarities. The food takes a slightly more gourmet slant here, in the way that it mostly features thoughtful, fusion creations presented intricately in an almost bougie manner.
Run by craft beer aficionado, Will, who you can trust to always deliver the good stuff, Malt Craft Beer Bar at Concourse is home to certain rarities that you probably won't be able to find elsewhere. Curated by Will himself — who considers himself a massive beer geek in his own right — the selection has stouts that go up to 16% ABV to delicious sours that taste like actual desserts. Ready to get your mind blown? Pop by and get well acquainted with the man himself. Oh, and ask him about his "secret fridge" in the back. It's a treasure trove that houses some intriguing stuff that even Will himself thinks twice about selling.
Located on the fringe of Singapore's Central Business District in the unassuming yet charmingly quaint enclave of Owen Road, Mirage serves as a heartland oasis where inspiration and respite can be easily sought. Mirage is an offbeat haven where anyone and everyone is welcome, from neighbourhood folks looking for a quick beer fix or blue-collar folk just looking for a cosy spot to eat and drink their weight in well-executed Mediterranean-Japanese fusion grub and crushable craft beer. Driven by a commitment to provide top-drawer service that creates memorable experiences for all, Mirage's unique food and beer program is all about quality, inclusivity and unbridled fun.
A place where lasting friendships are forged over tasty Nonya-inspired delights and craft beer, Orh Gao Taproom is where you just know your crew and you will be well taken care of. Zeroing in on a particular beer to suit your fancy is never difficult with its offering of 10 beer taps on constant rotation that feature a vibrant myriad of beers from local and international breweries. Just chat up anyone manning the bar (all beer geeks in their own right), make your preferences known and let them sort you out. Whether it's a hoppy West Coast IPA, a tart sour, a heavy-hitting imperial stout or perhaps something funkier, trust that they have it all. In the rare circumstance, you're unable to find anything that tickles your fancy, they even have a fridge jam-packed with craft beer rarities and natural wines as well. On the food front, you can't go wrong with the Har Cheong Gai, Beef Rendang and recently introduced Sambal Curry Mussels.
Tripling up as a cafe serving brunch, sourdough pizza and stellar coffee; a bakery that does everything from righteous sourdough loaves, savoury scones to sweet cinnamon sticky buns, and a craft beer taproom that boasts a vibrant and sometimes dizzying array of craft beer, Yeastside (Orh Gao Taproom's sister brand) is quite honestly a gem in the Bukit Timah locale. You can spend your mornings, afternoons and nights here without ever feeling bored. The place is also pet-friendly, which is perfect if you're planning to bring your fur pals out for some fun in the sun.
KAP Residences, 9 King Albert Park, #01-09, Singapore 598332
(Photos from: Alvin Tan)
Craving for delectable Japanese skewers? Check out these izakayas in Singapore next.
Comments, questions or feedback? Email us at [email protected].