We get it. While borders may have opened and international travel has somewhat resumed, the prospect of booking a trip and allowing yourself to go on that long-awaited vacation seems a tad farfetched given how long it takes for passports to be renewed by immigration (we feel you) and how expensive plane tickets are for even the nearest of destinations.
Yet the fact remains, we all yearn to get away from the stresses of our everyday life once in a while — for some it's every weekend. Here in Singapore, there really isn't much to expect in terms of adventure but if you're looking to be whisked away to what feels like a different place, we've uncovered some of Singapore's top cafes with the best views, ones that evoke a sense of calm with many of them far flung from the hustle and bustle of the city so you'll no doubt feel like you're in another place.
Here's our list of 10 cafes in Singapore with sensational views.
1. Wildseed Cafe | The Alkaff Mansion
Housed on the ground level of The Alkaff Mansion, imbued with verdant greenery and filled with lush serenity, Wildseed Cafe offers a vibe unlike any other cafe in Singapore. The cafe is an inviting space that caters to all — even pets — so expect warm service amidst a relaxing atmosphere coupled with a hearty selection of brunch fare, freshly baked cakes and decadent pastries that'll make you swoon. If you're looking for a quaint, scenic spot to escape the noise of the city centre, look no further than Wildseed Cafe at The Alkaff Mansion.
10 Telok Blangah Green, Singapore 109178
Nestled up on a hill amidst a vast sea of lush floral and fauna, Open Farm Community is a farm-to-table concept cafe that emphasises sustainable farming, and foraging and takes pride in serving dishes constructed using locally sourced ingredients. We love peering into their open-concept kitchen, which shows their meticulous team of culinary experts at work. If the weather's cool, we recommend opting for a seat outside where the space peeks into the cafe's edible garden. Looking to beat the heat and cool your system down? Crafted in-house in small batches, their zippy and ultra-refreshing Strawberry Kombucha are a must-try. On the food front, you won't go wrong with their Crab Fries —crispy fries crowned with a generous dollop of house-made crab salad and ikura.
130E Minden Rd, Singapore 248819
3. PS.Cafe by the Sea (East Coast Park)
An avant-garde dining concept and one of the leading pioneers of Singapore's now-booming cafe culture, PS.Cafe is known not just for serving up sensational nosh but also for setting up shop in some of Singapore's most idyllic locales. Number eighth on its seemingly never-ending list of dining concepts, PS.Cafe by the Sea is located at East Coast Park, just a stone's throw away from the sea. The design of this waterfront outlet takes its cue from beach shacks with its white-washed walls and woody textures. On the menu, expect to find familiar PS.Cafe classics alongside a wide selection of seafood dishes. Soak up the sea views inside or let the slow breeze wash over you out at the patio.
1110 East Coast Park, Singapore 449880
Charming, breezy and guaranteed to imbue you with a sense of bliss and calm, East Coast Commune is a tropical oasis that serves to provide you with a spot of comfort should you desire it. Step inside this cosy space and let your troubles dissipate as you indulge in their extensive selection of wholesome brunch fare flanked by artisanal coffee or a cold-pressed juice and a book. Sit back and relax in a rattan chair and let the calmness wash over you as you peer out into the surrounding sea views.
1000 East Coast Park, Marina Cove, #01-03, Singapore 449876
The misconception that Punggol boasts nothing but an endless sea of high-rise residential buildings rings ever true but venture a little further in and you'll find that the heavily populated district is home to a slew of neat cafe concepts as well. Take Whisk and Paddle for instance. Boasting a massive veranda that overlooks the reservoir, the cafe is a door to a tranquil oasis that's perfect for a leisurely social gathering. They've recently undergone a revamp on both their interior and their menu so look forward to exciting treats such as Baked Norwegian Trout and a wide array of freshly baked pastries in addition to existing crowd-favourites like their Duck Confit and slow-braised Lamb Shank.
10 Tebing Ln, Singapore 828836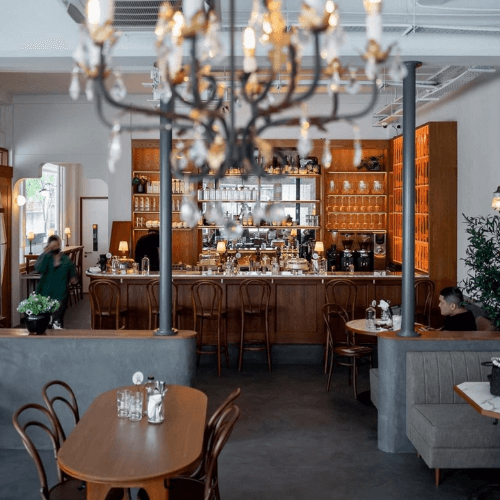 Far-flung in the Eastern region of the island amidst the sea of "hipster" joints, local haunts and Aussie-inspired cafes, Supernova is the latest addition to the buzzy enclave that provides a mixed experience at dawn and at dusk. While not exactly obscure, the enclave itself is a refreshing switch-up from the spots you'll find in the city centre. For one, the vibe is a lot more laid-back and with the sea within close proximity, it's considerably more breezy there. During the day, come tuck into a stellar lineup of brunch classics done with a twist — think Passionfruit French Toast and Fried Chicken Waffles that come with a warm maple drizzle and garlic compound butter (wow). At night, the menu changes and natural wines take centre stage.
266 Tanjong Katong Rd, Singapore 437053
Looking to escape the hustle and bustle? A buzzy cafe that's pretty closed off from the concrete jungle and one of the most sought-after destinations for newlyweds to have their dream garden-themed wedding, Wheeler's Estate is one of our favourites. Housed within a refurbished colonial bungalow situated among plenty of greenery overlooking the Seletar airstrip, this cafe is not only grand in size but in the myriad of food and drink offerings it doles out as well. Their brunch dishes rarely disappoint and their dinnertime menu is a carefully curated repertoire of refined bar grub. On most nights they also feature live music acts.
2 Park Ln, Singapore 798386
Take a step back in time and relive your kampong days when you visit Colbar —short for Colonial Bar. This shanty-looking eatery was built in the 1950s and was carefully reconstructed again with the same materials after moving from its original location in 2003. Despite the fact that the surrounding area is now essentially a technological hub, stepping into Colbar will have you feeling as though you just stepped through a portal back in time. As far as food and drinks go, don't waltz in expecting to find artisanal bakes, Melbourne cafe-inspired nosh and fancy lattes. Instead, you'll find simple old-school Western classics, a variety of local delights — anything from crispy breaded chicken cutlet and potato wedges to curry chicken and hor fun — as well as a fridge full of English craft beers.
9A Whitchurch Rd, Singapore 138839
9. Tiong Bahru Bakery Safari
While the space may be fashioned to look like a safari in the Savannah, you won't find any wildlife in or around the vicinity — bummer. You will, however, experience dining in a giant canvas tent surrounded by exuberant greenery and plenty of foliage. The safari theme follows through on the inside with furniture and various trinkets collected from around the world. If colourful lattes are your thing, go ahead and knock yourself out with their various latte offerings exclusive to this outlet, namely their yellowish-hued turmeric ginger latte, beetroot roselle latte and purplish-blue butterfly pea latte. Call them to book a slot.
Open Farm Community, 130E Minden Rd, Singapore 248819
Aussie- and Japanese-inspired cafes are commonplace nowadays but an African-inspired one? Now that's a cafe to set your sights on if you're looking to experience something exciting and totally foreign. The interior is modelled after a cosy African lodge, replete with brightly coloured motifs, plenty of dark wood and mahogany, and even life-sized portraits of local tribespeople. Both their food and beverage menus reflect a diverse assortment of African-inspired offerings tapping on the unique flavours that their culture employs. Ready for a trip to flavour heaven? Try their Swahili Fish Curry served with fluffy coconut rice or their Liberian Peanut Chicken Stew! Call them to book.
12 Jiak Chuan Rd, Singapore 089265
(Photos from: Alvin Tan, @celestialdelish, and @byan202008)
Next, check out these amazing breakfast spots in SG.
Comments, questions or feedback? Email us at [email protected].