We're calling it — we can't live without burgers. There's just something about freshly ground seared patties, topped with various accoutrements, luscious sauces and sandwiched between fluffy round buttery buns that have such an irresistible appeal. After all, there's nothing quite like tucking into a hearty burger when you're famished and feeling needy for something meaty (or if you've taken an oath to go plant-based we have a joint that's right up your alley as well). Ready to get lost in the sauce? Here are 10 top burger joints in Singapore that are currently on everyone's lips.
If you're the sort of girl who likes your meat to be served slightly blackened, armed with copious amounts of smoke and served in big girl portions, this American barbecue steakhouse has got exactly what you need. You can feast on plates of barbecued ribs, smoked brisket and let's not forget a repertoire of burger options that will surely impress at Meatsmith's locations in Little India and Telok Ayer. Our favourites include the Brisket Sandwich and the ultra-juicy Cheeseburger. For the case of the latter, sitting in between two soft and fluffy brioche buns (the same ones used over at sister-restaurant Burnt Ends) is a thick beef short rib and brisket patty topped with melted cheddar. Things can get uncontrollably messy real quick so the only way to do it right is with your hands. Don't forget to make it a meal and have the crinkle-cut "gunpowder" fries added on.
Operating out of a food truck, The Goodburger is all about putting out legit, ethically made gourmet burgers. That's right, all its burgers are entirely plant-based. The idea behind the brand was to drive change for a kinder and more sustainable future by means of serving honest, mouth-watering plant-based burgers that taste as amazing as the real thing, if not better. For first-timers, you can't go wrong with its take on a classic cheeseburger, The Classic. If you like your burgers to come with a bit more zing and flair, we recommend One Night In Bangkok, a zingy, slightly spicy alternative inspired by Thai flavours.
Stuck with a lunchtime dilemma? You can't go wrong with a burger or two from One Fattened Calf. Nestled within Galaxis over at One North, this standalone burger joint does everything in-house, from baking fluffy potato buns to grinding burger patties — all made using 100% grass-fed beef from New Zealand. Regulars swear by the OFC GoldBurger that comes with house-special pulled beef brisket. But if you want a familiar classic done right, gun straight for the OFC Cheeseburger, constructed with 150-grams of New Zealand premium grass-fed beef, cheddar cheese, charred onions, red onions, house-made pickles and the OFC special sauce, all neatly assembled between two perfectly fluffy potato buns.
A world-renowned label that's garnered global repute, Shake Shack is a burger joint that we just could not leave out. While people may argue that it's a commercial burger joint and hence doesn't deserve a place on this list, one can't deny that the burgers they put out— albeit on the pricier side — are absolutely legit and always consistent. Embellishing a classic American-style "smash" burger, Shake Shack does it right using high-quality ingredients. Think tender beef patties, fresh, crisp lettuce and vibrant slices of tomato stacked inside a pillowy-soft potato bun. We always opt for a double patty and for good reason. It's double the meatiness, double the juiciness and the thing about smash burgers is that they're often made smaller to achieve that iconic edge-to-edge crust. So don't argue, just opt for two.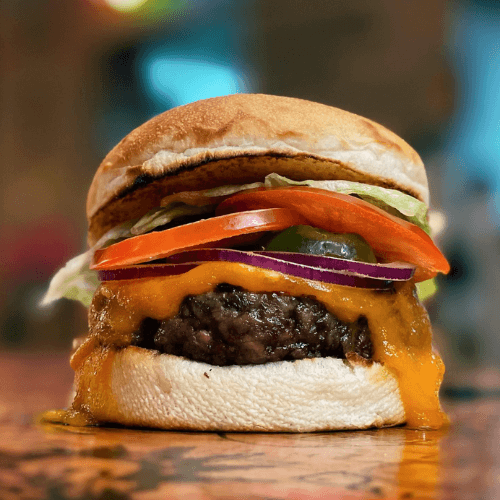 Hidden bars are a dime in a dozen here in Singapore. But hidden burger joints that double up as a craft beer taproom and a cocktail bar? Now those are in short supply and we only know one place — Burger Bar New York. Look out for a neon burger sign and enter through the unsuspecting door past a waypoint concealed by suede curtains and you're there. On the burger front, this joint dishes out fresh American handmade beef patties, grilled to perfection and topped with all of the fixings of any good New York-style burger. Over here, it's pretty straightforward: decide how you want your burger done, add your toppings and your sauce, grab a seat and tuck in. Feeling thirsty? Head over to the left side of the burger counter and order yourself an ice-cold pint.
A restaurant that prides itself on American barbecue and the art of grilling meat, Burnt Ends stands as an institution in modern Australian casual dining and barbecue here in Singapore. An unpretentious treat for the senses —from the moment you plop yourself down, you're engulfed by a mouth-watering barrage of delightful meats cooked in scorching ovens. On the burger front, the Pulled Pork Sanger is a revolutionary creation bursting with umami flavours and smoky barbecue goodness.
7. 25 Degrees Burger, Wine & Liquor Bar
Bringing its signature West Coast flavour to Singapore, 25 Degrees Burgers & Liquor Bar is a gourmet American dive bar-cum-burger joint that specialises in a myriad of gourmet burgers. Rumour has it that the Los Angeles brand is even a cult favourite among several Hollywood A-listers. Things are done simply around here: diners are allowed to craft their own burgers or choose from the restaurant's various artisanal creations labelled from one to four. We swear by the Number One, a colossal bacon cheeseburger that comes layered with caramelised onions and a house-made thousand island sauce. As for the sides, we're crazy over the crispy onion rings. And why not go harder by supplementing your meal with a milkshake?
You can place your trust in Three Buns Quayside, a sister brand deviated from widely acclaimed Potato Head Singapore, to deliver the good stuff whenever a strong craving for burgers hits. Helmed by executive chef Adam Penney, the burgers are all made from scratch using only artisan buns, premium European cheeses and two cuts of grass-fed Australian beef for the patties. Its creations are pretty funky but what you're promised is the perfect marriage between fat and flavour for each one. Quality of the ingredients aside, the sauces are what makes the burgers taste so great and you'll be glad to know that they are all freshly made in-house from scratch.
This multi-award-winning burger and fried chicken joint earned itself critical acclaim in 2015 and has consistently been a hit among local foodies and burger aficionados ever since. The kitchen is run by an all-star crew, which includes the original head chef from Wildfire's very first outlet. The secret? There isn't one. Just honest, high-quality ingredients and proper care, treatment and techniques. If there's one thing that makes this joint stand out, it's the roaring charcoal grill that uses only binchotan coals as well as the INKA grill, a double ventilated grill that's able to generate heat in excess of 450 degrees celsius, allowing the patties to achieve its signature smoky flavour and superior charring.
Gourmet burgers at value-for-money prices don't get any better than at Wolf Burger. Its burgers are legit with every component scratch-made and it even has plant-based options for you to wolf down. We're always on the lookout for seasonal burgers such as the Mala Wolf Burger and the newly launched Satay Burger. If you aren't particular, we say give the Original Wolf a try. What you get is a freshly ground beef patty, seared to crispy perfection and slathered with secret Wolf sauce and sandwiched between buttery brioche buns.
(Photos from: Alvin Tan)
Craving for pasta? Add these Italian restaurants to your food trip list next.
Comments, questions or feedback? Email us at [email protected].