Unable to fall asleep? Mind racing and tummy rumbling at the prospect of a nice warm late-night meal? Well, midnight munchies are never fun but fortunately for you, the food scene is as rampant in the dead of night as it is in the day. Whether you're looking to quieten your belly for a good night's sleep or to prevent a potential hangover the following morning after a night out tippling, here is our list of the 10 best supper spots in Singapore.
For a taste of authentic North-Eastern Chinese food, Dong Fang Mei Shi astounds in more ways than one. Firstly, you have their whopping menu that spans more than a hundred cooked dishes to choose from (and that's before you consider that they also have a separate menu just for barbecued skewers), the quality of their cooking and the fact that most if not all their food are tasty as heck — just the sort of grub you'll want after drinks — and the fact that they open until 6 in the morning every day. Service is often quick and fuss-free, and despite a crowd, you'll be seated with someone ready to take your order in no time. Dishes you absolutely have to order include their Pan Fried Meat, La Zi Ji (Crispy deep-fried diced chicken in dried chilli and peppers), Eggplant cooked in beer and their variety of barbecue skewers. To complete the meal, make sure to have an ice-cold Tsing Tao beer.
193, 195, 197 New Bridge Rd, 059425
2. Hong Chang Eating House
As far as claypot frog porridge and barbecue seafood go, you'll rarely find exceptional ones within close proximity of one another. But Hong Chang Eating House, located on a corner of a junction between Braddell Road and Upper Serangoon Road, serves both and you best believe they do them extremely well. Their tender slabs of sambal-covered grilled stingray and immensely flavoured claypot frog legs will ferry you into one of the happiest food-induced slumbers you've ever experienced. Another of their interesting offers is their porridge. While most places selling frog porridge tend to mellow down the flavour of their porridge to complement the heady sauce from the frog, these folks do the opposite. We kid you not, we could literally enjoy the porridge on its own.
2 Braddell Rd, Singapore 359895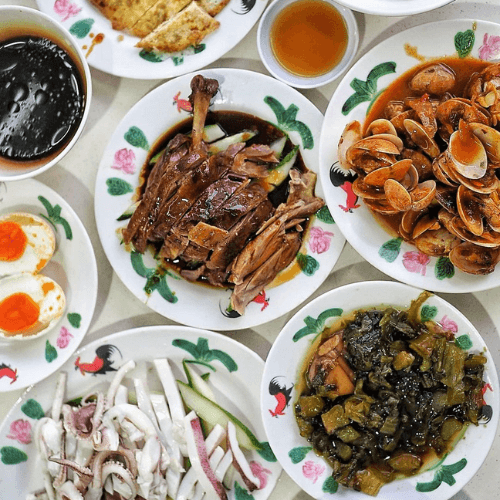 3. Joo Seng Teochew Porridge
Comfort food in the wee hours of the morning doesn't get any better than Teochew porridge and one of our favourites is by the folks over at Joo Seng Teochew Porridge. Their range of dishes is massive with more than 30 —sometimes 40 — items to choose from and they're always fresh and always piping-hot. A meal for two very hungry people rarely costs beyond SGD20 so it's not only a good and healthier alternative to your go-to late-night fast food burgers but is also an affordable one as well. Don't miss out on their star dish, the tender braised duck leg as well as the spicy Lala clams.
14 Cheong Chin Nam Rd, Singapore 599738
4. Boon Lay Power Nasi Lemak
A late-night supper spot that's pretty much solidified itself as something of an icon in the western region of Singapore, Boon Lay Power Nasi Lemak is where you'll find Malay nasi lemak done right. They open till the wee hours of the morning every day and their ingredients are not only extensive but also freshly replenished so you can rest assured you'll never be served cold, stale ingredients. Seasoned regulars typically know exactly what they like piled onto their plate (or packet) of coconut rice but for first-timers, simply start with their Chicken Set and work your way up from there. A sizeable plate, the said combo comes with a crispy fried chicken wing, fried peanuts, ikan bilis, a fried egg and sambal.
Boon Lay Place, #01-106 01-106, 642221
5. Ming Fa Fishball Noodles
A popular joint located In the heart of the eatery-laden stretch of Upper Thomson Road, Ming Fa Fishball Noodles is iconic for its delicious noodle dishes as well as the fact that it's one of the only joints that stay open till late (besides the roti prata stall a few shops down) in the entire area. Crowd favourites include their bak chor mee, mini wok noodles and fishball noodles which you can complement with homemade sides such as their crispy fried wantons and Thai-style beancurd. Take it from us though, their homemade laksa is pretty darn solid as well. And we dare go as far as to say that it's even comparable to the legendary one that hails from historical Katong.
246B Upper Thomson Rd, Singapore 574370
If it's sizzling meat that you crave —sweet, savoury and caramelised and charred gloriously from edge to edge —then Superstar K is the place to pop over to. Among the sea of seasoned Korean establishments situated along the buzzy Tanjong Pagar stretch, Superstar K remains a favourite due to its reasonable prices, exceptional quality and the fact that you don't even have to lift a finger to do your cooking. That's right, their staff will do it for you! Among their list of meat options, we recommend getting their Seasoned King Sized Beef Rib. Granted it's a tad pricier but it's well worth it. Enjoy it along with a bowl of bubbling hot steamed egg and Korean army stew and that right there is an epic night's sleep waiting to happen.
75 Tg Pagar Rd, Singapore 088496
As far as late-night dining in Singapore goes, Swee Choon Tim Sum is one of the most famous. It's a late-night hot spot where locals flock to to satisfy their craving for dim sum and the like. Their food menu is extensive, ranging from rice dishes, noodle dishes, and congee to a dizzying array of fried and steamed dim sum delights. Prices are reasonable as well which is probably what draws most of its crowd. Dim sum items that we go absolutely nuts for include their crispy fried Mee Sua Kueh, Crispy Egg Plant with Pork Floss, Szechuan Dumplings as well as their sweet, molten Salted Egg Custard Bao.
183/185/187/189, Jln Besar, 191/193, 208882
8. Ponggol Nasi Lemak (Upper Serangoon)
Award-winning Ponggol Nasi Lemak boasts three outlets in Singapore and even a food kiosk over at Capitol — a testament to how far this nasi lemak icon has come over the years. Their coconut rice here employs top-grade rice grains and freshly squeezed coconut milk, which results in its unbeatable aroma. Options for ingredients are varied and plentiful ranging from your usual fried ikan kuning, fried chicken wing, peanuts and sambal to other less conventional offerings such as Nyonya achar, luncheon meat, crispy battered prawns and their ultra-premium Muar mackerel otah cake — the latter is a mammoth-sized otah that features solid chunks of fish.
965 Upper Serangoon Rd, Singapore 534721
9. Yaowarat Thai Kway Chap
A dish of Teochew origin, Kway Chap is a hearty breakfast or suppertime favourite comprising a plate of various braised ingredients doused in a thin savoury sauce served alongside a bowl of flat rice noodles in a light broth. The Thai version of this familiar dish is pretty similar save for the broth that's clear and tinged with a sharp peppery flavour and features rice "rolls" as opposed to flat rice noodle sheets. The ingredients comprise Thai sweet sausage and crispy pork belly. For a place that serves this Thai-Chinese delight till late, hit up Yaowarat Thai Kway Chap.
945 Upper Serangoon Rd, Singapore 534711
10. J.B. Ah Meng Restaurant
A late-night supper hot spot heavily frequented not just by locals but also by celebrated chefs from renowned fine-dining restaurants, J.B Ah Meng Restaurant is widely known for its unique zi char dishes derived from recipes from Malaysia (more specifically Johor Bahru hence the name). Open until 2 AM daily, regulars and curious night owls flock here for their famous White Pepper Crab as well as their signature crispy JB San Lou Mee Hoon, a unique crispy noodle dish that resembles a pancake as well as the heavenly wok-tossed clams that come adorned with copious amounts of chopped garlic.
534 Geylang Rd, Singapore 389490
Complete your midnight dining adventures by visiting these cocktail bars too.
Comments, questions or feedback? Email us at [email protected].