Having a tough week? Well, here's some good news that may just cheer you up: the latest version of skincare brand philosophy's Hope In A Jar products are now available in Singapore.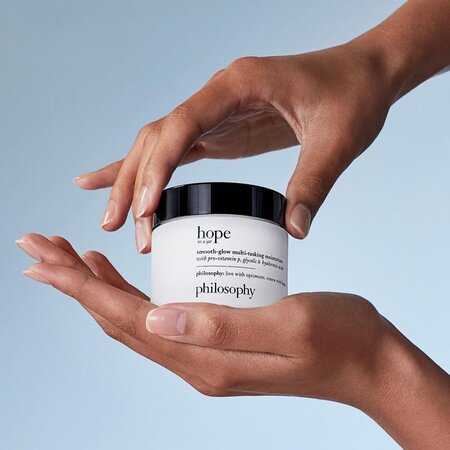 What's new with philosophy's Hope In A Jar
Philosophy announced at the start of the year that the five products under its flagship collection will get an exciting update for the first time since their release 25 years ago. The revamped version of the classics now boasts a clean formula that's made without controversial ingredients like phenoxyethanol, butylated hydroxytoluene (BHT) and phthalates — all of which have potential links to certain health risks.

This modern line-up includes the new version of the brand's popular moisturising and gently exfoliating cream that Oprah adores, the Smooth-Glow Multi-Tasking Moisturizer (SGD19). It also features fresh renditions of the lightweight Hyaluronic Glow Moisturizer Water Cream (SGD64); the hydrating Eye Revival Serum-In-Cream (SGD55); the rich night moisturiser ​​Resurrection Overnight Power Hydrator (SGD64) and the physical exfoliator Instant Glow Peeling Mousse (SGD55).

Along with the latest reincarnations of the beloved products, philosophy is also launching a new serum that's made to boost the skin barrier, the Biome-Balance Glow Serum (SGD82).
It's been a long wait, but you can finally get your hands on these goodies at Sephora.
(Cover photo from: @lovephilosophy)
Next, check out if the Clarins Double Serum is truly an anti-ageing wonder.

Comments, questions or feedback? Email us at [email protected].