Sunscreen check: do you remember to apply sunscreen on your body before heading out the door every day? If the answer is no, don't fret. The new Supergoop! Unseen Sunscreen Body SPF 40 is here to help you be more consistent with your body SPF regimen!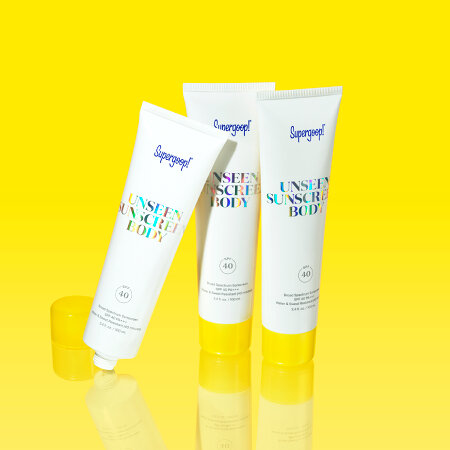 Read on to know more about it, including its pricing and availability in Singapore.
Supergoop! Unseen Sunscreen Body SPF 40: ingredients, claims, etc.
If you're a fan of Supergoop!'s bestselling Unseen Sunscreen, think of this as its made-for-the-body sister. It features the same clear, invisible (no white cast!), weightless, and skincare-packed formula. However, it's specifically formulated to address the skin on your body's unique skincare needs and protect it from the harmful effects of sun and pollution exposure.
It features a silky, nourishing, and fast-absorbing gel formula that moisturises your skin just as well as it protects.
In contrast to the Unseen Sunscreen for the face, which has a 'grip' to it that makes it perfect as a makeup primer too, this body-friendly version glides on smoother, spreads more easily and dries quickly — perfect for Singapore's humidity.
It also has a unique set of ingredients that boost moisture retention, since the skin on the body is more prone to dryness.
These ingredients include olive leaf and fruit extracts that are known for their moisturising, soothing, and skin barrier-reinforcing benefits. It also contains a plant-derived emollient for added moisturisation without the greasy feeling.
The brand recommends applying it "generously and evenly" at least 15 minutes before being exposed to the sun. If you're not planning on swimming or sweating, reapply it every two hours. Otherwise, you'll need to reapply this product at least every 40 minutes after towel drying.
Price and where to buy it in Singapore
Want to be more consistent with applying your sunscreen all over? You can now purchase the Supergoop! Unseen Sunscreen Body SPF 40 at Sephora Singapore, where it's priced at SGD68 per 100ML.
Next, here's how you can concert-proof your makeup!
Comments, questions or feedback? Email us at [email protected].