Yesterday, Olivia Rodrigo made a lot of buzz for her big Grammys win as the year's Best New Artist. Today, the 19-year-old singer-songwriter is making headlines once again for her makeup look, which is much more attainable than one would have thought.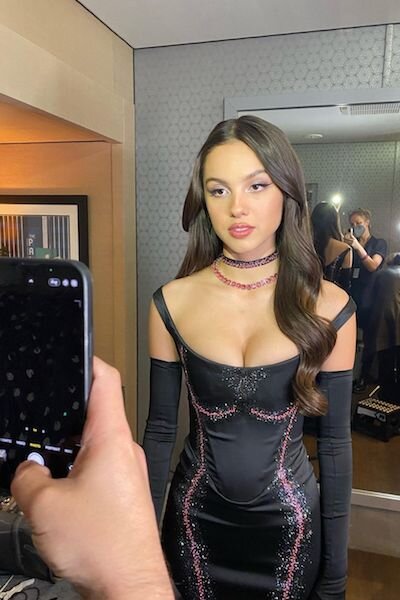 Her makeup artist, Lilly Keys, revealed in an interview that she used exclusively Glossier makeup products to create the drivers license singer's '90s supermodel-inspired look.
The Glossier products used on Olivia Rodrigo
Olivia Rodrigo's Grammys 2022 makeup look starts with Glossier's Perfecting Skin Tint (USD26/~SGD35.28 per 30ML) and Stretch Concealer (USD18/~SGD24.42 per 4.8G). Then, Cloud Paint in Storm and Beam (USD18/~SGD24.42 each per 10ML) blush shades were mixed and blended onto her cheeks. The face makeup is finished off by adding Glossier's creamy bronzer Solar Paint (USD20/~SGD27.14 per 13ML) and the oil-serum hybrid Futuredew (USD24/~SGD32.57 per 30ML) as a highlighter.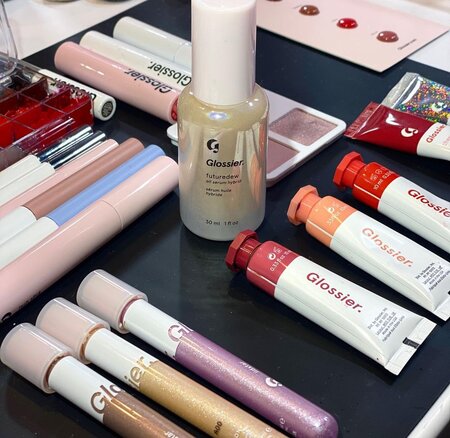 Moving onto the eyes, Lilly Keys combined shades from Monochromes Palette in Mist colourway (USD22/~SGD29.85) and cream-based eyeshadows Lidstar in Moon and Lily (USD18/~SGD24.42 per 4.5ML) to create the dramatic lavender look. Pro Tip Eyeliner in Black (USD16/~SGD21.71 per 0.47ML) is used to draw the stunning cat eyeliner, while Olivia Rodrigo's lashes are coated with Lash Slick in Black (USD16/~SGD21.71 per 8.5G). Framing this eye-catching eye makeup are full, arched brows made with the help of Glossier's bestseller Boy Brow in Brown (USD16/~SGD21.71 per 3.12G) and Brow Flick in Brown (USD18/~SGD24.42 per 0.48ML).
Finally, Olivia Rodrigo's makeup look is completed with Ultralip in Villa (USD18/~SGD24.42 per 3G) which is a balm that has a glossy sheen and buildable tint) and Balm Dotcom in Cookie Butter (USD12/~SGD16.28) for hydrated pouts.
Olivia Rodrigo's skincare and makeup routine
The up-and-coming musician has also previously shared her personal beauty routine with Vogue which also spotlighted several Glossier products along with other skincare favourites like The Ordinary serum and a Gua Sha face tool.
(Cover photo from: @glossier)
Comments, questions or feedback? Email us at [email protected].