If your daily sunscreen must look, feel, and smell good, then this one ticks off all the boxes. Ole Henriksen's new Banana Bright Mineral Sunscreen is coming to give you all that and more.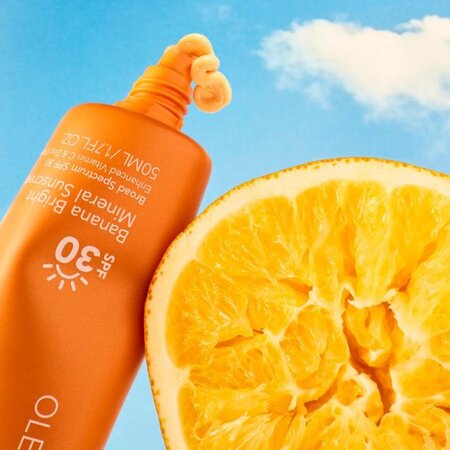 Ole Henriksen Banana Bright Mineral Sunscreen
Ole Henriksen's Banana Bright Mineral Sunscreen
offers a citrusy-scented non-greasy sunscreen (because of its soft matte finish). It also has SPF30, just the right dose recommended to bring you the topical sun protection you need.
The new sunscreen is powered by all the good stuff to not only protect but also correct your skin even while you bask in the sun.
It has 16.3% zinc oxide which creates a shield for your skin against UVA (associated with skin ageing) and UVB (associated with skin burning) rays. It also has vitamin C which brightens, evens skin tone and corrects visible, existing sun damage such as dark spots.
Now if you're wondering about the banana part, the product is actually made with banana powder-inspired pigments which are light-reflecting mineral pigments responsible for giving you that instantly radiant glow.
Other ingredients in this all-in-one sunscreen that you might be interested in are niacinamide (to support healthier-looking skin) and aloe leaf juice (to hydrate and smooth skin).


How to use the Ole Henriksen Banana Bright Mineral Sunscreen
The brand recommends using the
Banana Bright Mineral Sunscreen
on your face and neck 15 minutes before sun exposure. Then you can reapply it every two hours.
If you're wearing it under makeup, make sure that it's completely absorbed before you move on to your glam routine.


Where to buy the Ole Henriksen Banana Bright Mineral Sunscreen in Singapore
Ole Henriksen's latest addition to its Banana Bright range is priced at USD35 or around SGD per 1.7OZ. Currently, Sephora Singapore has
Ole Henriksen's Banana Bright+ Eye Crème
, so stay tuned while we wait for more details about the sunscreen's release in Singapore.
Comments, questions or feedback? Email us at [email protected].