This story was first published on 20 April 2022.
Ever since Off-White — a brainchild of the late designer Virgil Abloh — opened its doors in 2012, it has been giving us countless hyped fashion launches, from various stylish sneakers to minimalistic pieces. Now, Off-White is crossing into beauty territory with the release of its "beauty toolkit" called "PAPERWORK".
The beauty products initially made a subtle debut in Off-White's Fall-Winter 2022/2023 show last March. The bold makeup sported by the models, especially the drawings on their cheeks, was created with items from "PAPERWORK".

What's in Off-White's beauty toolkit?
The Off-White beauty toolkit includes four "Solutions" signature scents (USD185/~SGD252.54), "Imprint" pigment sticks (USD42/~SGD58) in white, black and bright colours, a collection of stencils that you can easily trace to create artsy makeup looks and six "Color Matter" nail polishes (USD38/~SGD53) including one with a self-cracking technology for that unique 'concrete' look.
Off-White "Solutions" fragrances
The Off-White "Solution" fragrances come in four variants: Solution No. 1 features woody notes inspired by the smell of sand and its "airy facets"; Solution No. 2 has a zesty scent that comes with tangerine and ginger notes; Solution No. 3 is a floral melody composed of rose and pink peppercorn notes, and Solution No. 4 has a leathery base that's complemented by minty eucalyptus notes.
Off-White "Imprint" pigment sticks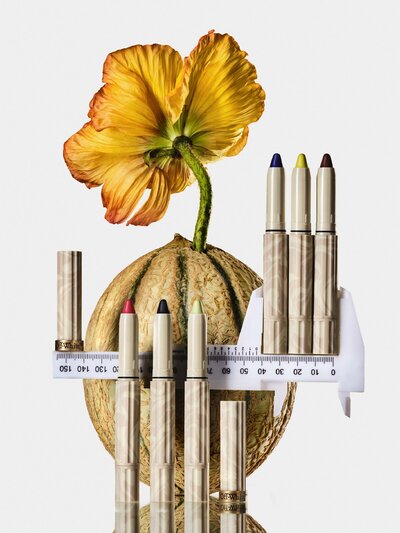 Among the releases, the most that got a lot of fanfare are the pigment sticks which can be used on the eyes, lips, cheeks, face and even the body. It has a creamy formula and a comfortable velvety finish. Each "Imprint" stick is designed with a slim precision tip that allows for a smooth, mess-free application. It's available in a total of six colours: Imprint Zone (light yellow), Imprint Signal (bright red), Imprint Maze (bright blue), Imprint Lucid (lime green), Imprint Drill (deep red velvet), and Imprint Jet (black).
Off-White "Color Matter" nail polishes
Off-White's "Color Matter" nail polishes are available in six shades. The first is the Color Matter Top Coat which is infused with real amethyst crystal extract that can harden your nails with longtime use. There's also the Color Matter Odd which delivers a white, self-cracking finish.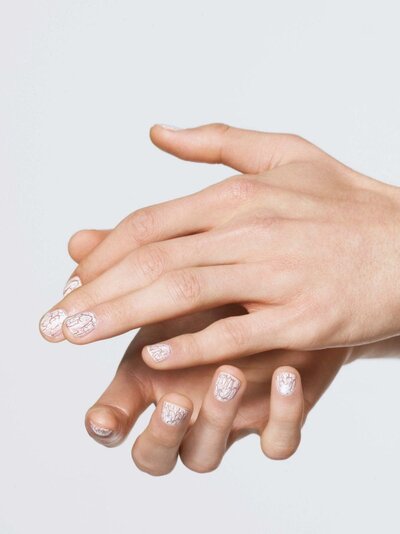 Next, is the Color Matter Flashback which has a vibrant matte magenta shade. Meanwhile, Color Matter Military has an understated dark grey hue. More eye-catching shades like the Color Matter Digital which has a bright blue pigment and the Color Matter Acid which has a dazzling glitter look.
These are all designed to offer, as Off-White puts it, "the freedom to customise your experience and create your own form of expression." Anyone, regardless of age and gender, can use them!

Where to buy Off-White's "PAPERWORK"
The Off-White Paperwork beauty tool kit products are now up for grabs exclusively on Off-White's website (which offers international shipping).
Off-White's past beauty venture with AmorePacific
It's not the first time Off-White dabbled in beauty. In 2021, the Italian luxury brand teamed up with K-beauty giant AmorePacific — the parent company of LANEIGE, ETUDE, and Sulwhasoo to name a few — to create a collection of co-branded skincare and makeup products.
(Cover photo from: @off____white)
Next, check out our review of Haus Laboratories' Eye-Lie-Ner.
Comments, questions or feedback? Email us at [email protected].