Love
innisfree's Green Tea line
? Get excited because it just got an upgrade! The products in this beloved skincare range
got a sleeker, more minimalistic look and have been reformulated to deliver better results depending on your skin's needs
.
innisfree Green Tea Hydrating Amino Acid Cleansing Line
This line ensures that cleansing isn't equal to dehydrating your skin with its new and improved formula that's meant to activate the skin's natural moisturising factor (NMF). The
Cleansing Oil (MYR83/SGD28), Cleansing Foam (MYR45/SGD16), and Cleansing Water (MYR65/SGD21)
all have Jeju fresh green tea, Amino Acid Complex, and, hyaluronic acid that promise better hydration, protection against dryness, and a stronger skin barrier.
innisfree Green Tea Balancing Line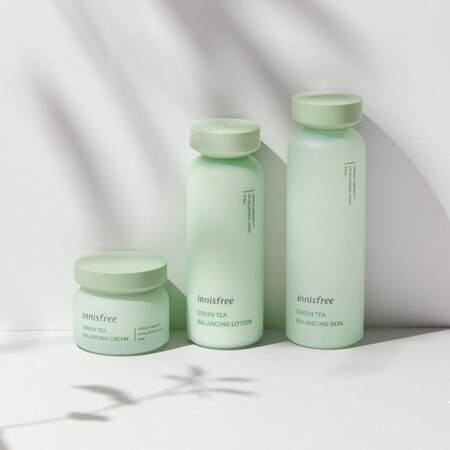 Moving on to the Balancing Line, the
Balancing Cream (MYR84/SGD30), Balancing Lotion (MYR75/~SGD23), and Balancing Skin toner (MYR75/SGD26)
now all contain Beauty Green Tea and innisfree's Triple-Amino formula and hyaluronic acid that boost the skin's hydration and radiance. The line also includes polyhydroxy acids (PHA), which help mildly exfoliate and remove dead skin cells, control excess sebum, and balance the skin's oil and moisture level.
innisfree Green Tea Seed Line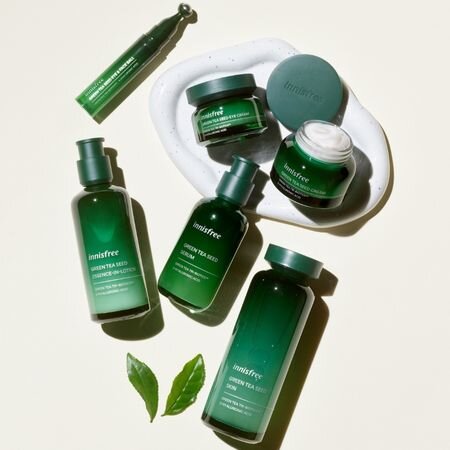 Finally, the Green Tea Seed Line — which includes the
Essence-in-Lotion (MYR96/~SGD29), Eye and Face Ball (MYR89/SGD29), Green Tea Seed Skin (MYR92/SGD32), Eye Cream (MYR107/SGD37), and Cream (MYR105/SGD34)
— also gets a refresh with an upgraded Green Tea Biome formula that balances the skin's microbiome, promoting a healthier skin moisture barrier. These products also include Beauty Green Tea and five types of hyaluronic acid, as well as green tea seed oil that helps with moisture retention deep into the skin.
innisfree Green Tea Seed Special Care Line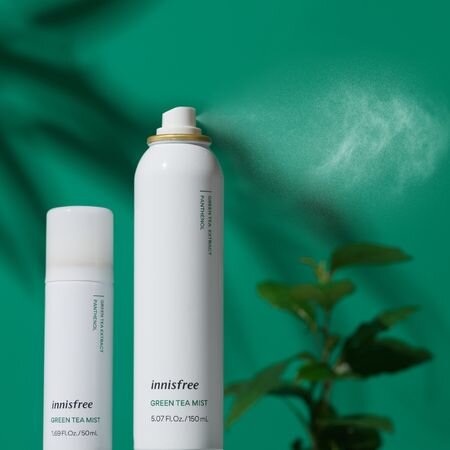 The Special Care line which has a Mist (MYR55/SGD19), Sleeping Mask (MYR68/SGD22), and Mist Micro (MYR70/~SGD21.50), also got a revamp with its new, more minimalist appeal.
Also introducing: the innisfree Moisture Silk Makeup Base SPF34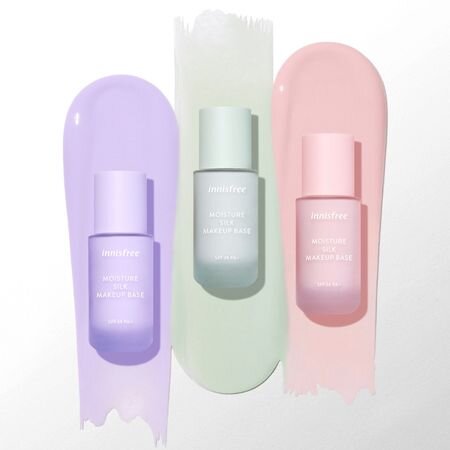 Along with this Green Tea Line upgrade, innisfree also launched the
Moisture Silk Makeup Base with SPF34 (MYR82/SGD29)
which comes in three shades: Purple for yellowness, Green to cancel redness, and Peach for darkness and dullness.
The formula contains Silk Sebum Powder that helps absorb excess sebum, while still retaining a non-cakey dewy finish. It also has Triple Shield Formula which protects the skin from external irritation as well as harmful UV rays.
Where to buy these innisfree releases in Singapore
These products are available at innisfree beauty counters islandwide and on the brand's official website.
Next, check out these 10 pimple creams you need on your beauty emergency kit.
Comments, questions or feedback? Email us at [email protected].