You want it, you got it! Glossier is launching a new Balm Dotcom flavour. Introducing, the Balm Dotcom Lavender. This new product is the first permanent addition to the beauty brand's popular skin salve line-up since the brand launched the zesty Mango variant in 2019.
Say hello to Balm Dotcom Lavender
Balm Dotcom Lavender is perfect for every day use.

Like other Balm Dotcom iterations, the Lavender edition works as a hydrating lip balm or skin salve. It's packed with antioxidants and moisturising emollients such as castor oil, beeswax, and lanolin. What makes this new member of the Balm Dotcom family unique is its sheer purple tint, floral-herb scent and honey taste. But don't worry, you can still expect the product's signature dense and waxy texture that will envelop your lips with long-lasting hydration.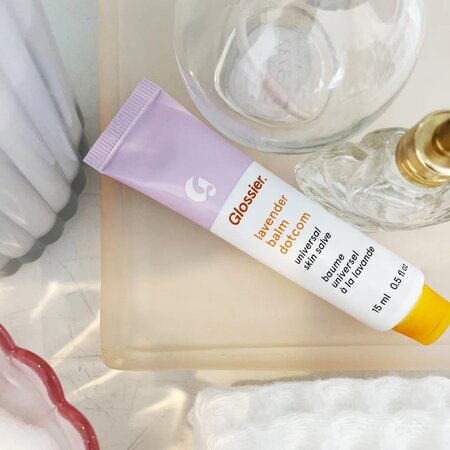 Along with Balm Dotcom Lavender, an Embroidered Lavender Hoodie will also be launched.
Where to buy Glossier's new Lavender-themed product
Glossier's Balm Dotcom Lavender (USD12/~SGD17) and Embroidered Lavender Hoodie (USD60/~SGD83) are available on Glossier's website and physical stores. However, Glossier has yet to offer direct shipping to Singapore. You may opt to buy via forwarding mail service or at speciality imported product stores.
Will you be snagging one?
(Cover photo from: glossier.com)
Next, check out what Glossier products Olivia Rodrigo used for her Grammy look.
Comments, questions or feedback? Email us at [email protected].