What if we told you that you could 'capture' the scent of a place you love and house it in a bottle or a diffuser? Colour us surprised too, as beloved luxury fragrance brand diptyque has managed to 'steal' the scent of its 34 boulevard Saint-German boutique — thanks to advanced headspace technology — and made it into an elegant home scent collection.
Meet the diptyque 34 Boulevard Saint-Germain range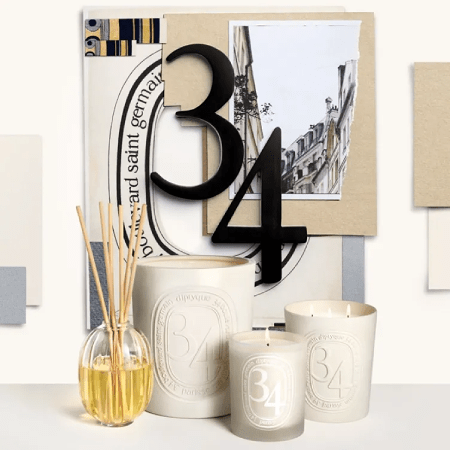 Diptyque's first-ever boutique was located along 34 Boulevard in Saint-Germain, Paris. It was a key source of inspiration for this collection as diptyque's founders had turned the store into a "chic bazaar brimming with unique items and rare fragrances".
As such, the brand decided to honour the store's sophisticated 34 scent — with its fresh notes of mosses lifted by oriental spices, and floral and woody notes — by featuring it across a special range of products for the home.
Key pieces in this range include the limited-edition Scented Oval, embellished with beads inspired by one of the founders Christiane Gautrot's necklaces. There's also the Electric Diffuser, which allows you to enjoy this elegant scent in your car or at home.
Where to buy the collection in Singapore
In Singapore, you'll be able to purchase the Scented Candle in 600G or 1.5KG, the Home Fragrance Diffuser and Refill, the Hourglass Diffuser, the Room Spray, two Scented Ovals and the Electric Diffuser. Find them at escentials.com or tangs.com. Prices start from SGD79 for an Electric Diffuser.
(Cover photos from: diptyqueparis.com)
Curious about how traditional Chinese medicine can improve your beauty and wellness routine? Get your answers here.

Comments, questions or feedback? Email us at [email protected].