Ready to level up your sunscreen game to superhero-level protection? Here's some good news: the fan-favourite Anessa Perfect UV Sunscreen Milk now has a new limited-edition look thanks to a collaboration with Marvel© Studios. The best part? It's now available in Singapore.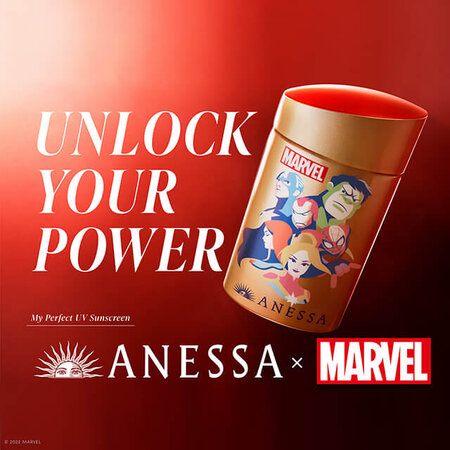 The same strong formula, now with marvel-ous packaging
Anessa, Japan's no. 1 sunscreen brand for 21 years, has teamed up with Marvel© Studios to help you fight UV rays that cause skin photoageing. The brand's bestselling Perfect UV Sunscreen Milk is here to inspire you to power up your daily sun protection with its exclusive packaging. It now comes in a limited-edition Marvel© superhero-decorated bottle that features familiar faces such as the fan-favourite Iron Man, Captain America, Spider-Man, and more. Plus, this sunscreen doesn't just defend your skin against sun damage. It helps protect Mother Nature too since the bottle is partially made with sustainable bio-based plastic.
While it features a new look, the collaboration still features the sunscreen's well-loved innovative formula that's powered by Auto Booster Technology which increases the sunscreen's UV protective veil when interacting with sweat, water, heat, and humidity. It's also resistant to mask stuffiness and friction. Perfect for Singapore's warm and humid weather, don't you think?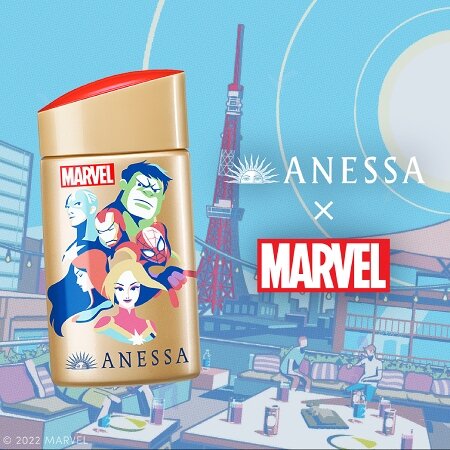 Like your favourite Marvel© superheroes, the Anessa Perfect UV Sunscreen Milk lives a double life as a UV-protective skin primer that can help your makeup glide on smoother and last longer. It also has multiple moisturising and skin-protective superpowers. Its formula is made up of 50% skincare ingredients that not only prevent photoageing with their antioxidant properties, but also moisturise and soothe your skin.
Where to buy the Anessa x Marvel© Perfect UV Sunscreen Milk in Singapore
Curious to know how you can get your hands on this special edition sunscreen collab? It's now available at selected Watsons Singapore stores and the Watsons e-store. One bottle is priced at SGD41.90 per 60ML.
Want to know which of the Anessa Perfect UV Sunscreens is made for your skin type? Find out here.
Comments, questions or feedback? Email us at [email protected].