Have you noticed that you have more clumps of hair falling off in the shower or while brushing your hair out? You may have seen some bald spots where they've never been before. If these happen to you, and you're not post-partum or don't have a family history of balding, you may have irregular hair loss. But don't panic! There's actually a very plausible reason why you're experiencing it.
A lot of people also experienced unexplainable hair loss at the height of the pandemic and when we were asked to get vaccinated. What does this all mean? We spoke with scalp care expert and Coulisse Heir co-founder Selina Ong to know more.
Scalp care is important, here's why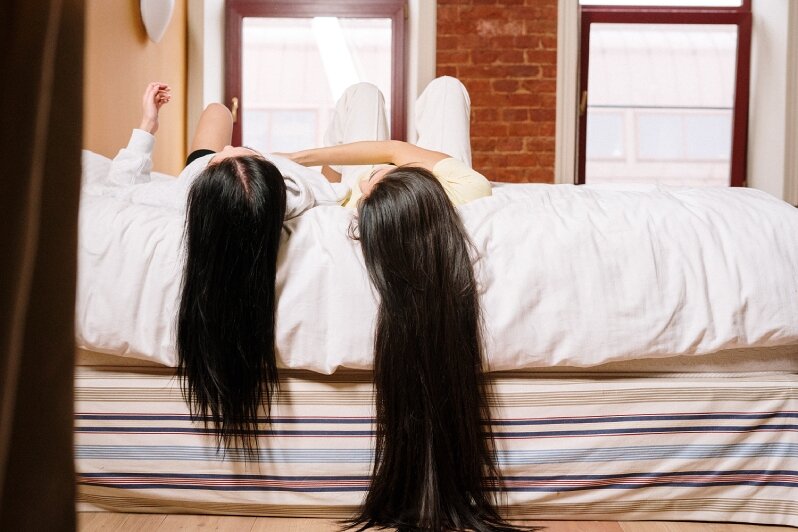 But before we talk about the cause of sudden hair fall, let's discuss scalp care. Similar to how you care for your face with skincare products and treatments, you need to give your scalp TLC too! Scalp care involves consistently removing any debris, dirt, and excess oil on your scalp so your hair and scalp stay healthy.
"Our scalp is the gateway to hair follicles and the source of healthy hair. Conditions such as dryness, flakiness, redness and irritation are some signs of poor scalp health," Selina said.
According to the American Academy of Dermatology Association (AAD), everyday scalp care can prevent certain types of hair loss and conditions such as scalp psoriasis (visible patches and rashes on the scalp). So yes, it's pretty important so we should prioritise it.
"Our scalp is often overlooked compared to facial skin, despite it ageing six times faster than facial skin," she added. "Not only that, it has a higher number of sebaceous glands and hair follicles. With sun exposure, pollution or product build-up, our scalp health can be easily compromised. Hence, it's equally important to look after your scalp as much as your skin."
And while there are no clear culprits, there are some contributing factors to poor scalp health. These are climate changes, lifestyle changes — changes in your hair care regimen, using unsuitable products, and product build-up on the scalp — and biological changes.
You may actually be more familiar with the latter. Biological changes include stress, new medications you're taking, dietary changes or hormonal fluctuations that can all weaken the scalp and cause more of your hair to fall out.
Scalp care at home
If you don't have the means of getting a professional scalp treatment, you can try these at-home scalp care tips from Selina.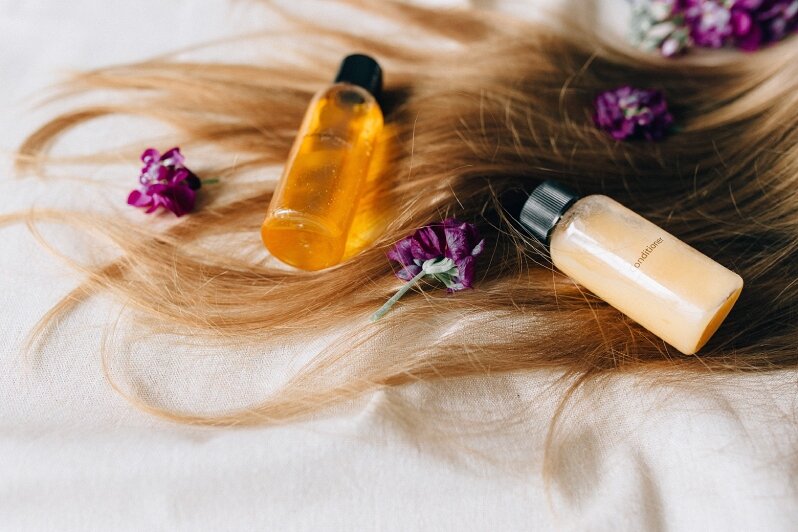 First is double cleansing using a suitable cleanser or shampoo to help remove tough grime and dirt from your scalp. For example, you can use a clarifying shampoo first and then follow with a more moisturising formula so you don't dry out your scalp. Don't have the budget? Try shampooing twice and rinsing your hair out thoroughly instead.
Selina also says you should use the right products to target your scalp type. It helps to know if your scalp is oily, dry, or sensitive so you don't aggravate your scalp condition more. "For post-COVID hair loss, we would recommend our Hair Loss Serum and Hair Fortify Serum," she added.
Selina says you can also practise homecare treatment with a daily hair mask. It will keep your hair soft and manageable, so you won't feel the need to use as many hair styling products as usual. It's like a skincare routine, but for your mane.
Now, the big question: can COVID cause hair loss?
The short answer is yes. "Post-COVID hair loss usually starts after an average of about 55 days post-recovery or following a COVID-19 vaccination," Selina explained. "This type of hair loss is also known as 'telogen effluvium' (hair shedding), which is caused by hormonal changes, fever infection, stress behaviours or even certain medications."
In the case of COVID-19 patients, the sudden hair loss is also a result of the shock the body experiences once triggered by a bout of infection.
If it's been a while since you received the last COVID shot, Selina said it can still be related. "Those suffering from telogen effluvium may lose close to 300 strands per day, and this can continue over the course of several months. You may notice more hair falling out when brushing or shampooing." It can even last up to six to nine months, according to the AAD.
Also, we can all agree that the pandemic was a stressful time for everyone. We didn't know when the next lockdown would be imposed, if our jobs would weather the storm, and if we're safe from the virus. The uncertainty really took a mental toll and, for some people, this manifested in excessive hair fall.
The scalp treatment for post-COVID hair loss
Selina shared that Coulisse Heir started seeing more clients without histories of scalp issues coming into their salon saying they were experiencing unexplained hair loss even after the worst of the pandemic has come and gone.
Some even said that it was really causing them mental stress since it lowered their self-esteem to see bald spots and clumps of hair every day.
After several months of research and development, Selina and her team came up with a scalp therapy treatment to address post-COVID hair loss. The Post-COVID Anti-Hair Loss Therapy is designed to protect and revive weakened hair roots, regenerate and strengthen blood capillaries, and help nutrients absorb better into the scalp, which results in improved hair growth.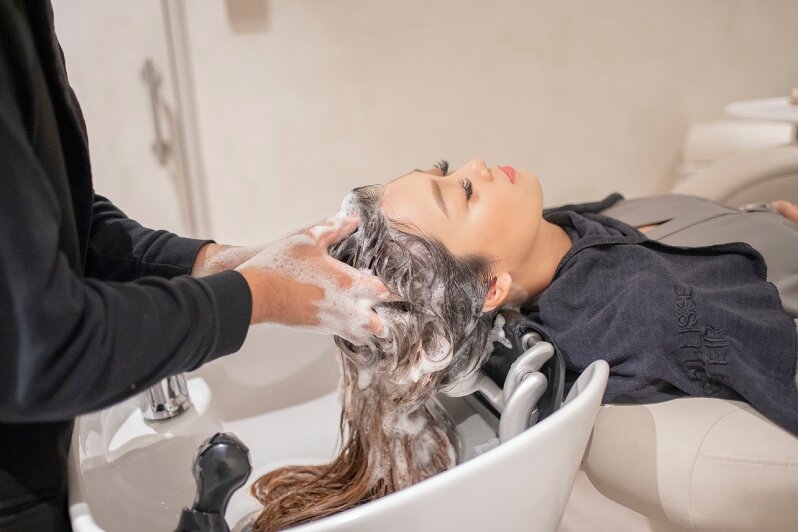 According to Selina, it takes around 90 to 120 days with regular scalp therapy sessions to see visible hair growth.
A quick review of Coulisse Heir's scalp and hair treatments
Want to know what to expect during the treatment? TheBeauLife Editor & Head of Content Becks tried a session and here's how it went.
"I was losing quite an obvious amount of hair each day and thought the hair loss was just stress-induced until I learned about the correlation between COVID-19 and hair loss through Coulisse Heir," Becks shared. "After understanding more about how long after COVID-19 can hair loss develop, I realised that there was a chance that I was losing hair because of my COVID-19 experience. It was not a severe hair loss, but it was definitely irregular and warranted a solution."
So she headed to Coulisse Heir at ION Orchard for an afternoon of pampering and hair therapy. "Coulisse Heir prides themselves on offering personalised treatments curated by their certified therapists, so my hair was given a combo of their signature Co-Cleanse Therapy (SGD197) — which includes a masque to exfoliate and unclog the hair follicles and an oxygen jet spray to lift up the masque for my sensitive scalp — and Post-Covid Hair Loss Therapy (SGD197) to cleanse, enhance circulation, nourish, fortify, and protect the scalp."
One of the highlights of the treatment for her is the Recharge spray, which uses carbonated micro-bubbles to support hair growth. "To be honest, the tickling, fizzy sensation on my scalp felt like a fun novelty," Becks added.
Depending on your scalp condition, you may be recommended other treatments that suit your case better. Rest assured, though, that it will still be a relaxing time.
The other highlight has to be Coulisse Heir's overall positioning of comfort, Becks added. You'll definitely feel pampered during your session. Fun fact: Their premium-grade backwash leather chair uses the same leather found in the interiors of Lexus cars. Luxury care and comfort? These were certainly delivered.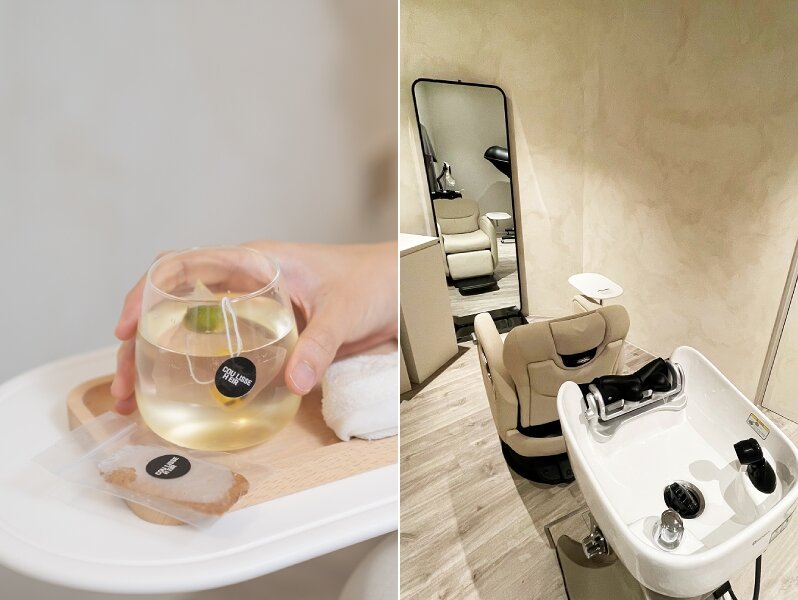 Some final words about scalp care and hair health
Similar to how you'd go for facials and invest in the right type of skincare, your scalp needs the right combination of care too. "When it comes to beauty and lifestyle, we typically only look after what is before our eyes," Selina said. "As an extension of the facial skin, our scalp deserves just as much, if not, even more care than the lengths of our hair."
Coulisse Heir is located at 2 Orchard Turn, #04-02 ION Orchard, Singapore 238801. You can book an appointment through WhatsApp at 8339 2114.
Hair tonics can also help improve hair growth! Here are some you can find in Singapore.
Comments, questions or feedback? Email us at [email protected].