Tomorrow is another K-drama on Netflix you should check out if you're having rom-com fatigue. It stars Ro Woon as Choi Jun-Woong, a man struggling to find a job who ends up working with grim reapers. He's joined by Kim Hee-Seon, Lee Soo-Hyuk, Yun Ji-On, and Korea's 'national mother' Kim Hae-Sook in the main cast.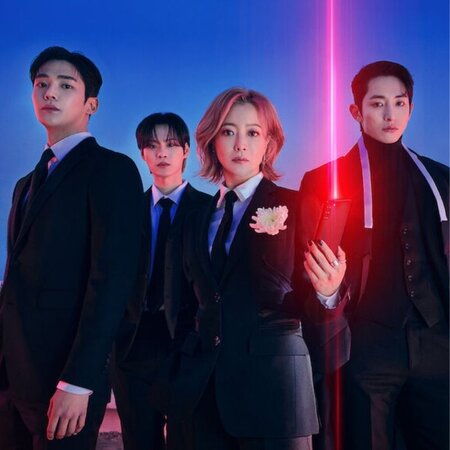 Tomorrow K-Drama plot
Choi Jin-Woong (Ro Woon) is desperate to get hired. However, despite many applications for a job, he finds himself unsuccessful. One day, he meets grim reapers Koo Ryeon (Kim Hee-Seon) and Lim Ryung-Gu (Yun Ji-On). The two belong to the afterlife's crisis management team whose mission is to save people who want to take their own lives. In a twist of events, Jin-Woong becomes a new member of the team.
While grim reapers aren't exactly new in K-dramas, especially after the popular iterations from 2011's 49 and 2016's Goblin, these storylines often bring something heartwarmingly fresh to the table. That's why if you're looking for something new to binge — and if you're ready to shed a tear or two — this is definitely a drama to tune into.
Whether or not you've already hit play on this K-drama, allow us to fill your queue with these other dramas and movies featuring the Tomorrow cast.
Drama: Ro Woon in The King's Affection
If you love gender-bend dramas with a twist, you'll absolutely love The King's Affection. The story starts with the Crown Prince's wife giving birth to twins, one boy and one girl. The Crown Prince viewed this as a bad omen so he ordered to have his daughter killed. However, the Crown Prince's wife decided to cast their daughter out of the palace in secret to save the child's life.
Years later, the twins Lee Hwi and Dam-I (both played by child actress Choi Myung-Bin) meet by accident. Fascinated by the similarities in their appearance, Lee Hwi, who is now the prince, asks Dam-I to be his decoy as he escapes outside the palace to frolic. Unfortunately, Lee Hwi gets murdered during one of his escapades. The queen finds out about the incident and decides to hide the truth about Lee Hwi's death. She then asks Dam-I to take Lee Hwi's place as prince, forcing Dam-I to hide her true gender and identity.
Dam-I (Park Eun-Bin) later becomes the king. A scholar, Jung Ji-Un (Ro Woon), gets hired to be her royal tutor. Ji-Un's father was the one who killed Lee Hwi.
Why you should watch it: We've already made a list of why this drama is worth checking out. But here's a tldr: the drama has a good representation of gender dynamics, the socio-political subplot adds even more intrigue to the overall plot, and of course, Ro Woon and Park Eun-Bin's chemistry is simply charming. Watch The King's Affection here.


Drama: Kim Hee-Seon in Alice
Park Jin-Gyeom (Joo Won) is a detective who has difficulty understanding and expressing his emotions. One day, he discovers that time travel exists and is made possible through a space temporal agency called Alice. While time travelling, Jin-Gyeom meets Yoon Tae-Yi (Kim Hee-Seon). Tae-Yi is a brilliant physicist who died in the past. As the two work together, they discover a connection between them.
Why you should watch it: Saying more would spoil the drama so we're keeping things short and sweet. This show has a lot of interesting twists that would keep you glued to the screen from pilot to finale. The major plot twist is kind of predictable in a way, but the reveal is nothing short of satisfying. Watch Alice here.


Drama: Lee Soo-Hyuk in Doom At Your Service
Lee Soo-Hyuk still doesn't have a lot of starring roles under his belt but one drama he participated in that's definitely worth your time is Doom At Your Service. It's about Tak Dong-Kyung (Park Bo-Young), a web novel editor who lives an extra mundane life. All in one day, she gets scolded at work, finds out that that her boyfriend has a wife and is a father-to-be, and that she only has three months to live. Devastated, she gets drunk and sees a shooting star. She wished for the world to be doomed. Myul Mang (Seo In-Guk), a messenger between humans and gods, hears Dong-Kyung's wish and decides to grant it. Lee Soo-Hyuk plays Tak Dong-Kyung's co-worker and editor in the drama.
Why you should watch it: Intriguing, funny, and somewhat a bit existential, this drama is amazing in comedy while still tugging at the emotions from time to time. Watch Doom At Your Service here.


Drama: Yun Ji-On in Jirisan
Similar to Lee Soo-Hyuk, Tomorrow is Yun Ji-On's first drama where he's part of the main ensemble. But prior to playing grim reaper Lim Ryung-Gu, he was part of the Jirisan crew starring Gianna Jun and Ju Ji-Hoon.
Jirisan is about rangers who work at the Jiri Mountain National Park. Seo Ji-Gang (Gianna Jun) is the best ranger at the park. She knows every trail and all the information about the area. She's joined by Kang Hyun-Jo (Ju Ji-Hoon), a rookie ranger who was formerly an army captain. He has a secret that he's been trying to keep from the people in his reformed life. Ji-On plays the role of Lee Se-Wook, a member of the Haedong Village, a community near the park.
Why you should watch it: It has a great twist from your usual workplace drama since it feels more adventure-based. It also gives an interesting look at the scope of what rangers do but, of course, with an additional layer of emotional and comedic moments. Watch Jirisan here.
Movie: Kim Hae-Sook in The Handmaiden
Veteran actress Kim Hae-Sook is dubbed South Korea's 'national mother' because of her impressive acting portfolio since 1982. It's quite challenging to recommend just one drama or movie she starred in, but if we're talking top-tier performance, it has to be her role in
The Handmaiden
.
This erotic psychothriller movie is about the contentious relationship former pickpocket Sook-Hee (Kim Tae-Ri) formed with Japanese heiress Lady Hideko (Kim Min-Hee) after Sook-Hee was hired as Hideko's handmaiden. Entangled in socio-political affairs, the two struggle to navigate through their master-servant relationship, as well as their unexplainable desires. Kim Hae-Sook, who despite not having a lot of screentime, delivered a compelling performance as Madame Butler Sasaki.
Why you should watch it: This film is provocative while still having a lot of emotional depth. The cast also did a stellar job in interpreting this challenging material, giving you some sort of attachment to their portrayal of the characters even after the movie has ended. Watch The Handmaiden here.

Stream Tomorrow here.
(Cover photo from: netflix.com)
Next, find out where you can watch Kim Ji-Won and Son Suk-Ku after binging My Liberation Notes here.
Comments, questions or feedback? Email us at [email protected].