The future may look a little bleak and grey during these unprecedented times, however, it is important that we remain positive and learn to look on the brighter (and colourful!) side of things. To put a smile on your face, we have rounded up these beautiful, vibrant Spring/Summer 2020 looks by rising Asian designer labels that are available via SocietyA.
This season's ensembles require you to master the art of layering separates — learn to pair a fitted blouse with a looser bottom to keep things chic yet comfortable, as seen at Lie. Alternatively, try your hand at juxtaposing a stiff, structured outerwear piece with a soft, sheer skirt, just like Toton. Thinking out of the box will help you to create interesting, delightful silhouettes, and Soe Jakarta's signature oversized blazer and pants get-up is an example of that. As for the key colour for Spring/Summer, designers including Disaya, Peggy Hartanto and Sean Sheila have embraced the refreshing shade of mint across their pieces, thus, signifying that pastel colours will continue to reign for the next few months. Read on for more details.
Lie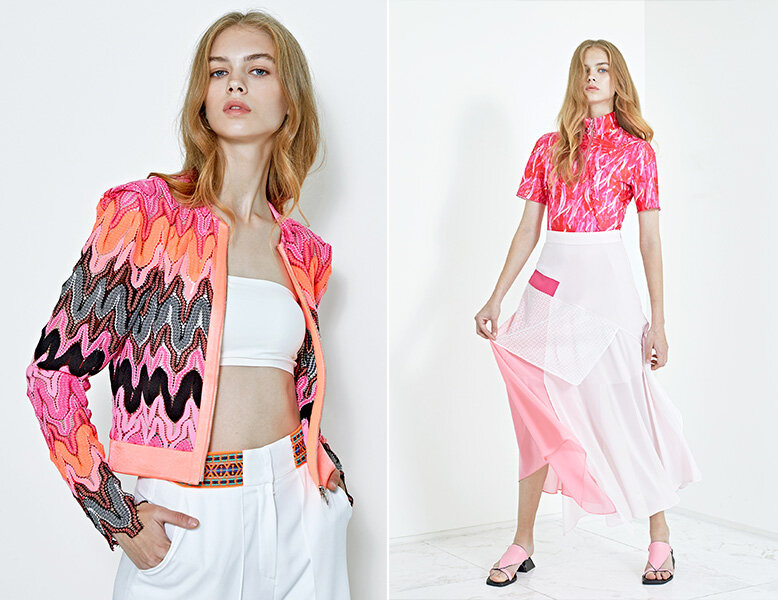 Are you able to spot wave-like motifs and white impactful strokes resembling glistening waters in the designs shown above? These playful details, fused with energetic hues such as bright pink, red and orange, are inspired by the 'Haenyeo' female divers from Jeju, South Korea. Diving suits are transformed into mock-neck blouses, while sweatshirts and wrap skirts take inspiration from the traditional style and layering technique that is unique to the 'Haenyeo'. This is a swimmingly wonderful collection from Lie that's not to be missed. For more, check out our interview with the man behind this South Korean fashion label, Lee Chung Chung.
Disaya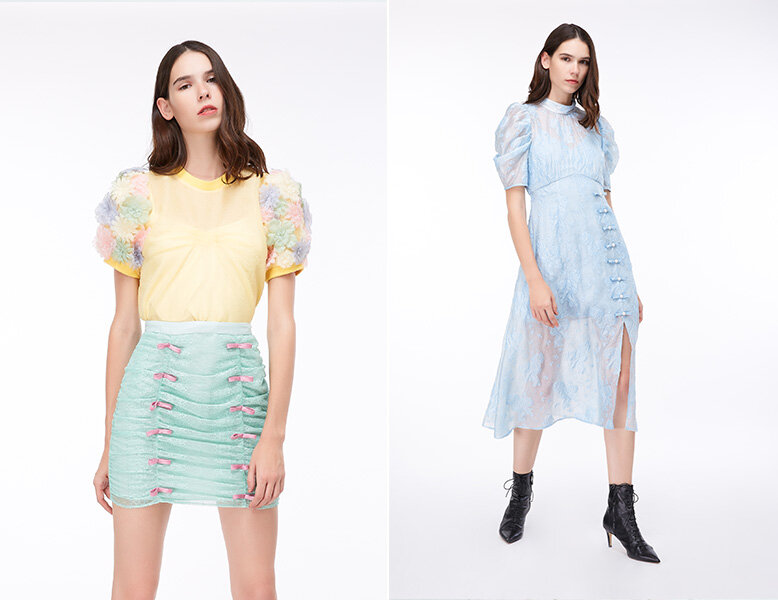 We would like to think that modern princesses have a penchant for feminine, youthful frocks that still feature a touch of luxury and elegance. Enter Thai fashion label Disaya and its collection of girly pieces, which draw inspiration from Meissen porcelains derived from Baroque silver shapes and Chinese ceramics in the 1700s. Be sure to observe the delicate touches of 3D floral organza, small bow details and embroidery sported across these pieces, and appreciate how they complement the cotton candy hues so perfectly.

Peggy Hartanto

Frida Kahlo has been a great source of inspiration for many and with good reason — her works are highly imaginative and often colourful. Indonesian label Peggy Hartanto, too, was inspired by the late Mexican artist's works for surrealism in the early 1900s, hence, the pairing of Kahlo's distinctive Mexicanidad style with the label's iconic colour play. The result? A chic yet wearable collection that makes a strong impact.
Sean Sheila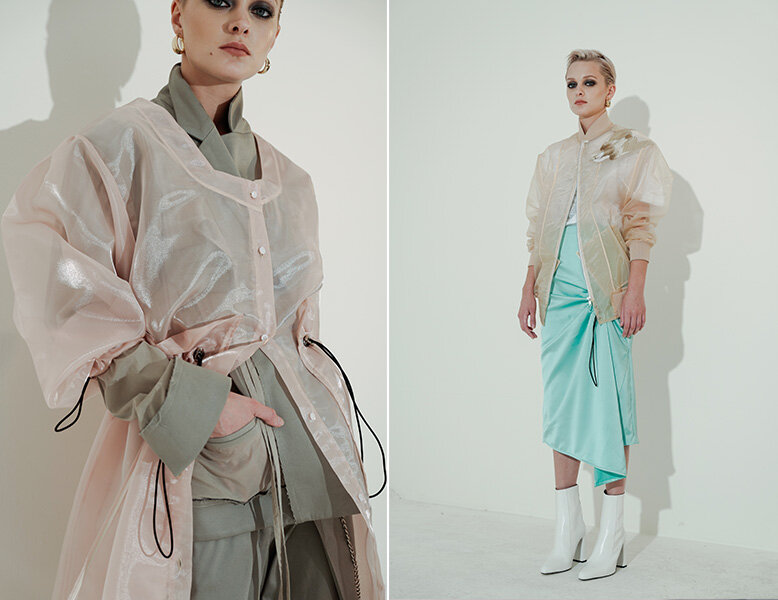 Sheer fabrics possess the power of making you look closer at the details that truly matter — Indonesian label Sean Sheila's kimono-style organza pieces are as inviting as they are fascinating. And for their Spring/Summer range, the pieces are reimagined as dresses and bomber jackets, too. Inspired by the issue of overconsumption, their pieces feature gentle deconstructions that slowly unfurl around the figure. The artful layering of a masculine-looking suit underneath a feminine organza piece explores a woman's duality, while the pairing of a mint satin skirt with an embroidered bomber jacket showcases the joy of mixing neons with neutrals.
Soe Jakarta, Toton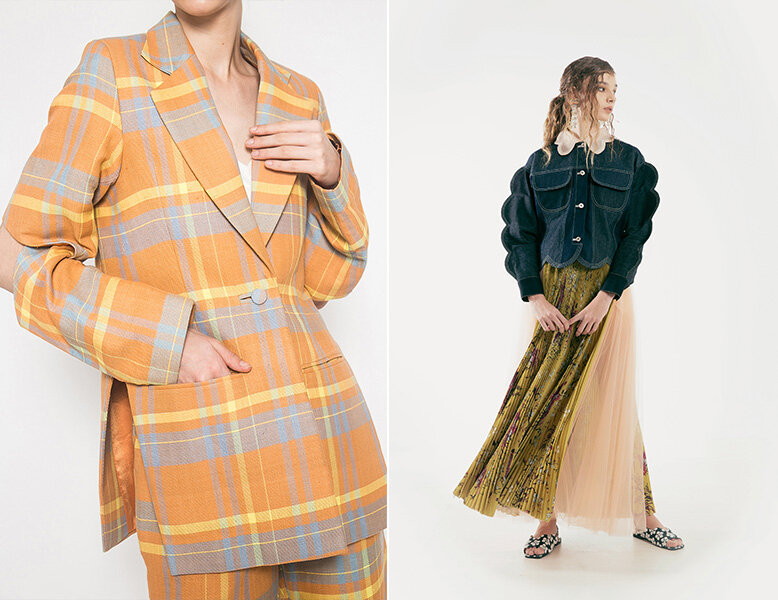 Who said suits had to be black and boring? Soe Jakarta challenges the norm with their signature structured blazer silhouettes, designed with side slits and cut-outs at the elbows. Made of handwoven plaid, this matching blazer and shorts look is the epitome of sunshine on a rainy day. There's also Toton, an Indonesian label that explores Indonesia's heritage and puts a spin on classics by infusing pieces with reinterpretations of ethnic clothes and garments. The scallop-detailed denim jacket is modern and casual, and contrasts beautifully with the oriental prints and pleated details on the full skirt.
How are you embracing colour this season?
(Cover photo from: SocietyA)
Now, learn how fashion influencers are rocking iconic 80's fashion trends.
Comments, questions or feedback? Email us at [email protected].