The long-awaited comeback of Panasonic Manila Fashion Festival didn't disappoint. Although we didn't get to see the pieces in person this time around, the enticing digital shows were still successful in giving us a good view of all the looks. And marvelled at them, we did. From relaxed silhouettes with glam designs to bold artistic hems, here are some of the emerging fashion trends we spotted.
Relaxed silhouettes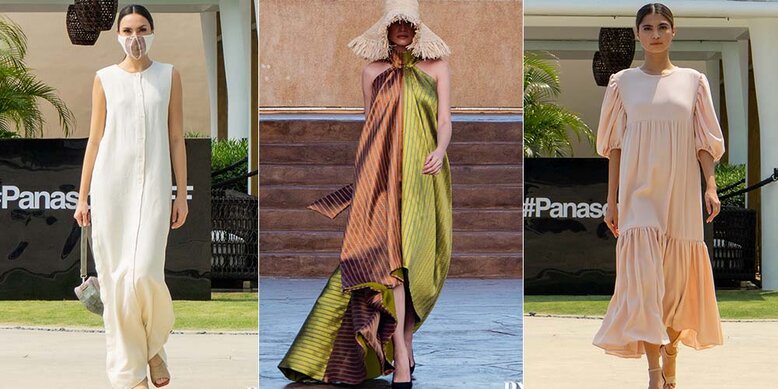 There's no mistaking that the relaxed silhouette dominated at the Panasonic Manila Fashion Festival 2021. Compared to the past seasons where mostly sleek form-fitting outfits were showcased, this year is all about loose, flowy looks that you can comfortably lounge in at home. However, this doesn't mean that the designs are strictly for lounging. These outfits feature design elements that can also work in and are even suited for attending a celebratory cocktail party once the pandemic is over. CAMLU x Creative Definitions' minimalist piece reminds us of the iconic free-form flapper dress from the 1920s; Edgar Buyan's two-toned billowing style is the definition of glam; and Windel Mira's dress looks perfect for those who love the cottagecore aesthetic.
Mutton sleeves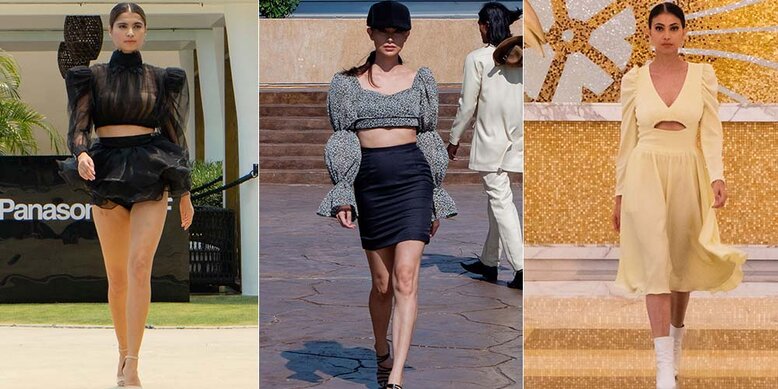 PMFF is a welcome playground for statement sleeves. 2018 was all about large decorative puffed sleeves while 2019 saw sleeves becoming bigger but paired with a snug and sleek bodice. This year, they've become subdued — although no less gorgeous — and concentrate their fullness only around the upper arm and then become fitted at the wrist. Ann Semblante uses sheer material for the sleeves which gives it a sophisticated touch. Bamba Limon goes for subtle glam with a two-part modified mutton sleeve that looks dainty. Steph Tan, using STYLEM cloth, showcases a nicely ruched sleeve for an elegant number.

Artistic hems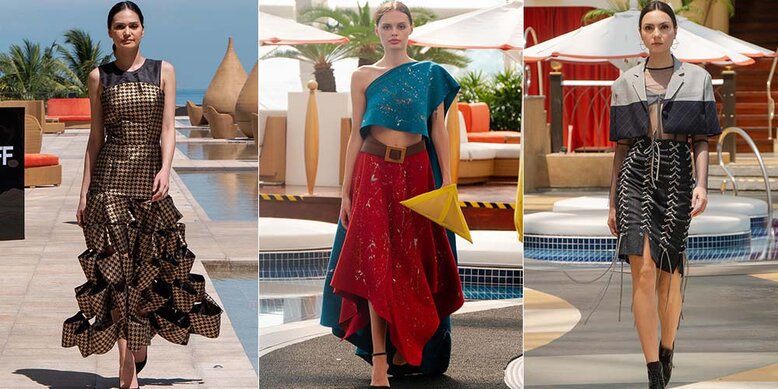 It's not just sleeves that are showstopping. From asymmetrical to fringed, hems are also getting an artistic makeover this season. Joshua Guibone shows a unique futuristic version of a tiered hem made with ringlets. There's also the seasonless contemporary skirt with asymmetrical hem from Dexter Alazas. Meanwhile, Bessie Besana goes the grunge route and serves us a retro fringed look.
Tiered looks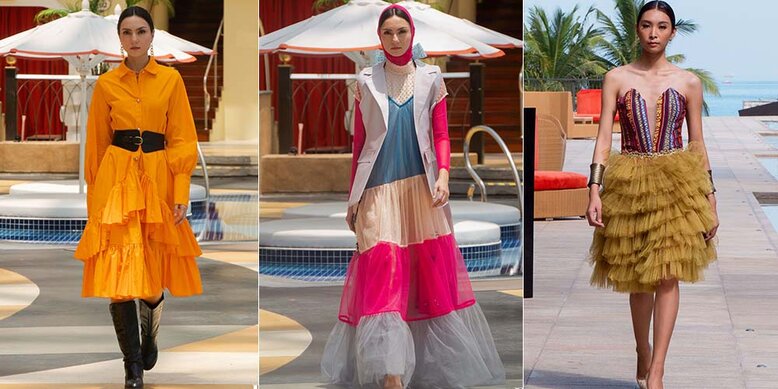 Last seen at Panasonic Manila Fashion Festival Season 9, the tiered look makes a comeback this year. This time around, it comes in brighter, more colorful pieces. Emir Yamamoto combines the understated elegance of shirt dresses with the flirtiness of a tiered hem. Marc Rancy goes for a popsicle-coloured tulle skirt that makes us dream of frolicking in a beautiful flower field. Gil Macaibay III impresses with this fun outfit with a daring bodice made from local hand-woven fabric and a tiered mini skirt.

Bold red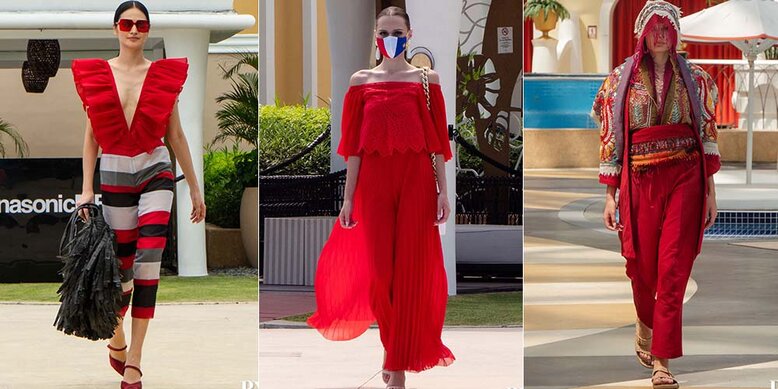 Yellow and grey may be Pantone's colours of the year, but at Panasonic Manila Fashion Festival 2021, it's bold red. Melvin Lachica gives the intense colour a playful take with a ruffled top with a, deep cleavage matched with striped pants. Meanwhile, Dino Lloren embraces the shade's elegance in a chic romper with an off-shoulder top paired with a stylish mask that's inspired by the colours of the Philippine flag. Thinking out of the box, Alodia Cecilia incorporates red in this unique layered outfit with a mix of influence from Japanese and local Filipino garments.
Know more details about the Panasonic Manila Fashion Festival comeback here.
Comments, questions or feedback? Email us at [email protected].