Puma has partnered with singer and pop icon Dua Lipa once again for another nostalgic capsule collection that channels the glamorous aesthetic of the rave scene in the '90s. Say hello to the second drop of the Dua Lipa x Puma Flutur!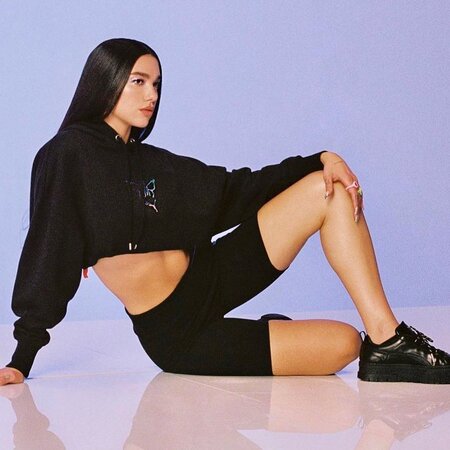 The first Dua Lipa x Puma Flutur collection, released in 2021, featured only four products: a black and white Puma x Dua Lipa Slim Women's Tee (SGD35 each), Puma x Dua Lipa Women's Hoodie (SGD77.40), and Mayze Flutur Women's Trainers (SGD199).
Meanwhile, the latest instalment features a whopping total of 30 products.
Dua Lipa x Puma Flutur: Products, Price
The 30-piece collection features an array of unisex sportswear pieces, a variety of sneakers and a gym bag. It's touted as a "sports-meets-fashion" collection that showcases bold colours such as purple, orange and pink, and holographic accents.
It includes redressed Cell Dome King Metallic Women's Sneakers, and Mayze Boot, Mayze Metallic Sneaker, as well as a Women's Bralette, Women's Slim Tee, Women's Basketball Shorts, and Grip Bag. The price range is from USD50 to USD150.
You can spot the whimsical butterfly symbol that's associated with the 26-year-old pop star's brand on several products. Dua previously shared that this butterfly represents "transition, metamorphosis, and new beginnings" and holds a lot of meaning for her.
The butterfly symbol is also reminiscent of Mariah Carey's famous sparkly butterfly top that the Fantasy singer wore during the red carpet for VH-1 Divas 2000: A Tribute To Diana Ross in 1997. This adds to the collection's nostalgic look!
Where to buy Dua Lipa x Puma Flutur in Singapore
The second drop for Dua Lipa x Puma Flutur is expected to be released worldwide on 14 July on the official website of Puma and at selected boutiques.
(Cover photo from: @puma)
Comments, questions or feedback? Email us at [email protected].