It's never too late to feel like a kid again! Relive your best childhood memories with the newly launched Disney Pixar x Pandora Collaboration. The collection is the latest nostalgic jewellery range released by Pandora, which launched collaborations featuring Star Wars and Marvel characters earlier this year.
Disney Pixar x Pandora Collaboration: New charms, price
Like the previous Disney x Pandora collaborations, this collection also features brand new hand-finished charms modelled after beloved characters.
There are ones for classic characters like the Toy Story Buzz Lightyear Charm (SG89), which has lilac enamel charm and spacesuit wings; the Wall-E Dangle Charm (SG89) that's designed with glittered enamel, and the Monsters, Inc. Sulley Charm (SGD99), which has polished grooved horns.
Disney Pixar's famous anthropomorphic animal characters also get dedicated charms. Check out the Remy Dangle Charm (SG89) which comes with the same adorable chef hat Remy wore in Ratatouille and the Dory Dangle Charm (SGD99), which has a special articulation effect that simulates Dory's signature swimming style depicted in Finding Nemo.
An Edna Charm (SGD89) for The Incredibles supporting character Edna Mode is also included. It depicts the sassy character's no-nonsense attitude with the raised hand pose and detailed pouted lips.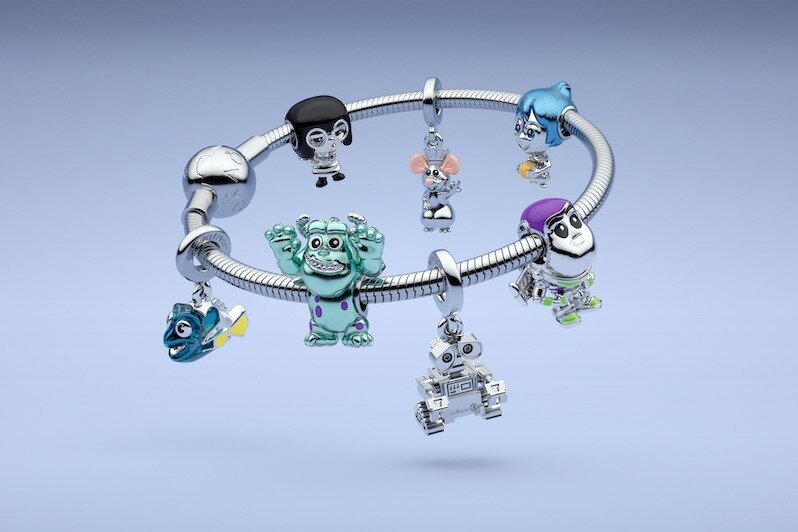 Lilo & Stitch fans will be delighted with the Disney Ohana Lilo & Stitch Inspired Charm (SGD129), a heart-shaped two-tone charm that showcases lei flowers, cubic zirconia framing and a 14k rose gold-plated mini dangling heart.
Finally, the collection introduces Pandora's first-ever charm with a glow-in-the-dark enamel finish — the Joy Memory Orb Charm (SGD89). It features Joy from Inside Out radiantly smiling while clutching a Memory Orb that remains visible even after the lights go off.
All these charms can be added to the new Disney Stitch Biting Clasp Bangle (SGD149), which can hold up to 16 to 18 dangle charms or pendants.
Where to buy Disney Pixar x Pandora Collaboration in Singapore
The Disney Pixar x Pandora Collaboration is now available on Pandora Singapore's website and at Pandora Singapore boutiques islandwide.
Next, check out the Disney Princess x Starry Co. Jewellery collaboration.

Comments, questions or feedback? Email us at [email protected].