If fashion is regarded as a form of distraction especially during this pandemic, consider us fully absorbed by its beauty in the best way possible during Dior's Cruise 2021 show, which took place in the wee hours of this morning. Most of us are probably familiar with the French fashion house's perfume and bags, however, its line of clothing is just as covetable too.
The collection, led by creative director Maria Grazia Chiuri, was staged in Lecce, a historic city located in Puglia, Italy. According to the brand, the collection 'is a choral work that celebrates the memory, values, culture and future of exceptional craftsmanship' and aims to convey the richness of the city's beautiful landscape and talented artisans to the world. Read on as we round up our six fashion takeaways from the collection.
Swap out your cap for a lightweight headscarf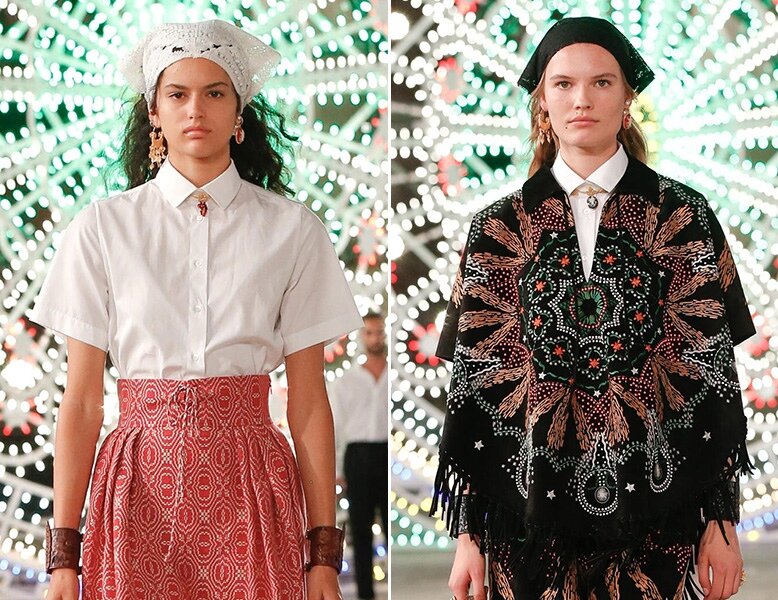 Woke up with a serious case of bedhead this morning? Beat the humidity in style with a lightweight headscarf a la Dior instead of your scruffy old baseball cap, as seen on most of the models during the show. Headscarves are perfect for lazy hair days and are incredibly versatile too. Tie them around the handles of your favourite handbag or around your neck to add an extra flair to your get-up.
How to wear it: Models who sported headwraps also donned delicate earrings and had their natural tresses neatly combed or tied towards the back to create an effortlessly chic look. Try this beauty combo the next time you're in the mood to play dress up.
Summer layering starts with a white collared blouse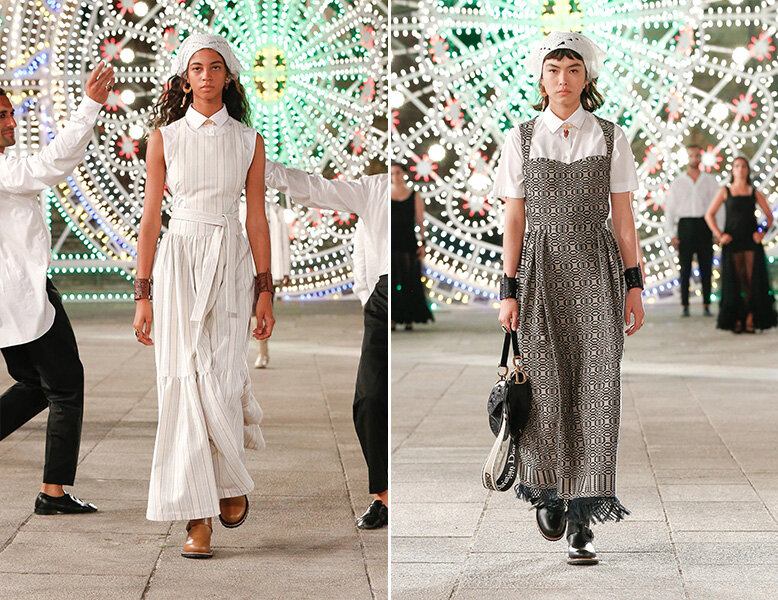 Surprise, surprise! Layering in the summer is possible as long as you pick the right separates and fabrics. As we feasted our eyes on the many incredible statement pieces that were worn during the show, we were also reminded of the importance of owning a white collared blouse. The brand had styled this timeless wardrobe essential with a variety of pieces, from a three-piece short suit to a sleeveless, printed number with fringe details at the hem.
How to wear it: Take the look from drab officewear to runway-ready by opting for a short necklace or a choker underneath your collared blouse. Bright and bold designs are more than welcome as they provide a nice contrast against the spiffy white shirt.

Rural nature elements trump picture-perfect florals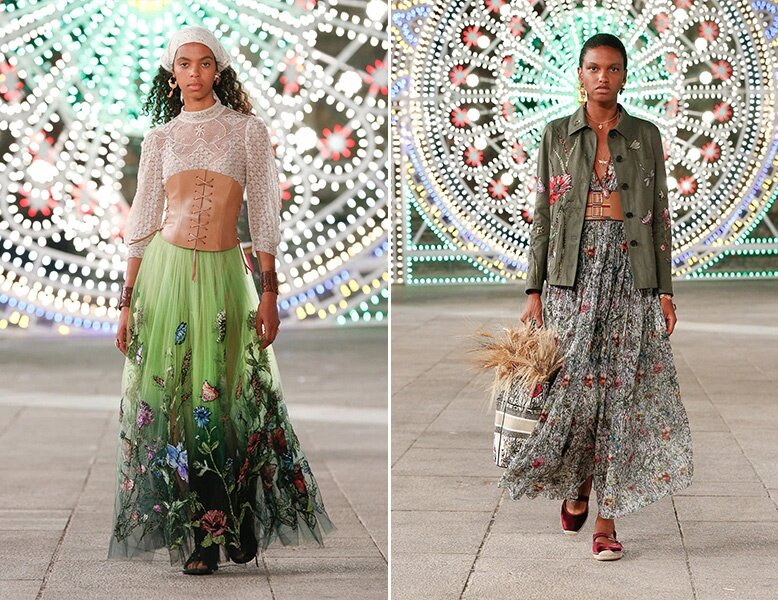 Creative director Maria Grazia Chiuri sought to bring out the beauty of natural rural elements as opposed to classical garden florals through this collection. As such, we see delicate poppies, colourful butterflies and ears of corn peppered across her pieces. Perfection is boring — we're inspired to see the beauty in smaller, everyday objects instead of fixating on achieving a manicured, flawless look.
How to wear it: If feminine embroidered tulle pieces aren't quite your jam, you can still rock this look by ironing on botanical design patches onto your denim jacket. And instead of toting around a bunch of wheat in your purse (just like the model shown above), try wearing smaller, dried flowers in your hair. No fussy details required.
Tie-dye prints can look classy too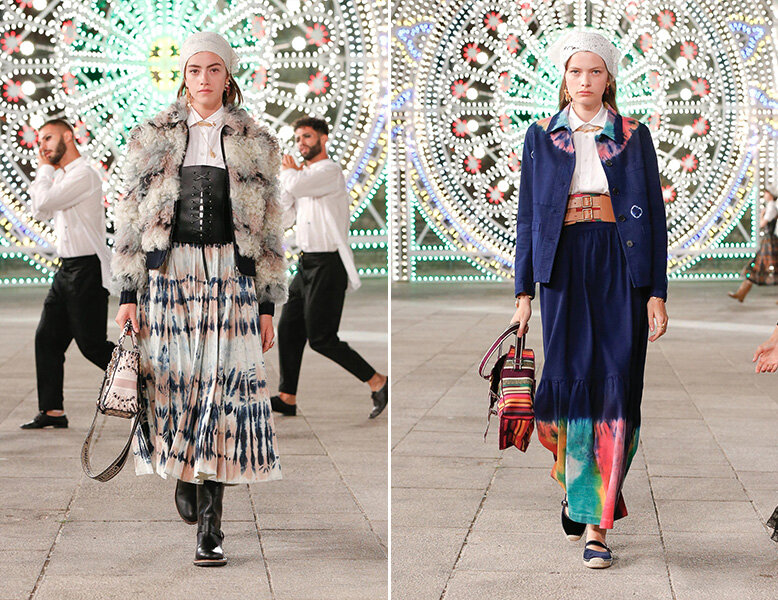 Tie-dye has made a major comeback in recent months, and Dior's pieces further prove that this trend is showing no signs of slowing down. From Dior, we learnt that the key to looking classy in tie-dye or in any show-stopping print, really, is to 'apply' them sparingly.
In one of the looks, we see the model in a navy, soft pink and white tie-dye skirt, with the rest of the look being kept to the same colour palette. Subscribing to the same colours makes the outfit a lot more cohesive. In another, we have a jacket and skirt ensemble which features the colourful print in only certain areas of the garments, such as around the collar and towards the hem of the skirt. This technique allows the exuberance of the tie-dye print to shine through without overpowering the outfit.
How to wear it: Less is more. Go ahead and wear your old-school tie-dye cropped tee if you wish. However, be sure to keep the rest of your outfit a little simpler and softer so that it doesn't look too busy and overwhelming.

Define curves with a leather waist belt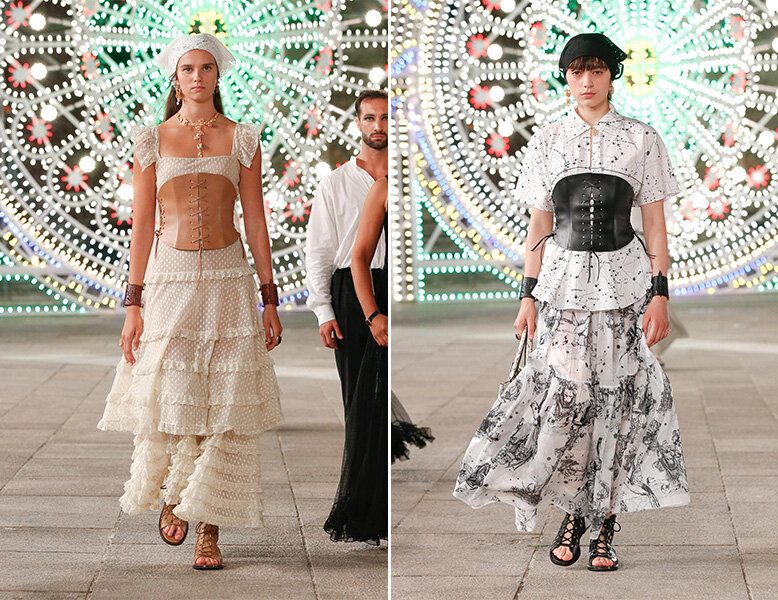 We would've loved to coin this as the 'Ko Mun-Yeong' effect if we could after seeing actress Seo Ye-Ji in a standout leather number from Loewe in It's Okay To Not Be Okay. However, Dior has made the thick, statement leather waist belt as its signature since its Resort 2019 show in 2018. The leather belt helps to create the illusion of curves and is also a great way to bring some structure to an otherwise flowy, loose ensemble.
How to wear it: Breathe in and cinch! Opt for a belt that best brings out the pieces in your wardrobe. Thicker, corset-looking waist belts tend to go better with roomy shirts and dresses and they should sit nicely on your midsection. As for thinner belts, they ought to be worn a little higher on your waist to give the illusion of longer, leaner legs.
A little sheerness goes a long way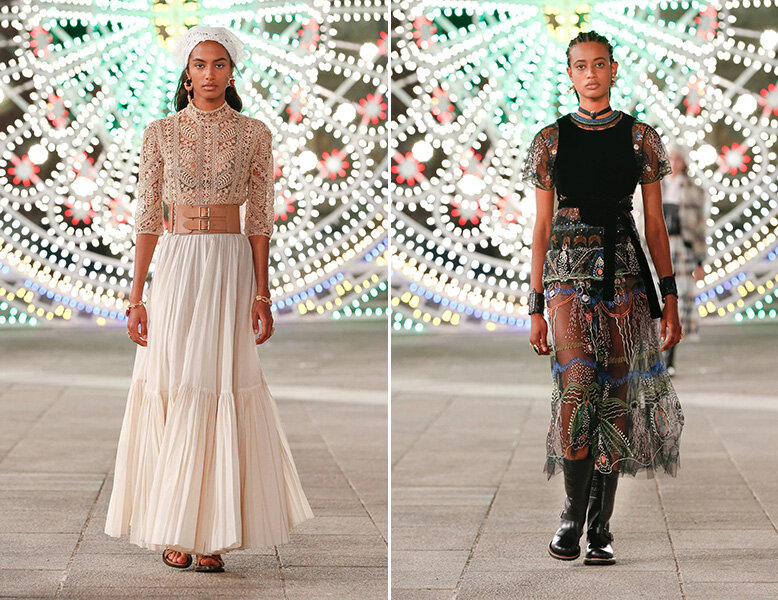 Thoughtfully designed pieces with sheer detailing are so fun because they allow you to show a little skin without looking too vulgar or sexy. We loved Maria Grazia Chiuri's different iterations of her signature sheer tulle dress design and believe this look can be easily adopted by anyone. Nailing this style is all about balancing between what you wish to conceal and reveal.
How to wear it: Which features of your body are you most proud of? Opt for sheer pieces that highlight these features, and keep the rest of the ensemble elegantly covered up. If you've worked extra hard in toning your arms and legs, don't be afraid to show them off with a sheer dress that showcases those areas.
What were your personal fashion takeaways from the show?
(Cover photos from: dior.com)
Curious to know how a digital fashion show is being staged? Click here to learn more.

Comments, questions or feedback? Email us at [email protected].