Still can't get over that rollercoaster of a finale? With Crash Landing On You overtaking Goblin with the highest viewership record in tvN history, surely, there are millions out there suffering from the same withdrawal symptoms as you. Aside from the fresh, gripping story that touches the heart, we're also hungover from the stunning ensembles we saw on screen. Throughout all the 16 episodes, our two main female leads, Yoon Se Ri (played by Melodrama queen Son Ye Jin) and Seo Dan (played by Seo Ji Hye from Heart Surgeons), really slayed it with elegance, in looks totally worth copping. So ahead, we list down a few of Crash Landing On You fashion pieces we wish would magically appear in our wardrobes, along with the places where you can buy them.
Channelling the lady boss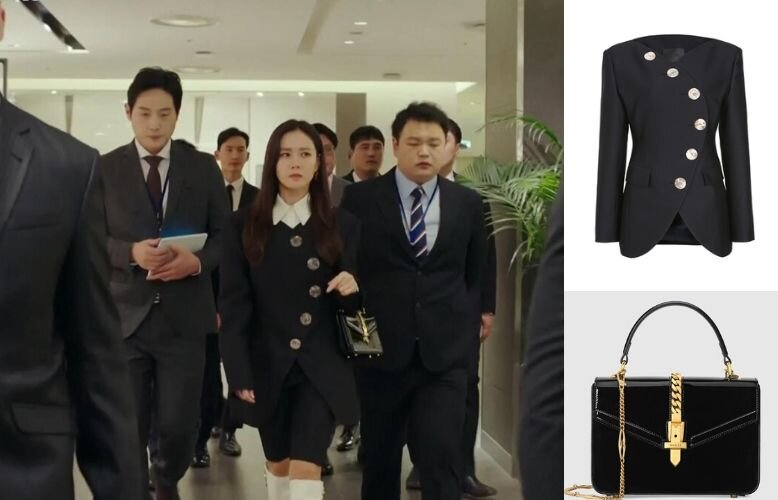 Clockwise from left: Seri doing rounds in her store (Photo courtesy of Netflix); YCH Collarless Wool-blend Blazer, KRW592,800/~USD497.69 (Photo from: sivillage.com); Gucci Sylvie 1969 Mini Patent-Leather Shoulder Bag, USD3,200 (Photo from: gucci.com)
In episode one, our Seri's Choice CEO shows off her modern take on the quintessential power suit. As she roams around her store with her assistants and bodyguards, she's seen donning a black collarless blazer from Seoul-based fashion brand YCH, paired with tailored knee-length shorts, and knee-high white boots. For details, visit S.I.Village.
To complete her look, she carries around her Gucci Sylvie 1969 mini shoulder bag. Readers in the Philippines can head to the Gucci shops at Greenbelt 4 and Shangri-La Plaza Mall. Lesson learned: all-black outfits are a foolproof way to make a powerful statement.
Elegant airport fashion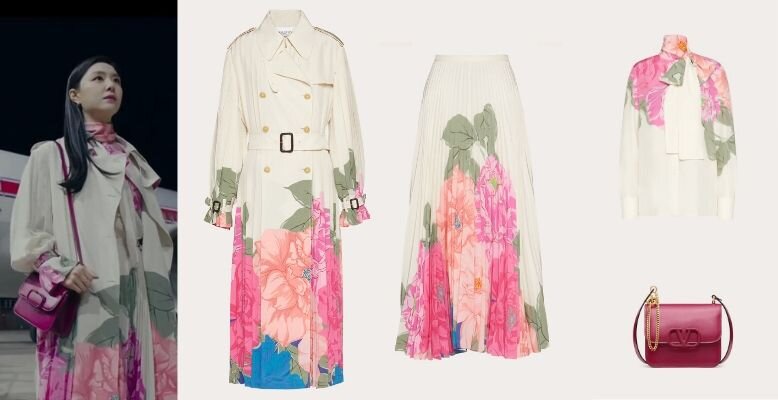 Left: Seo Dan arrives in North Korea (Photo courtesy of Netflix); Right: Valentino Printed Crepe De Chine Trench, USD6,900; Valentino Printed Crepe De Chine Shirt, USD2,200; Valentino Printed Crepe De Chine Skirt, USD2,980; Valentino Small V-Sling Shiny Calfskin Shoulder Bag, USD2,165 (Photos from: valentino.com)
Up in the north, department store heiress Seo Dan makes her entrance wearing Valentino from head-to-toe. She arrives at her home country and encounters the love of her life for the first time wearing a white trench coat over a silk blouse and pleated maxi. The printed Camelia blooms on her outfit, as well as the red sling bag added a vibrant touch of femininity to her overall look.

Travel accessorising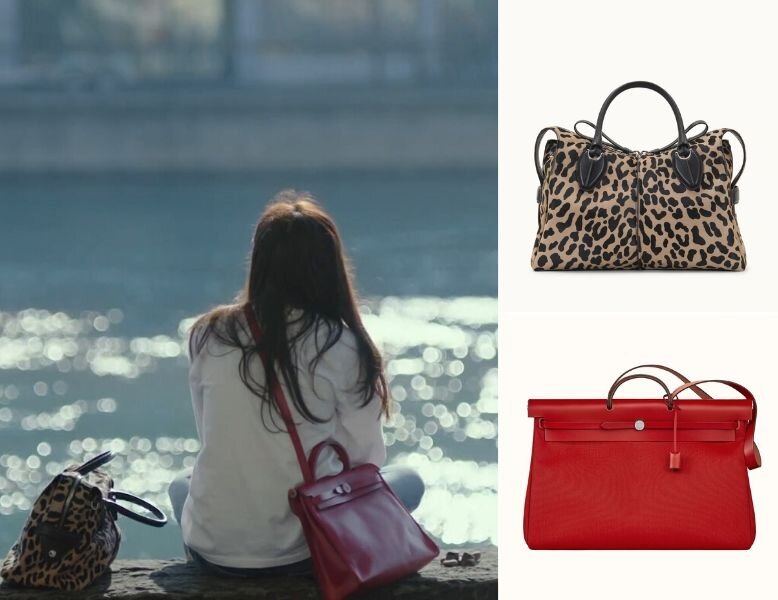 Clockwise from left: Se Ri in Switzerland Korea (Photo courtesy of Netflix); TOD'S D-Styling Medium Bag, price unavailable (Photo from: tods.com); Hermès Zip Retourne Cabine Bag, USD3,775 (Photo from: hermes.com)
Through flashbacks of her trip to Switzerland, Se Ri reminds us all to never forget a travel must-have that doubles as a fashion accessory: bags. Dressed simply while refecting her life by the river, we spot her carrying two of these versatile accessories with her. One is a leopard print bag from TOD'S, which is just the perfect size for your quick getaways. Check out the store in the Metro Manila at Greenbelt 4 and Rustan's Shangri-La.
Another bag in the scene is a shoulder-strapped bag from Hermès, the best companion to store her essentials as she wanders around the destination. Makes you wanna drop by an Hermès boutique on your trip soon, huh? We hope this isn't as elusive as the Birkin!
Simply classic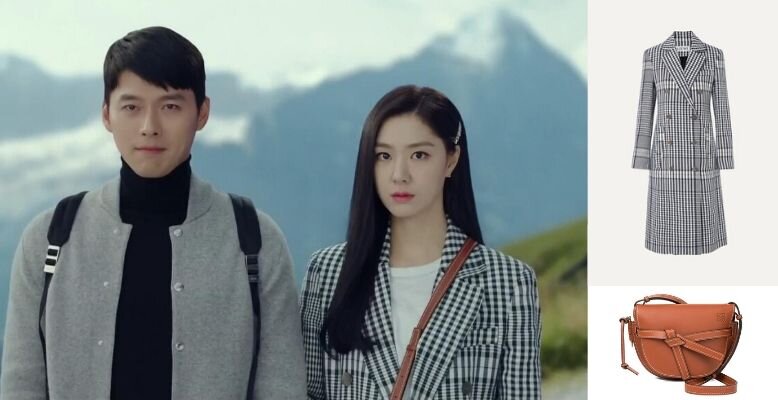 Clockwise from left: Ri Jeong Hyeok and Seo Dan posing for the camera (Photo courtesy of Netflix); LOEWE Checked Linen Coat, USD1,325 (Photo from: net-a-porter.com); LOEWE Gate Small Bag Rust Colour, SGD3,500 (Photo from: loewe.com)
Speaking of travelling in style, another noteworthy look is Seo Dan's when she goes sightseeing with Ri Jeong Hyeok in Switzerland. She goes with a simple yet classic outfit with a black and white checked coat and a small rust bodybag from LOEWE, which you'll find in the Philippines at Shangri-La Plaza Mall. Keeping it light helped her hike up the picturesque hills without breaking a sweat.
Tough streetwear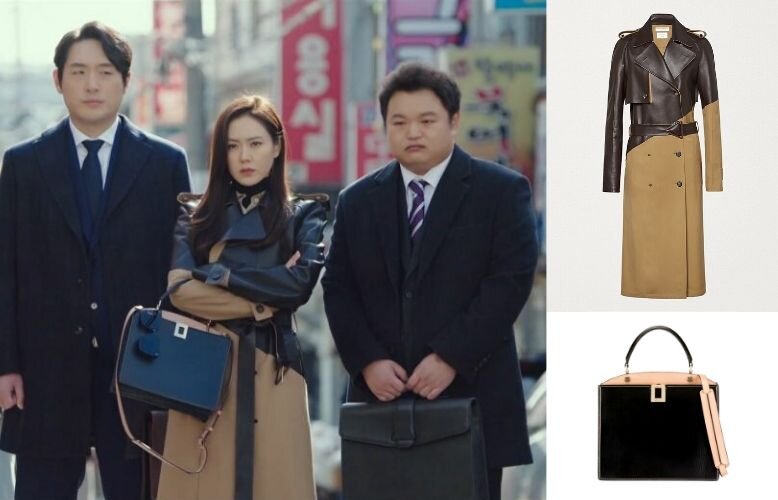 Clockwise from left: Se Ri off to confront a gang (Photo courtesy of Netflix); Bottega Venetta Coat, SGD7,100 (Photo from: bottegaveneta.com); Roger Vivier So Vivier Medium Leather Shoulder Bag, USD2,900 (Photo from: neimanmarcus.com)
It doesn't come as a surprise that after suffering for more than a month in the north with limited fashion choices, Se Ri goes all out with her fashion choices when she returned home. Even as she strutted down the sketchy streets to help Ri Jeong Hyeok with his mission, her fashion choices continue to make a statement. She wore a wool Bottega Venetta coat with striking asymmetrical leather detail, that can be seen on the brand website, and brought along a black Roger Vivier handbag to keep it classy. Find the Roger Vivier bag on Neiman Marcus's site.
Glam and luxe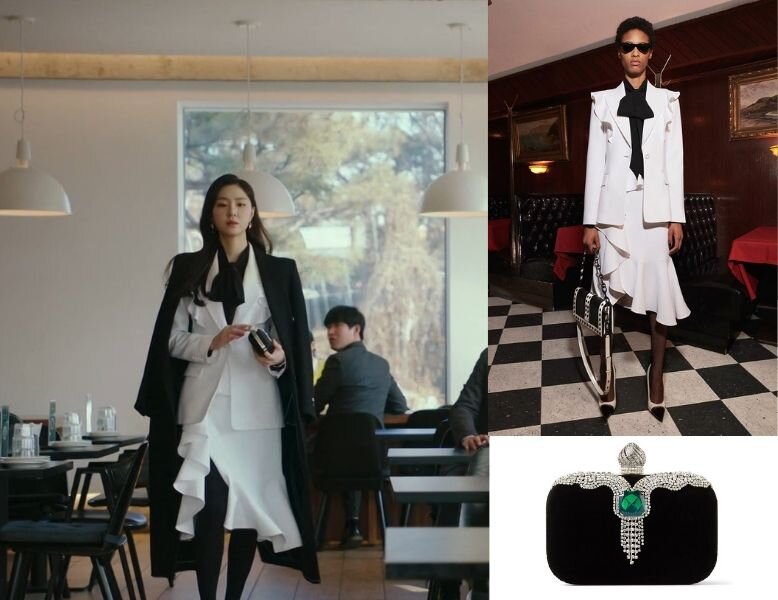 Clockwise from left: Seo Dan arriving fashionably late (Photo courtesy of Netflix); An outfit from Michael Kors' Resort 2020 Collection, price unavailable (Photo from: michaelkors.com); Jimmy Choo Cloud Black Velvet Clutch Bag, EUR3,350/~USD3,616.88 (Photo from: row.jimmychoo.com)
Speaking of show-stopping looks, another ensemble that made Crash Landing On You fashion quite unforgettable is Seo Dan's overall ensemble when she met up with her old friends. For tea, she went with a ruffled monochrome outfit from the Michael Kors Resort 2020 Collection which can be seen on the website.
The mere sight of her proved everyone she can hold her fort even without a doting husband. To add more elegance, she also brought along a bejewelled Jimmy Choo clutch bag. Want to channel Seo Dan and be a strong, independent woman on the next special occasion? Drop by the Jimmy Choo boutiques at Rustan's Makati and Shangri-La Plaza Mall.
Comments, questions or feedback? Email us at [email protected].