After almost eight years as Gucci's Creative Director, Alessandro Michele is officially leaving the luxury fashion house. He's known for redefining and giving new life to the Italian label over the course of his stay.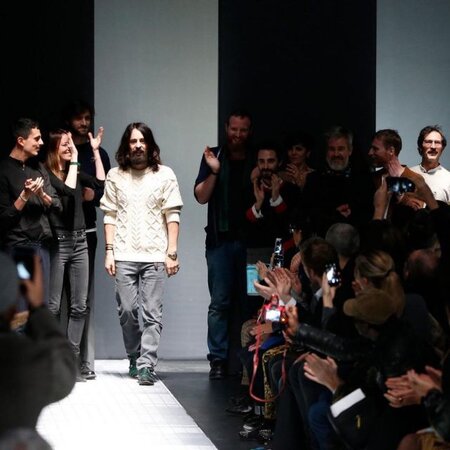 During the early 2000s, Michele was hired by Tom Ford to work for Gucci. From being the head of the accessories studio, he rose to the ranks of the Creative Director and unveiled his first collection in 2015. About his departure, Michele commented, "Today an extraordinary journey ends for me, lasting more than 20 years, within a company to which I have tirelessly dedicated all my love and creative passion."
Speaking of this extraordinary journey, we've rounded up four of his defining moments at Gucci.


Alessandro Michele's defining moments at Gucci


1. He redefined the Gucci 'aesthetic'.
Michele stepped into his role as the Creative Director in 2015. In Gucci's Fall/Winter 2015 men's collection, the world witnessed a softer aesthetic compared to what had been seen in the sharp designs of previous seasons. It kick-started the house's androgynous aesthetic.
2. He turned heads with his quirky runway concepts.

During the Fall/Winter 2018 season, Gucci's severed heads stole the spotlight. The house's chosen models carried life-sized identical human head replicas down the runway for a cyborg-themed show that included horns, baby dragons, iguanas, and third eyes. Another of Michele's runway concepts centred on the beauty of twins. It turned heads during Gucci's Spring/Summer 2023 show as Michele sent sets of identical twins down the runway in the same outfit.
3. He defied beauty norms with Gucci Beauty.
Aside from redefining the runway, Michele also revived the Gucci Beauty brand. In 2019, he celebrated imperfection and showcased cinematic nostalgia by launching a 58-piece lipstick lineup. The campaign featured mullet looks, red lips, and the tagline, "For the bold, the bright and beautiful".
4. He treasured his friendship with Harry Styles.
Michele and Harry Styles are simply #friendshipgoals. The global superstar wore Gucci during his concerts, red carpet events, and more. The two also collaborated on the 'HA HA HA' collection, which was launched recently. Styles commented, "I've known Alessandro for years now, and he's always been one of my favourite people. I'm always inspired watching him work, so doing this collaboration with my friend was very special to me."
As of now, there's no news as to where Michele will be heading off to or who will be at the helm of Gucci. But there's no doubt that Michele has made an impact on the world of fashion and beauty, and his iconic moments will be remembered through the years.
(Cover photos from: @alessandro_michele)

Comments, questions or feedback? Email us at [email protected].