We don't know about you, but we're feeling 2022! Singapore's iconic Marina Bay New Year's Eve Countdown — along with crowd-favourite features Shine a Light and Share the Moment — will be back to uplift the spirits of the island's dwellers. Like last year, all events and highlights will be done throughout December to accommodate schedules and avoid large crowds.
As the last month of 2021 rolls in, the bay's picturesque skyline showcases a festive makeover. Vibrant light beams and projection shows will be displayed all throughout this year's final month to bring cheer and amp up the holiday vibes. Hyped? Keep reading for more details!
Unite and Shine a Light
Shine a Light, which was first launched in 2020, will be back this year with 60 light beams. The light display is creatively arranged in a circular formation and will be projected from the scenic area of The Promontory. These colourful light displays are not just for show, they also have a deeper significance and symbolise unity amidst adversity during difficult times.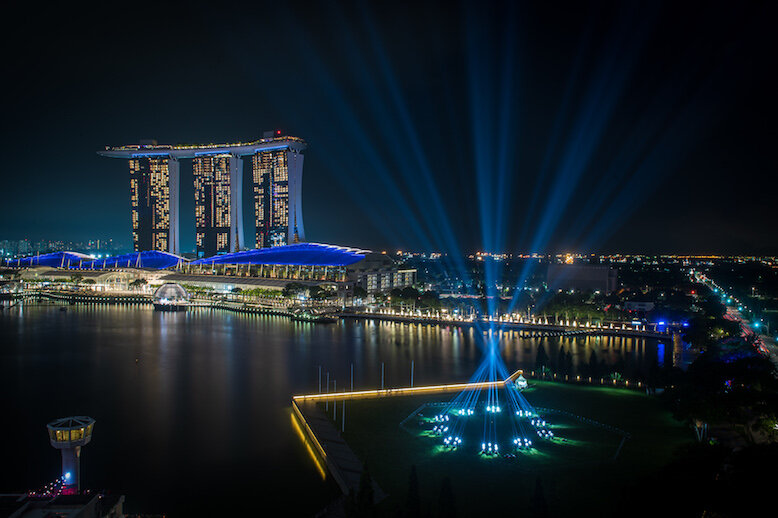 Local philanthropic organisation The Majurity Trust is this year's community partner for Shine a Light. It has reached out to donors to "adopt" 60 light beams which stand for lives that are "brightened up". The money raised will fund five grants to support vulnerable communities including youth living with mental health issues, people managing dementia and their caregivers and at-risk families. From 1 to 28 December, the Shine a Light display will feature a different colour to spotlight various causes.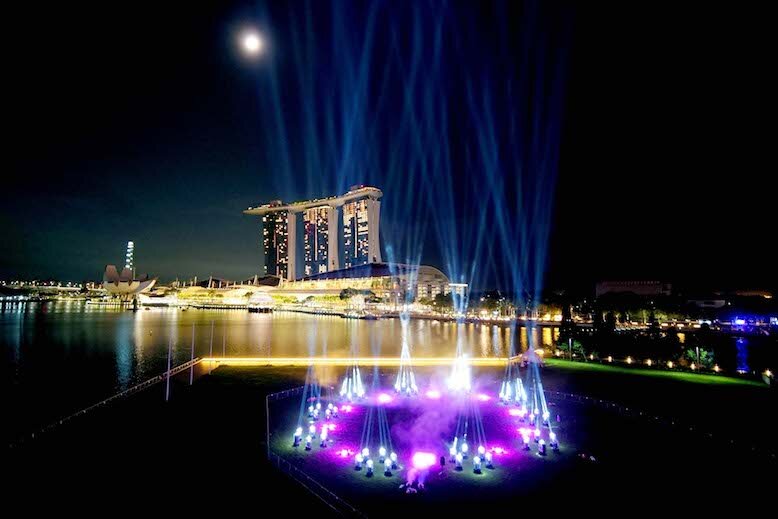 Awareness for the campaign will also be launched online on 1 December so people can catch the colourful exhibit from the comfort of their own homes. Shine a Light will be presented from 8PM to 10:30PM nightly, with extended showtimes until 11:45PM on 31 December. On top of it, an animated light display will also take place every 15 minutes.
Share The Moment: A roundup of heartwarming events
Marina Bay Sand's Countdown 2022 will also bring back Share the Moment, a series of light projection shows that will feature original artworks by local students on the facades of The Fullerton Hotel Singapore, the ArtScience Museum at Marina Bay Sands and the Merlion. Each piece is inspired by the stories of this year's President's Volunteerism & Philanthropy Awards nominees and portrays heartwarming moments of people helping and caring for one another.
Catch Share the Moment from 26 to 31 December 2021 at 8PM to 10:30PM every 15 minutes.
No fireworks, but the festive spirit is alive and well
To avoid gatherings of large crowds, there will be no fireworks at the Marina Bay New Year's Eve Countdown. Instead, the pyrotechnics display will go off in several still-undisclosed spots across the heartland — which means you may just catch the fireworks display near your home.
You can also tune in to Let's Celebrate 2022, a New Year's Eve special by Mediacorp. The countdown show will be broadcast on Channel 5 and streamed online via meWATCH and Mediacorp Entertainment YouTube Channel. Expect uplifting programmes and a line-up of Singapore's most promising talents in the music scene.
Cheers! Visit Marina Bay Sands Countdown page for more information.

Comments, questions or feedback? Email us at [email protected].