Miaou corsets have been at the forefront of the corset trend for their modern take on the figure-hugging garment. With historical shows like Bridgerton (which is already filming its second season, BTW), Outlander, and The Great trending, this vintage fashion staple has become modernised and easier to wear for longer periods of time.
Miaou is a luxury Paris-born fashion brand that specialises in making ready-to-wear vintage-inspired pieces. Founded by LA-based Alexia Elkaim, the brand started from making reworked denim pants before expanding into dresses, tops, and corsets — while staying true to its sustainable fashion roots.
However, good corsets usually come with a hefty price tag. If you can't quite convince yourself to splurge a couple of hundred bucks on this trend, here are some Miaou corset dupes that are a bit friendlier to your wallet or easier to access in our region but still have that waist-snatching kitschy style that the brand is known for.
Miaou Leia Corset
The Leia Corset — perhaps an homage to the iconic Star Wars heroine — is the brand's only tube-style corset. It has a fully boned design with a back zipper that makes it easier to get into, without any assistance required. Currently, there are six variations ranging from brown leather to cow print that you can choose from. There's definitely a Leia for everyone!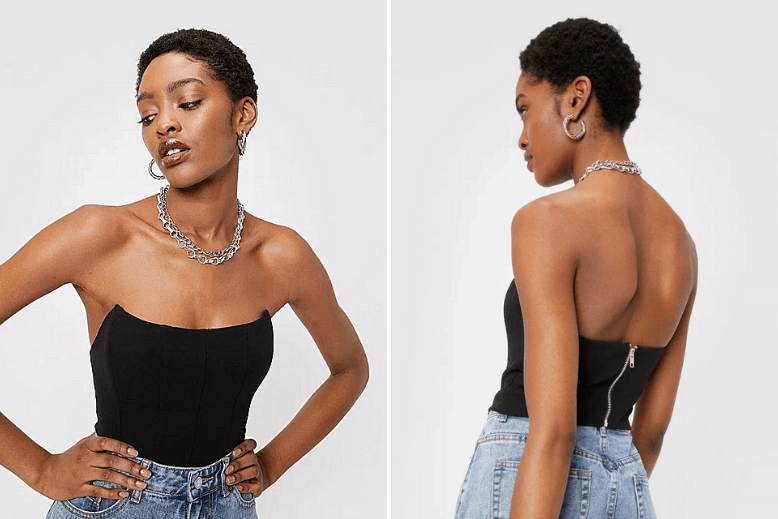 The dupe: The Cropped Strapless Seam Detail Corset Top from Nasty Gal has the same scoop neckline and zippered closure at the back but has a shorter length. It also doesn't have any boning or stiff material that gives corsets its shape but will still make you look cinched, so this one is more forgiving for longer wear.
Miaou Campbell Corset
Miaou's Campbell top is another fully boned corset, but it's more truthful to the original corsets worn by women in ye olde days. Instead of stays (ribbons used to hold a corset close), it features a back zipper for easier access but maintains its waist-cinching effect. It comes in eight different designs from plain blacks and burnt oranges to kitschy prints. It's also available in different fabrics like mesh and satin, so you're definitely spoiled for choice.
The dupe: Pomelo's Lace-Up Corset in Blue has the same thick straps and square neckline as the Miaou's Campbell corset, making it quite a good dupe, but a higher crop cut makes it look fresh and uber wearable.
Miaou Deville Corset
The Deville Corset has a sleeveless design, underwire bust, and mesh side panels to create a fully boned corset that hugs your figure in all the right places. Deviating from Leia and Campbell's back zippers, Deville uses hook fastening to achieve its body-hugging effect. Available in two prints, Azul and Antique, this design has a whimsical quality that captures the appeal of vintage pieces. Antique's floral design really caught our eye, reminding us of those retro floral wallpapers and seat cushions made in the 20th century.
The dupe: The I Saw It First Corset Top in floral print has the same all-over floral design and square-ish neckline. The difference is its higher hem is more similar to a crop top than a full corset, but it's still just as cute.
Since corsets are enjoying its fashion renaissance, which of these Miaou corset dupes will you be snatching up?
(Cover photo from: miaou.com and pomelofashion.com)
Comments, questions or feedback? Email us at [email protected].