The pandemic has resulted in us staying home more than ever, with travel restrictions and government measures being put in place to reduce the spread of the virus. For those of you who have been telecommuting since the start of the year, it's perfectly normal to feel a little overwhelmed as your work lives and home lives become entwined.
With this, it's high time that you pay attention to your surroundings and cultivate a safe space that allows you to thrive and seek comfort in. Read on as we list six easy tips on how you can turn your home into a serene sanctuary.
Get in touch with your five senses
Now that you're spending more time than ever indoors, consider customising your living space according to your individual lifestyle, preferences and needs. Everybody's idea of a sanctuary is different and unique, so it's crucial to engage your five senses — sight, sound, smell, taste and touch — and look for decorative or functional elements that will appeal to you.
Does the smell of lemongrass help to uplift your mood, or do you find its citrusy scent a little too strong for your liking? Are windchimes your cup of tea, or do you prefer playing an instrumental soundtrack on loop softly in the background? Let your senses guide you towards creating a space that truly represents you.
Embrace elements of nature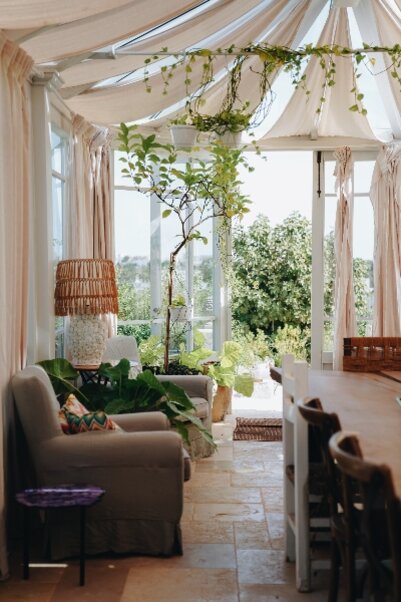 Living in a bustling metropolis comes with plenty of perks, where high-speed internet and modern amenities have brought about much convenience to our lives. However, spending the majority of our time in a tech-focused environment also results in us being disconnected from nature.
With multiple studies confirming that natural environments have the ability to improve our mental and physical health, it's imperative for us to embrace elements of nature and the great outdoors into our homes where possible. Begin by adopting an indoor plant, or by opting for more earthy textiles across your furniture, such as wooden chairs and linen sheets. Open your window blinds and let natural light in from time to time.
Invest in your bathroom
The bathroom is a severely underrated space that you ought to invest more time and resources in. After all, it's one of the few spaces at home that allows you to disconnect and focus on getting ready for the day (or evening). Whether you're drawing yourself a bath or working on your daily skincare routine, you need a bathroom that will help you feel calm and confident.
Try converting your bathroom into a mini spa by de-cluttering your sink counter. Place empty bottles in the recycling bin and hang your towels neatly on a rack. Keep the room smelling fresh and clean all day with a diffuser.

Fill it with mementos of your favourite memories
As American self-help author Melody Beattie once said, "Gratitude unlocks the fullness of life… It can turn a meal into a feast, a house into a home, a stranger into a friend." One of the ways you can remain grounded and grateful for your present life is to pepper your living space with reminders of your favourite memories.
Whether it's placing an old photo from your childhood by your bedside or displaying a piece of artwork you've recently finished in your living room, surround yourself with items that make you feel happy, optimistic and thankful.
Know your lights
A report by ArchDaily suggested that the colour temperature of light greatly affects the human body; warm lights make an environment feel more welcoming and relaxing, while cooler lights make us feel more alert and focused.
With this in mind, consider switching out the lights in your bedroom to warmer tones, so that your body unconsciously prepares itself for a little rest and relaxation. Our digital devices, such as television screens, laptops and phones tend to emit a lot of blue light, so it's important that we try to place them further from our beds.
Colour your mood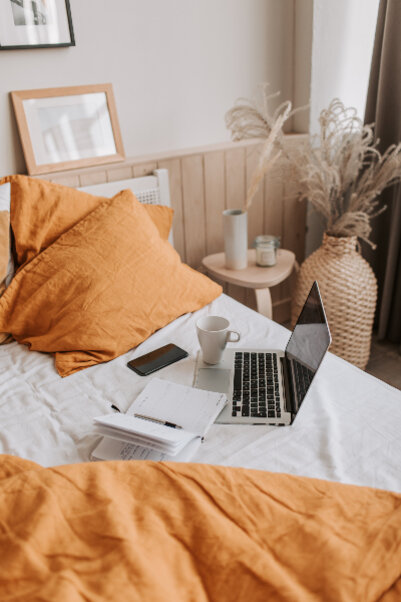 On the same note, colours play a huge role in shaping your living environment as well. In our interview with Lynn Lee, a Senior Product Specialist of Nippon Paint, the expert advised that we 'not go overboard with bright colours such as yellow and oranges that may over-stimulate one's senses… as they may make one restless even at night.' As such, consider repainting your bedroom walls with softer shades, such as light blue, green or pink.
Which one's your favourite tip?
(Cover photo from: Alleksana via Pexels)
Next, discover five unique Japanese beauty practices you can try at home.

Comments, questions or feedback? Email us at [email protected].