This just in: The Body Shop's Drop of Youth collection, the brand's best selling range, will change its name to Edelweiss — the product's key ingredient. Why rebrand an already popular skincare line? It's to take a stand against the "anti-ageing narrative".
The Body Shop goes back to its activism roots
Founded by human rights advocate and environmentalist Anita Roddick, the popular cruelty-free skincare brand has always had an affinity for pushing forward different causes — from campaigning for saving whales in 1986 to supporting HIV awareness efforts in partnership with UN AIDS from 2010 to 2013.
Now, The Body Shop is going back to its activist roots once again as it takes a stand against language that frames natural ageing as a bad thing.
The move comes after several beauty brands have banished "whitening" and other euphemisms in their marketing in the past few years after discussions about colourism brought to light the harmful effects of such labels on people of colour.
Goodbye Drops of Youth, hello Edelweiss
It's not just the name that's refreshed, the formula itself has also been boosted. Products under the Edelweiss line have double the concentration of its titular key ingredient — the resilient Edelweiss flower. This particular mountain flower thrives amidst extreme weather conditions in the Alps thanks to its ability to protect and repair itself because it's packed with natural antioxidants.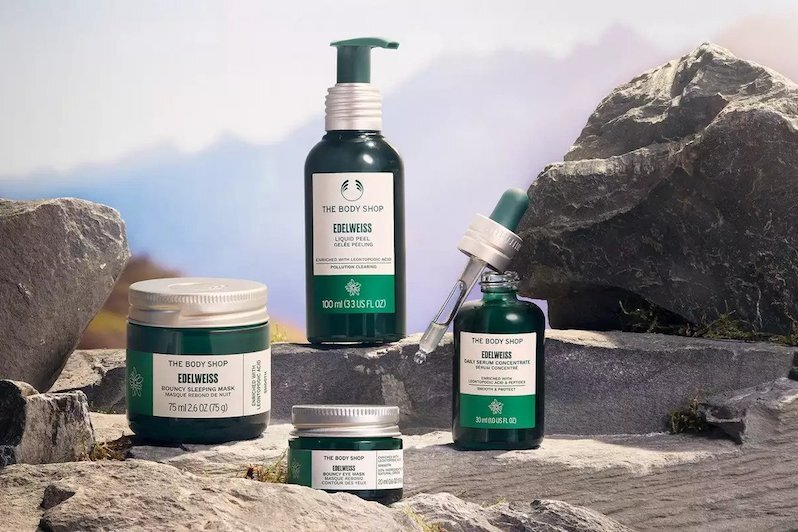 These skin-nourishing properties of Edelweiss help maintain skin barrier health. What's more, the unassuming flower reportedly has 46% more powerful antioxidant properties compared to retinol. Isn't that interesting?
The Body Shop Edelweiss price and range
The Edelweiss line-up includes favourites from the Drops of Youth range, such as the famed Daily Serum Concentrate. It will also feature two new products: Edelweiss Cleansing Concentrate (SGD27 per 100ML) and Edelweiss Intense Smoothing Cream (SGD60 per 50ML).
The Edelweiss range is now available in Singapore in all The Body Shop stores islandwide as well as online on Lazada and Shopee.
(Cover photo from: thebodyshop.com)
Comments, questions or feedback? Email us at [email protected].